Big OneNote for Windows 10 update adds smattering of useful features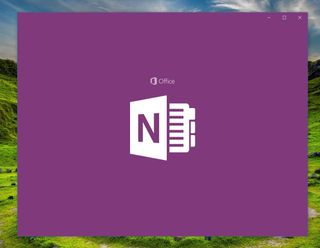 A fairly big update to the OneNote app for Windows 10 is now available, ushering in a smattering of handy new features across the board. This update manages to pack in some new options for manipulating your notes, along with page versions, a redo button, and more.
Here's a look at all of what's new (opens in new tab) in version 17.8241.5759 of the UWP OneNote app for Windows 10:
Print directly to OneNote: Send anything on your computer right to OneNote. Install the Send to OneNote

(opens in new tab)

app from the Store and then select "Send to OneNote" when printing a file.
Insert meeting details: Choose Insert > Meeting Details and choose an Outlook meeting.
Page versions: Travel back through time to recover older versions of your pages. Right-click on any page, and choose Page Versions.
Select multiple pages: Use Ctrl+Click or Shift+Click to select multiple pages, and then move, copy, or delete them all at once.
Fast track moving or copying pages: Right-click a page and choose to cut or copy it, then paste it in your new destination.
Check spelling in another language: If you create notes that contain text in different languages, it's now possible to check the spelling in each of the languages. Right-click the selected text, and choose Set Language to specify the language to use when you check spelling on your selected text.
Correct that accidental Undo: Redo something you had undone. It's like it never happened.
In addition to the above, as noted by OnMSFT, this update also brings the option to open multiple instances of OneNote. This is already available with the desktop version, but it's new to the UWP Windows 10 app. To get started, you'll have to turn on "Experimental Features" in the Options menu, at which point a "New Windows" option will be available in the "View" menu.
In any case, you can check out all of these new features by grabbing the latest update to OneNote from the Windows Store now.
Download OneNote from the Windows Store (opens in new tab)
Windows Central Newsletter
Get the best of Windows Central in in your inbox, every day!
Dan Thorp-Lancaster is the former Editor-in-Chief of Windows Central. He began working with Windows Central, Android Central, and iMore as a news writer in 2014 and is obsessed with tech of all sorts. You can follow Dan on Twitter @DthorpL and Instagram @heyitsdtl.
Who cares. MSFT still unable to issue a W10M update without breaking apps like notifications sounds, Barclays & Edge fonts.

I care, I use Barclay via edge browser, why do you need an app for everything?

TBH, that copy paste thing is more of a word kind.... As a student this does not give you a feeling of paper notebook for which onenote is my first choice... Rest of the updates are fine.

This would be a decent option if when we pinned the darn pages if we could choose the favicon instead of a screenshot so we can tell wtf that pin is because half the time you can't read the text because there's all this white background in the screenshot behind the white text.

This is a great update. The "print to onenote" feature was the final tick in the box, I will now be moving to OneNote UWP exclusively. Its so fresh and so clean :)

While I agree that Microsoft's efforts regarding W10M are beyond pathetic, they cannot take blame for Barlays' lame iOS port.

The last update wiped out my connections to all my notebook. I have to manually go back and re-add them in again.

Are any of these updates on the desktop version?

Sounds like this is just for the UWP version. Maybe they'll come to the desktop version later? Would be nice.

All have been in the desktop version for years (except language one). Nice to see the new version getting some of this stuff added!

My notifications are broken againnnnnnnnn........
Another hard reset again.
Don't the bloody fools at Microsoft, understand that notifications, must never go down.
Instead of releasing useless features, fix your fing bugs....
Get the priorities straight.
Never had issues with W8.1m.
Fire nadella, and they will come...

Sounds like yet another person that doesn't understand the benefits of not being enrolled in the Insider program, particularly not in the fast ring. Yes, I'm in the fast ring, and yes, I realize this will annoy me greatly, but I understood what I was signing up for. Also, what on earth does this comment have to do with OneNote?

What OneNote notifications?

I expect a lot of new features for that app since it will replace the classic OneNote Desktop client.

I use OneNote a lot so these additions are welcome changes.

Just bring there tags like in Evernote - then I could finally switch :( How otherwise you could deal with it in OneNote?

Don't use Evernote so don't really understand tags. I imagine it is a way to find things, right? I find the search capabilty of OneNote amazing. Never needed to "tag" something special, just to be able to retrieve it. If I wanted to I imagine I could add a #tag to appropriate pages and then find all the pages with #tag on them. What I find amazing about OneNotes search is that it can find text in jpgs and such, like a screen clipping of a web page or a Powerpoint printed to OneNote, or even a word in ink done with a pen.

Yes, the search feature in OneNote makes finding what I'm looking for so easy.

I just want to be able to sort my notes based on date modified/created, very simple

This came out 2 days ago lol. Here I thought this was another update.

I tried to download to my 950. It tells me my device is not supported. Huh!

Your 950 comes with OneNote preinstalled ...

Hate to be that guy, but if full office is coming to the store and OneNote with it, what's the point in continuing to update the mobile/current universal apps? Especially with the decreased usage in W10M

Full Office to the store for desktop/W10S users. UWP Office apps for phones/Continuum use. Not to mention Microsoft still sees UWP as the future Win32.

Right, eventually UWP office will be as powerful as the win32 application and then I'm assuming it will be retired

Because the OneNote app is far better on tablets (like the Surface with it's stylus) than the desktop version. I have a surface and have both the app and the desktop program installed. I hardly ever use desktop OneNote because it feels so clunky to use. The tablet version works much better with the stylus, is faster, and easier to use. I just wish the app had more of the features of the desktop program.

Wish that too. Mainly would like record unlimited audio.

That's interesting I'm the exact opposite, I much prefer the desktop to the app on my Surface 3. The only thing I use the app for is to use the camera to insert images , the desktop doesn't do that (or at least I haven't found out how to do it.)

Microsoft noted that OneNote UWP is the basis for the future of OneNote and will be the priority for all future improvements. The Desktop version is purely legacy for those not on Windows 10.

Seems to have added Class notebook addin too (may have come sooner). Very useful. Almost time for me to switch to using modern

I agree that this is a great update. Just needs a few more things before I am ready to switch. One of them is the ability to add custom tags, and the other is to insert Word file as printout, as I use them regularly.

Note: Print directly to OneNote: Send anything on your computer right to OneNote. Install the Send to OneNote app from the Store and then select "Send to OneNote" when printing a file. Just tried it, works fine. This is on a Surface on which I have no full Office apps, just the UWP ones, so it wasn't OneNote 2016 doing it. Not installed.

Good suggestion, installed this right away!!!!

In reply to Charles Fetch, as Microsoft has stated elsewhere, the advantage of UWP over Win32 for OneNote is that it is much more forward compatible: being able to access OneNote from the lock screen for quick notes, Cortana integrations, etc.

Its amazing watching OneNote grow up. Keep it coming MS.

Nice update, too bad it's still a useless POS to me with it forcing me to log-in with a skynet account and putting all my notes in the hands of fkn microsoft...

I wish OneNote would auto-detect the language and then apply the appropriate spellcheck.

This update is NOT like the update OneNote got on iOS devices. THAT is a real update.

I agree...just noticed that update yesterday on iOS/iPhone. I'm eternally grateful that Microsoft is doing such good work for iOS users. The iPad pro, stylus, and OneNote are an excellent combo. Simple,stable, long battery life, etc.

Will switch when UWP is as useful as Desktop. One glaring omission on mobile, for example, is the inability to compress indented pages...I have some projects with loads of indents, on mobile there's no arrow so it displays every page..:/ - good to see them give UWP more features though, as it gets more powerful then I may swap, right now the desktop is king if your a power user.

Insert meeting details is nowhere to be found.

OneNote needs a dark theme so bad

The real joke here is, that even now, OneNote doesn't support the ruler. Announced as part of Windows Ink. During Build... 2016!
Windows Central Newsletter
Thank you for signing up to Windows Central. You will receive a verification email shortly.
There was a problem. Please refresh the page and try again.