Bill Gates wears chicken suits, goatees and tinfoil hats in his latest video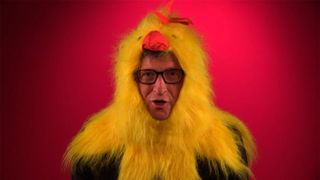 No matter how hard you want it, Bill Gates isn't coming back to take the helm at Microsoft anytime soon. Sure, he's Chairman of the Microsoft board and is involved with the selection process for the next CEO, but that's about it. His work life now belongs to the Bill and Melinda Gates Foundation, an organization that's doing more good for humanity than any tech company out there. Which is why you need to watch his pretty funny attempt at a viral video to promote the charity.
Try and get those images of Billy G. out of your mind. In the meantime, you should definitely go read the 2014 Gates Annual Letter, it's what the video was promoting. The letter this year addresses three myths that block progress for the poor. It's a long read, but interactive and highly informative.
Via: YouTube
Windows Central Newsletter
Get the best of Windows Central in your inbox, every day!
Hopefully they don't wear that when they are working on WP8.1. :P

What's wrong with a little inspiration? Lol

Glad to see he has a sense of humor.

So uh, what's that website again? I forget..

gatesletter dot com... this man is rock... hahaha

There are people that don't like Bill Gates. Stop and think about that, and try not to rage.

I used to visit sites like enemy.org and SAIE (Society Against Internet Explorer) when I was a kid. Now look at me and my strange combination of Fedora Linux on the desktop and a Windows Phone...

Bill and Melinda Gates Foundation. Nice. Not to be outdone Apple is busy at work with its Steve Jobs Found...ummm. What was Jobs' philanthropic organization again?

Jobs did not leave 1$ to his own sister...Bill gave 35B to charities.
Nobody is like Bill, I really love that man.

@venetasoft... It's not fair to subtract Warren Buffett from the equation. He has made a considerable contribution to Bill & Melinda's foundation. We're talking billions!!!!

That is just cringeworthy. And who wants Bill Gates to come back to Microsoft? Too much baggage. Bring in someone fresh.

This year's letter is very good IMO.. I feel some ppl just need to wake the F*** up.

LOL Gates has always been a good sport. And indeed he does a remarkable job. As much as I would like to see him back at the helm of Microsoft (given that Ballmer was a moron and the potential candidates don't seem to be a real improvement apart from Bates), I'm glad Gates is out of Microsoft. He's doind a much more noble work than Microsoft has ever done or will ever do.
That said...it would help that Microsoft stopped losing money on certain projects. After all, Bill's fortune is still sustained by Microsoft. And the more money Microsoft wastes, the less money Bill has for charity.

Bill Gates pledged to spend 95% of his net worth through his foundation. The interest from the remaining 5% alone would be enough to live out his life comfortably and leave his wife and children well taken care of. He really does not need to make any more money... ever ..

Not to mention that damn tax write off! Gates is set for life.

Anyone else imagine him turning ti the camera and saying what dies the cock say?

Lol don't go there man. Don't do it

I completely forgot the website seeing that monstrosity.

Ga ga ga ga gates letter dot com lol