BillPin is now at the Windows Phone Store to make it easier to split expenses with friends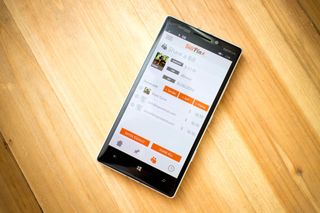 Money issues can break friendships and relationships. BillPin (billpin.com), an app that has been available on iOS and Android, is now at the Windows Phone Store to make it easy to manage group expenses. It's great for keeping track of shared rent, bills, groceries, meals, movie tickets, joint gifts, or poker winnings.
Features:
Easily add and keep track of group expenses with friends and roommates
Split equally or by share
See instant summary and record of bills with friends
Notify friends of group expenses via email
Connect with Facebook for easy signup and login
You'll need an account to use the BillPin service. To make things easier, you can connect and log in with you Facebook account. To use the app, you can 'Pin a Bill' or 'Share a Bill.'
When pinning a bill, you enter your friend's email address or select someone from your existing list of contacts. You then select whether you owe them or they owe you. Enter the amount and description, and then click the 'pin bill' button. Your friend gets an email about the bill.
Sharing a bill has a few more steps. Enter an amount and description, and then select the people sharing the bill. This may include you. You can then select to divide the bill equally or you can manually enter the amount for each person.
You can also watch BillPin's overview on video below:
Unfortunately, BillPin doesn't automatically calculate the remainder from the total amount if you manually enter specific amounts for some people. For example, if the dinner total for two people was $50 and your share was only $15, BillPin doesn't automatically calculate that your friend owes $35. You'll have to enter that number manually. We hope that feature gets added in an update.
BillPin is a free download at the Windows Phone Store. It is also available on iOS, Android, and the web. Will you be using this app? Give it a try and sound off in the comments!
Yay... More official apps (y)
Edit: Wow beautiful UI, glad it's not another web wrapper.
I guess Windows Phone has now pretty much all the major app.

Citibank & VLC.... they are in the work for years! Hope they hit the store soon....!!!

Yes Citibank OMG! Please release soon, also it shouldn't be another web wrapper. About VLC ehhh idc I use MoliPlayer Pro (There is a free version too, you can get it by changing the region to China). Much better imo

Is anything "official" now? People just love that word. In that case, we've already had the "official" Divvy app.

Right!! With OCR for the receipt to make it even easier.

There was a time I used bill pin but there mobile website sucked so I moved to Splitwise. Now all my friends are on that. Plus there are a lot of 3rd party apps on the store for splitwise, my best being Split It

Thanks for the heads up. I was running billpin beta. The app store won't automatically update you.

Oh god the education systems gone to hell.... lol... this is maths at its simplest.

It is one downside of all this technology is that many people today have to have apps like these to do simple functions like this. Some people want them, but others absolutely need them to get through life.

I want to use it more like a reminder than a splitter tool, it look faster than using OneNote, im getting old and forgot who owe me money !!!

The app gap, it might be history soon.

If we can't remember who's turn it is to buy lunch, I just pay it. Such a small thing to spend much time worrying about.

its only been a few days of officials but i guess the next 250,000 apps will come faster than the first 250,000. Nice UI design

I'd like to see... Discover, Amex, Capital One, you know big credit card companies.

Did someone know how i change the currency ?? i have made a mistake or touch it by mistake but anyway i have Singapore currency when i connect with facebook and i need to change to CAD, when i tap on the upper left there is ''All Currencies'' but only Singapore under it !!! i have uninstall the app and reinstall it iv done the same for facebook and facebook beta but it dosent work !!!

Ohh and i have try through the web site too !!!

Try using Splitwise? It seems to hve better support for multiple currencies and covers many more international currencies

Malaysian currency not listed
Windows Central Newsletter
Get the best of Windows Central in in your inbox, every day!
Thank you for signing up to Windows Central. You will receive a verification email shortly.
There was a problem. Please refresh the page and try again.