Bing now helps you find restaurants' most popular dishes on mobile browsers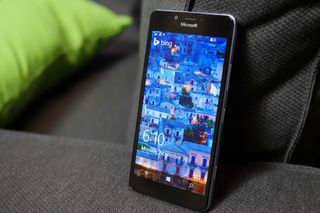 If you are looking for a new place to eat, you might also want to find out which menu item gets the best reviews. Microsoft has added a new feature to its Bing search engine that allows mobile browser users to not only see reviews of restaurants but also to view which part of the menu has been ranked as the best among its customers.
Microsoft says:
How helpful is this new "Menu Favorites" feature for Bing mobile user? Let us know your opinion in the comments.
Source: Microsoft
Not working for me when I tried it. I looked up McMenamins, chipotle and panera

I guess this doesn't apply to WP because it just reverts you to Cortana.

It is mentioned in the title "... on mobile browsers"
But then that raises the question, does it work on the desktop? Anybody out there care to give it a whirl?

Woohoo. Yet another cortana/bing feature that only works in the USA...

Yeah they seen even targeting other big markets. China is an exception bcoz of its govt restrictions and Baidu working well there. India remains always an opportunity for ppl to get a good number of users.

Yeah. Almost as if Microsoft is an American company.

Google is almost everywhere

Browsing to bing website on windows phone just opens Cortana. I tried searching for a few different restaurants and don't get to see a mrnu, so its either not working in uk or its an iOS / Android only feature...

Didn't work for me either...

never really believe onine review on restaurants.

Another international Bing complaint here Just this week I changed my Edge default search provider to Google because of the poor local searching in Bing. I tried for months to use Bing as my main search engine since I replaced my Mac Air with an XPS 13 earlier this year, but it was just too weak in finding relevant searches for me. So I get a bit annoyed when I see functionality like this getting added to the US. Not only does it just increase the gap between the US Bing search abilities and International Bing abilities, but surely the resources who did this could have been used to improve Bing elsewhere. I get that Microsoft is a US company, but there are far more users of Windows outside the USA than inside.

is Microsoft going to update the Local Scout feature in Maps?
Windows Central Newsletter
Thank you for signing up to Windows Central. You will receive a verification email shortly.
There was a problem. Please refresh the page and try again.