Like Bing? Go get Bing Desktop now for your PC.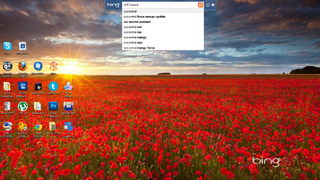 Yesterday, Microsoft released a new app for Windows 7 PCs called Bing Desktop (it was in beta for the last few weeks). It's an interesting move as Google as had their Desktop app for years (it's also a little creepy as it can search your hard disk).
Luckily, Bing Desktop does no such thing and darn it all, it's awesome to boot.
For one, it can download the Bing wallpaper daily to your PC and makes it your desktop background. Next, there's a nifty Bing Search bar that sits on your desktop and allows super quick access to Microsoft's increasingly awesome search service. Pro tip: pin it to the top of your screen and you can tap to bring it down anywhere for quick lookups-- Microsoft really nailed the interaction here in our opinion.
Enough chit chat though, go and download it here (opens in new tab) and read the Bing Team's description of it here. We think it's awesome though. You?
Windows Central Newsletter
Get the best of Windows Central in in your inbox, every day!
Daniel Rubino is the Editor-in-chief of Windows Central, head reviewer, podcast co-host, and analyst. He has been covering Microsoft since 2007 when this site was called WMExperts (and later Windows Phone Central). His interests include Windows, laptops, next-gen computing, and for some reason, watches. Before all this tech stuff, he worked on a Ph.D. in linguistics, watched people sleep (for medical purposes!), and ran the projectors at movie theaters because it was fun.
i had this like.. a week ago. but i think i downloaded the beta and i suppose now it's officially released. love the small app. i don't use the search functionality since im always in my browser anyway, but i LOVE being able to get the bing wallpaper.

it's also great because if the wallpaper is REALLY awesome, you can easily save it to ur disk so you can reuse it later!

Right, it was in Beta at the beginning of Apil. This is the official release.

Anyone know what Bing stands for? ;) I certainly do...

Bing stands for Because It's Not Google. I Bing, do you?

I see what u did there. :-)

It really does though....

Bing was a carburettor (if carb.. spelled right) used on Zundapp mopeds on the early days

I'd like to see them integrate the Bing wallpaper in wp7, Xbox and PC backgrounds giving it a more unified look. Same wallpaper everywhere, but different everyday :)

you have a homebrew bing wallpaper changer :) look at windowsphonehacker. Its called dinamicbackground. It changes your lockscreen to the bing daily image. Just in sync with you pc

yeh, this is pretty nice. but it doesn't seem to work on W8 Consumer Preview tho.. Odd. Maybe something even cooler coming our way soon?

its only for windows 7. if you want it in windows 7, you need to install it in win7 and then copy files to any place in your win8 and it will work. well at least the beta worked that way, but its a win7 only release

Do you know if this plays nicely with the multiple pc synchronisation features of w8? One wallpaper to rule them all :)

I really wished it supported the Windows 8 CP.

i just replied to another person you can, but you need to install it in a win7 machine and then copy the folder to win8. and it will work.

Is there a way to minimize or hide the search box? I only saw an option to close the app.

If u pin it to the top, it auto hides.

Press window key +H to hide or display the search bar

Not available in Australia (or anywhere outside the US, it seems)
This is unbelievable. Microsoft has made it very clear that they don't care about users outside the USA. This idea was even brainstormed by Microsoft China, yet it isn't available there. I'm really getting irritated about this.

That's a very ignorant statement, of course they care.

You probably live in the states?!

Yes I do. I'm tired of the regional complaints. They're irritating me. Complaining here isn't going to do anything about it so quicerbitchen

And being a dbag generally doesn't get you results either. But clearly, that concept continues to be lost on you

this is BS, it worked for me and for alot of people who are not in US.

Which country, if I may ask? All I get is a page telling me that Microsoft will be releasing the program to other regions in the future.

I live in Sweden and has used it since it was announced as a public beta.

From the bing page before you click Get it now, change the country to United State. it should work

There are international laws/hoops they have to jump through.

I was thinking that, but they mentioned that on some days they will have to use official Bing images from other regions and countries. I can't see why they'd have permission to use images of a particular region in the USA, but not in that particular region.

I have this approaching a month now! I share the ones I love to my Facebook with a Fullscreen Screenshot and favorite it. Love it. By the way Hid your icons and it's even better!

i like it it feels like im using a Window Phone

Nicely done Microsoft. WinKey+H is so easy!

I got it few months ago. I uninstalled it because you can't drag it in a position you want.

No Bing Rewards support? I can't just start typing like in Windows 8? The box can really only go in two places? Guess I'll use it for the background

Excellent little App! Gives me refreshing lovely images staraight in my desktop everyday. I might not use bing over Google but I definately love Bing wallpapers on my dekstop. The best part of this app is that the search bar gets docked on upper part of you screen and never looks like taking up useful space of the screen. Great Work!

I got the beta solely for the desktop backgrounds but after having it for a couple of weeks I now find that I'm using the search box a lot.
They should add a function to get a random background from the last few days and be able to change it every 30 mins or so. I say this because I installed it on my desktop, lappy and MC, and I'd like to get different images on each one (I'm just being fussy, I know).

I already have this, it is called RSS dynamic windows 7 themes:
http://windows.microsoft.com/en-us/windows/downloads/personalize/themes?...
You can right click on the background and select next desktop background. Or just wait a few minutes and it rotates to a new image every so often.

From that link: "This web page doesn't exist for your market"
But works just fine when I got it from Microsoft download center. (http://www.microsoft.com/download/en/details.aspx?id=29281)


Damn. Not compatible with W8 CP. Oh well.

What version do you americans get?
I cant get to the link in the article (from Sweden) so I had to search MS Download Center and all I can find is 1.0.45.0 from 4/3/2012.

It's a pretty cool idea. I got a notification from Windows Updates, as an optional update. I'm in Australia for the person who claimed it wasn't available here.
It went straight onto my HTPC. I'd use Bing more if I liked the interface more.

Why on earth is the download page blocked in Australia, but I can download it from Windows Update?

Good job MS...

I used it for a while, it's not my cup of tea. It's a neat service, but I like having my own desktop background, and I like to open up my browser to search.

I'm in France and had to change my language to English in order to be able to download it but it works just fine. I'll mostly use it for wallpaper, I love changing wallpaper and Bing's one are usually good. I don't know if I'll use the search bar since I'm used to open my browser but maybe I will. I'm just a little bit sad that apparently the wallpapers arent 1920x1080... The birds of today are not really crisp =/

I downloaded it a couple days ago. I like that the search box hides until you need it. I would preferred some sort of "just type" support where I can just start typing my search if I am on the desktop. But it is otherwise neat.
Google got on "Would you like to install Google Toolbar?" my bad side in "Would you like to install Google Toolbar?" late 1990s. "Would you like to install Google Toolbar?" Because of every "Would you like to install Google Toolbar?" program asking me "Would you like to install Google Toolbar?".
Bing, to me, is a much better choice.

do searches made in this count towards your bing rewards searches. I know bing searches made from the built-in bing functionality in my Titan doesn't.

Well, it does let you keep your default search provider (mine is Google), and it hides the Bing search box at the top of the screen (unless you mouse up there and click). I simply got it for the great beackgrounds each day.

Here is how you can get it to work on Windows 8 even if you dont have access to Windows 7. (1) Download the software and unzip. If you cant find a way to do this, download it here: http://www.microsofttranslator.com/BV.aspx?ref=IE8Activity&a=http2F2F12F20122Fbing-desktop-n-windows-8-consumer-preview.html (use the link that says Windows 8--I know its in Spanish but you dont really need to be able to read it. Or you can use Bing Translate or Google Translate)(2) Unzip the entire directory in this folder: C:\Program Files (x 86) \Microsoft\ (if Microsoft is not present, create one)
(3) Run the file BingDesktop in Compatibility mode for Windows 7 (left click, go to properties and compatability This has worked for me; I am sure there is an easier way---isnt there a way to run WP8 in compatability mode?


I'm surprised to see that people even use Bing
Windows Central Newsletter
Thank you for signing up to Windows Central. You will receive a verification email shortly.
There was a problem. Please refresh the page and try again.