Bing wants to help with your taxes – provides easy access to forms and information (US only)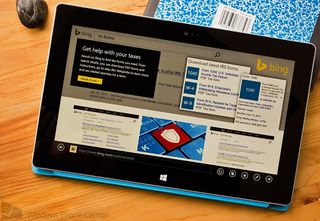 For once, if you are an international reader and seeing "US only" – it is a good thing.
Here in the United States, it is the beginning of tax season and Americans are scrambling to put together their invoices and submit them to the IRS (Internal Revenue Service). It can be a stressful process, in which many Americans become lost in stacks of paperwork and government forms. Luckily, Bing is here to help you out.
If you head over to Bing's new tax section, you can access a collection of resources designed to make the tax season just a little bit more bearable than it has been in past year.
To start, Bing makes it easy to pull up any of the IRS forms you need. Simply head to Bing.com and type in "IRS Forms" to see quick links on the right hand side to download the three most popular IRS forms – "1040", "W-4", and "W-9". If you are hunting for a specific tax form, you can type its name in as a search query and it should appear on the right hand side in a convenient PDF format. If you use Google, you will be hunting the web for what you need – Bing brings it front and a little off to the right.
The page also offers various tips on how to stay IRS safe. Bing recommends searching for "IRS Dirty Dozen" to see all of the tax frauds you need to avoid. It also cannot be a Microsoft site without a slight jab at Google; Bing Taxes reminds you that they do not serve up "junk or malware in search results and ads".
Moreover, if all of the tax preparation becomes just a little too much, Bing provides some "tax humor". Simply click on the link in the tax section to be brought to a section of comics that shed a bit of laugher on number void that is tax season.
Are you getting ready to do your taxes? Check out Bing's tax section and let us know if it helps you out!
Get the Windows Central Newsletter
All the latest news, reviews, and guides for Windows and Xbox diehards.