Bing Rewards members can now get two free years of 100GB OneDrive cloud storage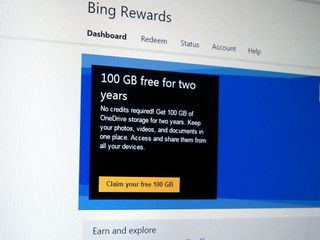 If you are a Bing Rewards member, Microsoft has just launched a nice offer where anyone signed onto that program can get 100GB of free cloud storage space via OneDrive. The extra amount of space will last for two years before it expires.
Bing Rewards offers US users of Microsoft's search service a way to collect points the more they access Bing, which they can exchange for things like e-gift cards and other rewards. However, in the case of the 100GB of extra space on OneDrive, Bing Rewards members don't need to spend any of their points; it's completely free.
Bing Rewards is only available for US residents (sorry, rest of the world) and the offer of 100GB of extra OneDrive space must be redeemed by Feb. 28.
Source: Bing Rewards; Thanks to Agent-P for the tip!
Windows Central Newsletter
Get the best of Windows Central in in your inbox, every day!
As a matter of fact dear sir, I do like free! Bing Rewards has been the greatest boon to free, that I can think of in a long while. Over the years, the Bing Rewards program has literally paid me over $1600 worth of free Xbox LIVE downloadable games (Xbox One, Xbox 360 On Demand, XBLA, and XBLIG included), DLC, movies, music, television, and other content. And every so often, something special like this 100GB deal comes along, at no extra cost to me for being in the program. And almost all from doing searches I was going to do anyway. To say I love free, is an understatement.

Can't get this in Canada. But I already have a TB of OneDrive storage with my Office365 subscription, and I can't really imagine not having an Office365 subscription, so I'm grudgingly OK with that.

i got this and I'm from Philippines. woah.

Please bring Bing Rewards to India, it will be very popular here.

In my opinion they should bring to whole world wide..!

Yeah.... Need for India badly

You don't have to use vpn to buy Windows 8 or Office, do you?

The thing is you get rewards in the us because people there buy things from the ads they show with search results. It's a good business move. Handing free stuff to moneyless 3rd world residents -while obviously a great idea for you- makes zero sense financially, there's no logical reason for it it's not a charity.

Bing Rewards also come from using Bing as your search engine. Microsoft needs more adoption, and rewards would be a great way of pushing their engine out. More users of Bing = bigger engine marketshare = more advertisers willing to put money towards Bing ads = more benefit for MS.

They'll look at the analytics and see the user to click ratio will still be no where near than google and not pay the same amount for add space on Bing versus Google. Users are important but marketers look for effective tools, if the click rate on adds is worse they still wont go to Bing. So giving free rewards wont be covered by add money

Someone finally gets it. No offense to you India users but just look at where the source of app purchases come from and you'll see that the US users spend way more and more often than any other user in the world. Now what doesn't make sense is that MS keeps emailing me about bung rewards then to say oo whops you're in Canada. With how aligned we are to the US, I'm surprised they haven't brought it here yet

Your are comepletely wrong. Source of app purchases come mostly from USA because most of the people set there windows and windows phone region to USA because some apps and feature (Cortana) are only available there. Microsoft Bing devision makes money from ads not purchases and bigger international availability means more money. In my country Bulgaria local business uses Google and Facebook ads a lot.

I could say the same thing about Canada, almost every business uses any social media and or the combination of google to promote their business but even Microsoft has yet to launch their rewards program here. Meaning its not financially viable and this is Canada were talking about not some random low income nation. The Bing division is barely net positive, they have been hemorrhaging billions on Bing annually since its debut. One thing about the new MS is that they aren't trying to have their divisions be money pits, if they can avoid expenses they'll do it. Getting Bing big in the states does more for the brand awareness of Bing than having it big in a cluster of international markets.

I see some butthurt Indian downvoted me. Fact is if they gave India rewards you'd have 90% of impowerished users milking the $5 rewards to the last penny with 1 in 100,000 users buying something from ads. It's a financial impossibility.

People who can afford phones/pcs/tablets are worth selling to.

A $70 phone is hardly a membership card to the big spenders club. The average monthly income in India is ~$290. In the modern world it's around $3000. Like squeezing water from a stone. Example: India ranks #5 in App downloads on Google play, yet they're nowhere to be seen on the list of revenue generated. They buy the cheap phone, download the free apps and then go on to abuse company employees (look at Belfiore's twitter, jesus) loudly on Twitter and forums, demanding this and that and this for free like they've earned it. Gaining marketshare there by paying $5-$20 per head for watching ads is pure insanity. It's insane. You'll never make that money back. They'll thank you for it but it makes zero sense to do it.

^this.
How does one upbote on their app cause id upvote this

Seriously if you want to make Cortana better in other parts of the world faster do Bing rewards. More people using it means she gets smarter faster

yeah :( i wish there was some way to bypass the address thing in the redeeming process

- Downloaded Chrome and installed a VPN extension. Got my free 100 GB ;)

Please, explain how you did it. I might have to sell my soul and download the damn Chrome for this...

I managed to bypass the USA-only restriction for Bing Rewards with absolutely no VPN, special browser, proxy, etc... How I did it is a family secret for now so that they don't block my method. ;)

Well thanks for sharing that you did it. Good for you. -.-

Go to www.bing.com, press "Preferences" after that choose "Worldwide" and then choose "United States - English". After you do that you can claim your 100 GB from Onedrive, this is how I did it.

But when I try to redeem, it requires a US address.

I feel ya! I'm fine with both my 1TB and Unlimited storage plans. Of course I could add this to my other account.

Omg..!:S u guys are making me jealous..

Somehow I show 10tb on my storage space

Got it :D (from India :P )

Chrome + Hola (extension for Chrome).

How do they afford to give away all this storage? I thought that with the move to free mobile Office on iOS, Android, and Windows 10 they would need to increase (or at least keep) the price of OneDrive storage to offset the Office revenue loss. Same goes for the free upgrade to Windows 10. An Office365 subscription gets you unlimited storage plus Office for less money than a finite amount of storage on other providers. I understand that MS gets revenue from Bing search ads, but 100GB is a lot... I am sure they know what they are doing but it is still surprising.

It's drawing more people into OneDrive. Long term it's a smart move.

Just think in a year or two when it expires and ur files are there ur probably gonna want to invest in getting that subscription or lose ur data

You dont loose your data. They just dont let you add or modify your files until you get back to your allowed amount.

Most people will never use the extra space. Those who do probably already give MS money. So for those who don't use all the storage it just makes them feel good and doesn't cost Microsoft a dime.

I bet this is in preparation for when music and videos will become accessible by xbox music and video on one drive. People will load up their storage with their music and 2 years later will need to purchase it to mainain it. I currently have tons of one drive storage but use very little of it. When I can use it as music storage for xbox music, I will use a lot more of it and will conserve space on my PC.

Most of the ones who get it for free hardly use the 100 gb. MS gets good PR and customers are happy. Win win situation for both if you ask me.

Can confirm; I use 3-6 GB, but I have 230 through various deals just for fun. And maybe a second gopro library. Music and movies will be great too.

MS has tons of spare cloud storage, which is how they can do this so cheap.

I wish they'd expand this globally. Seems like a lot of people get the shaft. Why is this? Is it something to do with international commerce, laws or otherwise? Oh well. Time to cash in. Sorry, rest of the planet. :/

The resources needed and costs to expand the program are greater than the benefit to do so. Cost analysis

Just why does OneDrive preview require access to my Onedrive files to do this?

Think about it. Seriously...t.h.i.n.k.

No. Think about it yourself. One of the items requested is OneDrive billing and subscriptions. That makes sense to up the limit/modify the account. Actual file access does not.

You're saying that you want to use a file storage service ... without letting that service store your files...? wat.

Actually, I think I do get your question. The T's & Q's that it displays aren't just for upping your storage capacity. It's a more general permissions page. OneDrive Preview isn't the backend that's managing your storage capacity, it's the OneDrive app on Win10... Does your account happen to be an insider account? Because that's probably where that's coming from.

I'm up to 560 now :). This is good for when my other free ones expire soon

Was thinking the same thing. My free 200GB for Surface wont last forever, and as long as these free promotions come about every so often, we'll never run out!

So I've earned about 6 years of 100gb of storage for free, its funny because my Droid friends are always talking about how little storage they have for uploading like dropbox and I'm sitting here with all these free items from Bing, onedrive and xbox bucks

Exactly! It's why I stick with Microsoft. They give their customers awesome perks!

People won't wise up until its over.

Umm is anyone else (In the US) not able to get into Bing Rewards. Everytime I go to my dash it says it's "Not available" Methinks they may be getting slammed at the moment.

Supposedly I got it but then it doesn't show up in the Manage Store page. All it shows are the 100GB I got for X amount of Bing points last year (expiring 2/26/15). There should be another 100GB field expiring on 2/19/17, correct?

I haven't checked but if I recall I just extends when it expires It doesn't add 100gb

Same for me. Doesn't appear at the bottom where the space is itemized by how you got it, but up on the top of the page, where it shows total amount of storage, it did increase the amount. Probably just something they haven't fully rolled out yet. Too bad I *just* use my Bing Rewards points for 100GB for 1 year! This might convince my wife to sign up for OneDrive and Bing Rewards, though--- she used Google Drive but has recently said that she doesn't like having all her eggs in one basket and wants to back up someplace else too.

Ok I see now so I have 225gb of storage, 128gb sd card and the hard to find 32gb 1520 from att, had to special order and search to get a 2nd one, they kept telling me in store they don't exist and kept pressuring me to get a Droid which I said don't want 1000x, and wonder why WPs don't sell, I begged for one and they still wouldn't sell it and nobody knew a single thing about it

I can't even claim my Bing Rewards. I'm not in the USA. :(

Switch your region to US in your desktop web browser, get Bing rewards and that 1drive promotion

Got my unlimited with Office365, but still nice.

What about your partner county, Canada?

Would be nice to have in UK as my 200GB Surface Bonus is about to expire ....... :-(

So why haven't we got this in the UK?

I actually passed on it. Read the terms. I wasn't comfortable with them.

What didn't you like about the terms?

That's nice, I was just looking at offers to redeem a few hours ago

This is on top of the 100GB that you can get from purchasing.

Bing Rewards MISSING in Germany

Yeah, that is sad. I saw Bing's picture on the side of my milk carton this morning. It's always said when someone goes missing.

He's dead, Jim. Bing Crosby, dead 1977.

Sweet, now I have 204GB!!! Gotta love MSFT!

I seriously doubt I'll use it but I claimed it anyway. I think I only have a few gigs worth on my onedrive. Mostly photos and office documents.

How nice...for 'muricans.

Change your browser region to USA to redeem your prize.

Now they make it two years after I had it for a month...if anything they need to give codes to extend the expiration date

Disappointed with this service as it is not available for most countries

Already got mine before I saw this news.

Winning! Sweet Deal for 2 Years.

I'm able to get this but I hate how MS thinks US=World

No, they think US = easy and a large portion of their market. Legal things tend to be what keep them out of places like the EU.

Yeah, I know legal issues can prevent them from doing a lot of things outside of the US but it feels like there's still way too many instances where a promotion/product is US only because MS considers non-US customers 2nd class.

All the money is in the US. They could try for the world but the costs and culture of the lack of buying software in certain counties would lead them to diminishing returns

In some way you are right, but they do know the big bucks are in Europe. Europe at least corporation wise spends more on Microsoft products than any other continent.

What will happen after 2 years ?

If you are over the subscribed storage total, you can't add data, but can still access what's there. By then I expect free storage will have increased or other offers will have shown up.

Cortana gets to keep your stuff. :)

Wow that's amazing. Definitely activating the offer once I get home!

Yeah, it says that right in the article.

I don't understand the point of free cloud space of it expires. Can anyone tell me why this is a good thing?

You keep the data, just can't add more. Before the deadline you should really try to get more (or maybe free space will have increased by then).

I bet most people that have Bing rewards also do office 365 and have unlimited storage

Problem is Microsoft Windows 8/8.1 (Phone/PC) has more users in EU/Asian than US... That's why they are doing this in US to gain more footprint...

Hell yeah. Was just going to redeem some points for another 100GB.

Guys, you can get those 100 GB even outside US. Just use a VPN. I just did! (it won't ask for address or something similar, just click> agree and voila.

A little tip for people like me outside the US, use the tor browser https://www.torproject.org/ go redeem your 100GB :)

Hah! And get put on an NSA list? No thanks! *dons tinfoil hat*

I'll take it, but kinda meaningless when you already have unlimited storage from Office 365, haha!

Man...that was easy! Cool! Thanx John!

Sweet. Love Bing Rewards!

So doing this later tomorrow. Thanks MS.

Please put US only in the headline...

Would be if I could be.... (AUS)

Δ your computer browser region to US to redeem.

It is atm, lol.. But I have to swap it back and forth sometimes, for region specific things, then extra stuff like this just becomes a pain to manage (Like my Xbox music subscription) So I will wait for Australian support... MS needs to bite the bullet and just go global on all their services... Cortana especially, UK voice does not work in AUS at all.. I wish they would just have all English speaking countries talk to an American assistant... I'm not racist... I think I can handle that...

I passed for now. I know you can unsubscribe but I don't like my e-mail being signed up for anything. I still have plenty from the Surface 2 Promo.

You can also Block email permanently with outlook. (blacklist)

They've given me so much free storage. Jeez.

Awesome... Thank you very much Cry me a river if you want but then build me bridge to get over it... Posted from my HTC M8

What happens if you have used that 100gb and it expires, will the files disappear?

No, just can't add new ones.

For the last couple of years, I have been earning Bing Reward points every frigging single day mainly to take advantage of free HuluPlus every month plus $5 Amazon gift card every several months to subtract the total balance by $5 at the Amazon checkout whenever I need something to buy! Love freebies and gift cards through Bing Rewards!!!! Hope BR will stay around for years to come!!!! Other search engines suck!!! Bing All The Way!!!! Oh yeaaaahhh!!!

For anyone wanting to claim this outside the USA..... I downloaded Hola on Chrome (or any VPN extension), log in to bing.com, open up 'rewards' and just click on 'Claim 100gb'... clicked that, pressed yes and it applied it to my account. Job done, i'm in the UK.

Thanks man! I just got it

I just got banned from Bing rewards for some reason. They sent me guidelines but I broke none of them. They said they'd do an investigation...waiting for response.

No, inside US. They said "The reason why we banned your account is because you broke your terms of use and we are within our rights in the terms of use agreement.". Sent a response. If I don't get a better answer, I'm switching to Android.

Impressive, Kalo88!! I am sure anyone outside of the US appreciates your tip!

No problem, I read through a lot of the comments saying 'I've done it but wont say how' etc...

Score! I'm now up to 355GB of free OneDrive storage

I have 225GB of free One Drive storage plus 128GB micro sd storage & 16GB internal storage on my 1520! Total of 369GB!! Pure awesomeness! ;-)

Δ your computer browser region to US to redeem. Or use VPN

OR 225GB of One Drive storage on my computer... It's simply awesome to be able to use this much storage between my 1520 and PC. Life is so damn good! hehe

Enough of my bragging right! My bad, I know! Glad many of us enjoy extra 100GB of free OneDrive for the next two years! Whoo hoo!!

For me this is pretty UNFAIR for non-US users. WE PAID FOR PRODUCT JUST LIKE ANY OTHER US-MEMBER, AND CANT HAVE REWARDS LIKE " in US". What? We paid less? Or MS dont care about non-US? So they want our money and thats all ? When MS planning for future release of their product, they must have support it just like in US... This is what I HATE on MS...

Bing Rewards is free, no one pays for it. Whether or not you pay for OneDrive still has nothing to do with this offer. Storage is probably limited which is most likely why MS can only offer this to a select group of people in one country.

Δ your COMPUTER browser Region to US To redeEm. Or use VPN....

it would be just good to have Bing rewards:-(

I don't mind I'm in Chile but i got my Surface in the USA and got 200 GB for 2 years, good enough for me.

Guys use an american VPN go to bing rewards page and get your free 100GB for free!! :-)

Got mine 100GB. I'm not from US. Serbia here. Just use VPN guys. :)

I still had 26GB free out of my 30GB (15GB for having an account, 15GB bonus for my camera roll). Added the 100GB, now I may get serious about backing up some local files. Now... which ones to back up? I've got about 800GB that needs to be backed up.

You can get 100 more for ~475 Cr in Bing Rewards!

im in jamaica and i got it. im at work and my servers are connected to the US hahaha :-P.

Δ your computer browser region to US to redeem. Or use VPN (don't know how this one works)

Bing rewards really has been losing my interest. I use to get 30 points a day for PC searches, now it's only 15. And what's the point of this offer when I get unlimited with Office 365?

It seems to fluctuate. I notice it going back and forth.

Microsoft will never beat Google and Apple, just because of this "US only" shit!

Wait, google AND apple have reward programs?! S**t, I just broke my android tablet!

I can't even complete the process, keeps messing up

The webpage cannot be found HTTP 404
Most likely causes: There might be a typing error in the address. If you clicked on a link, it may be out of date. What you can try: Retype the address. Go back to the previous page.Go back to the previous page. Go to the main site and look for the information you want.
More information <ID id="moreInformation">More information</ID> This error (HTTP 404 Not Found) means that Internet Explorer was able to connect to the website, but the page you wanted was not found. It's possible that the webpage is temporarily unavailable. Alternatively, the website might have changed or removed the webpage. For more information about HTTP errors, see Help.

I'm getting a 404 too (though you need not to post the entire generic 404 error). Weirdly, the 100GB i bought with bing rewards points sometime last year says it expires today (Feb. 19) of 2016, which is a year from now (contrary to 2017, which is 2 years as advertised). If they are giving users 100GB storage, they shouldnt penalize users who spent their points on it last year. Also tried it on the phone and I keep getting told to "go back to the Bing Rewards dashboard" in order to restart the process.

I had same problem. Now is working I was able to get 100 GB. Make sure you "delete browsing history" and restart your browser.

Why do they need all these permissions? 1. Sign in automatically 2. View your profile info and contact list -OneDrive Preview will be able to see your profile info, including your name, gender, display picture, contacts, and friends. 3. Access your email addresses 4. View your OneDrive photos and documents 5. Add or remove bonus storage. ????

Doesn't seem to work, just getting a blank screen when I hit the button and login.

Try claiming it on Bing rewards app from your phone. I did that and it worked for me, rather than claiming it on your PC.

That's awesome. My 100gb that I bought a year ago with my points was about to expire.

Perhaps the site is being DoS'd by the populartity of free for 2yrs.

Don't mind if I do. Thanks Bing Rewards! Seriously, onedrive has it going on. I've been lucky enough to acquire tons of cloud space over the years that if I ever go back down to my standard 25gb I would gladly pay for more space. Pretty sure that's been their whole plan all along though...

This is awesome. Thank you Bing. Now Cortana set reminder for the 27th to redeem free Bing storage.

I'm not in US but I'm on Bing Rewards. Lets see if I'll get this as well.

Perfect! I got additional 100GB Thanks Microsoft!

got it. from Malaysia. :D

I get an error claiming on my browser =(

Got it in India... 150 GB for free !!

I got 40 GB for free on one drive.

Just use Vpn an get it.. Stop crying it's US only... Zenmate is pretty good chrome and firefox extension :)

This is awesome. I just need to redeem it when I get home.

I'm a Bing Rewards member, but don't get how I can sign up for this. How do I do that?

Gotcha!!! Nice... Thanks,,,.

Şıst,şıst biz dünyanın öteki gerikalanlarınada 100 GB OneDrive alanı verelim. Teşekkür eder,saygılar sunarım. Buket Turkay Secretaryship from Fenerbahçe-Kadıköy/istanbul https://www.facebook.com/muammer.sezer6 best wishes..

This is the last day sign up for it. I tried going to my Bing Rewards Dashboard, but there's nothing there to sign up for that 100 GB for OneDrive. Since today is the last day to sign up for it I would really like to do this!
Windows Central Newsletter
Thank you for signing up to Windows Central. You will receive a verification email shortly.
There was a problem. Please refresh the page and try again.