Bing serves up predictions for this year's Oscars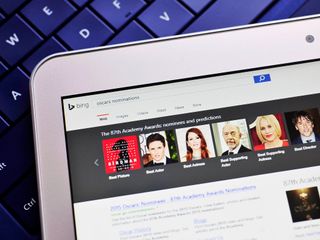 Hot on the heels of its Super Bowl and Grammy predictions, the Bing team has announced today that you can now check out its predictions for this year's Oscars, which are just one week away.
All you have to do to check out the predictions is search "Oscar nominations" on Bing. From there, you'll be presented which movies and actors Bing predicts will win each category in a line across the top of the page, along with the ability to check out reviews and trailers for the nominated movies.
The Bing team is also using the Oscar predictions to play a little game with users:
If you want to check out more about Bing's latest predictions, you can read Microsoft's blog post in full at the source link below.
Source: Bing Blogs
Dan Thorp-Lancaster is the Editor in Chief for Windows Central. He began working with Windows Central as a news writer in 2014 and is obsessed with tech of all sorts. You can follow Dan on Twitter @DthorpL and Instagram @heyitsdtl. Got a hot tip? Send it to daniel.thorp-lancaster@futurenet.com.
Imitation game for movie !!

I really disliked that movie... took way too many liberties with the truth. Every important scene was a complete fabrication.

Please explain.. I'm genuinely interested what is not accurate in the movie.

Turing was quite open about his homosexuality, he didn't name his computer Christopher, the scene with his ex-fiance visiting at the end never happened, he was on good terms with the admiral superior, he wasn't borderline Aspbergers/antisocial as depicted in the movie, he wasn't under threat to be fired, nobody on his team had a brother in the navy that was threatened, there was no crossword competition to be hired for the codebreaking team, etc, etc... virtually everything except the basic fact that Turing helped build a machine that broke the Enigma code was a distortion of the truth, even worse than the usual biopic standard. As a movie it was pretty good (though way too much Oscar bait), but that bugged me so much that I had a hard time enjoying it.
Here's an article about it: http://www.slate.com/blogs/browbeat/2014/12/03/the_imitation_game_fact_vs_fiction_how_true_the_new_movie_is_to_alan_turing.html

It'll be Boyhood (maybe Birdman)

because nobody outside the US care about movie awards

Many inside the US also don't care about movie awards!

So true.
But I am Oscar crazy (India)
Will have to wake up at 5:30 in the morning to catch it live.

Coz all alien attacks are US centric !!

LOL even aliens attack us only and we here we will say when in India.

I always found that funny. Lol

When in India... Alien attack... Rolling on the floor laughing.

Microsoft has to do something more unique with bing search. they should make Bing a video search engine for education and more for Microsoft themselves aim to which means reinventing productivity.

What does that even mean?

it means thst more proper education stuff will be there directly by Microsoft more the users. we don't need so many links dor our search. the first 2-3 pages of links are enough rest are crap on bing and google. so except tue official sites we need to provide more qualitative info like videos of training programmes etc.

I heard last year that Microsoft tied up with khan academy to provide education stuff for users of Bing. The search results will give you videos as well as links to free books under that partnership. As always that feature is US only.

I use Bing video to search for porn. I thought that was pretty unique.

Hahaha comment of the day.

Leonardo DiCaprio is gonna get snubbed again. Every movie he comes out with is amazing and gets no love.

He isn't nominated for anything this year.

Please check the nominee list.

I have seen all the nominated movies in the major categories this year. My favorite of the Best Picture nominees is also Bing's favorite to win ("Birdman"). Yay. :) Bing gives Julianne Moore an 80% chance of winning, which is great, because she is amazing in "Still Alice". Great movie too. Patricia Arquette has 85% chance for supporting actress. I guess those two categories aren't competitive at all...

Yeah...I haven't forgot what those bastards at the Academy did to The LEGO Movie. Anyway, this year I can't pick my favourite. "The Grand Budapest Hotel", "The Theory of Everything" and "The Imitation Game" are three amazingly good films. As long as the winner is one of these three, I'll think justice was done. That said, being this the Academy, they'll probably give it to "Selma" because "politics".

"Selma" didn't even get a director nomination, which it so deserved, it's an amazingly well told and powerful movie. If it couldn't get that, I doubt it will win for movie. None of your picks will win, by the way. "Birdman" or "Boyhood" for sure, IMO. My favorite movie of last year, "Gone Girl" only got a nomination for actress, and she won't win either.

Wes Anderson and Alejandro González Iñárritu's films lead the nominations, both are my favorites of last year (as well as 'Ida' which if I'm not wrong is nominated for Best Foreign Language film) but I think Linklater will win director/picture.

If Boyhood wins...Jesus Christ. Well, then again, they also gave an Oscar to "Argo" and "12 Years a Slave" when there were far better films nominated. I still think American political-hypocrisy will make the Academy award "Selma" just because it looks good in the picture. And remember, in America, it's better to reward based on the colour of skin than on gender (otherwise Hillary - a far more qualified politician - would be President, not Obama...). Let us see. And hey...at least this year it's not that unfunny bimbo Ellen presenting. So that's good! (Though I'd like to see Brian...I mean, Seth, presenting again).

Lol, yeah, Doogie Howser isn't bad but, between the two, I prefer Brian Griffin.

"Selma" is a great movie, well deserving of a win. And that has nothing to do with skin color. If you seriously think it's advantage to be black rather than white in America, you're not very well informed about life here...

Selma was okay but slavery movies are tired, and I'm sure people are ready to bury the racial thing so that people can stop keeping it alive through fear and ignorance. Also theory of everything is really sad. Reminds me of a beautiful mind. But I have yet to watch either movie lol

How do you access your "personal Bing Oscar ballot?"

Eddie Redmayne should get best actor, I agree with Bing there.

Frozen in time back in 2013 when it came out. :)

if only oscars was not as stupid as it is... it would be an important prediction. I won't even know if the predictions were good or not. but anyway!

It is supported by Cortana worldwide, also Italian Alpha.
Windows Central Newsletter
Get the best of Windows Central in in your inbox, every day!
Thank you for signing up to Windows Central. You will receive a verification email shortly.
There was a problem. Please refresh the page and try again.