Travel the world with Windows Phone 8 on Bing Travel Beta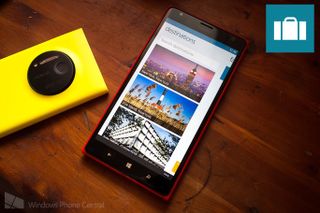 "The world is a book and those who do not travel read only one page," says Augustine of Hippo. A Windows Phone 8 app that may help you read more pages from that book and help you travel is Bing Travel Beta. It has just been released at the Windows Phone Store. The travel app provides you with destination guides, user travel photos, reviews, daily trip ideas, hotel listings and much more.
Bing Travel Beta is a very attractive app. There are photos everywhere. The first thing you see when you open the app is the Top Stories section. One of ten photos is displayed. Click on the photo for more details. Swipe left or right to see the other photos.
Another great section on this app is the trip ideas. With interesting topics like, "10 iconic dishes and where to eat them" and "5 free things in Milan," you probably want to keep checking for more.
Enable location services for Bing Travel Beta, so they can have more specific recommendations. For example, the destinations section recommends several places near New York. Each destination displays a summary syndicated from Frommer's, traveler photos, attractions, restaurants, and hotels. Prices for hotel rooms are displayed by the app, grabbing rates from services like Booking, Kayak, Travelocity, Expedia, and more. Click on the rate you like and the web browser opens for you to continue the booking on that particular site.
If there's a destination you really like, you can add it to the favorites section by clicking the star button at the bottom. There's also an option to pin them to the home screen.
Bing Travel Beta also includes a general travel news section. This includes articles from Reuters, Associated Press, The New York Times, and more.
Bing Travel Beta is a free download from the Windows Phone Store. Check it out and let us know what you think in the comments!
Thanks for the tip, Stu M.!
Get the Windows Central Newsletter
All the latest news, reviews, and guides for Windows and Xbox diehards.
Cool.Want more apps of bing on wp.

I know im dying for food and drinks and readers list!

+everyone. Here in India.

I'm looking forward to seeing the release of Health & Fitness!

I'm with you on that coz I love the W8 version.

Yes!
Every kind of Bing app imaginable.

All good but the full Bing experience is still missing here.

The coolest feature I have found is "Arrivals and Departures" feature for a given airport and then pin any flight's status to start screen. When I travel for work, I can pin all flights to my destination and keep an eye on their status and plan my trip to airport accordingly. Now add Cortana to this with WP 8.1 and make it tells me exactly when to leave for the airport based on flight delays and traffic conditions and I will be traveller heaven!

Panorama is the coolest thing about Bing travel on Windows 8 on a tablet. I'll need to check to see if they ported that over.

Not in Store but found with Bing vision. Agree the 360 Panorama is cool. And not showing, but see the potential here. Links into Bing weather and shows interesting info. As its a Beta, hoping the panorama view and more are added.

Found this by accident on Twitter, hence my tip : )

This app also syncs with the Windows 8 travel app. Great.

Very cool. Props to the Bing team!

That a well-designed app.

An app release on a Sunday? Interesting.

Its Monday somewhere in the world haha

Sounds good - does this have a world time function? I tried the world clock, by Microsoft, and it doesn't seem to tell the right time :/

Beta is the new excusse for half assed apps in WP. Not saying it applies to this one, but its getting pretty common.

Yeah. There's Instagram Beta, Path Beta,... there's... and... uhh...

It's even more of an embarrassment bc this is published directly under Microsoft. I think 2014 will be the year of the beta. Not the year our apps are updated to quality parity as has been said.

Agreed. Its become a bad trend, not the direction software development should be going.

...and the question is how long are these apps gonna be in beta? Facebook app is still in beta and it's getting to a year.

So what exactly do you guys use this app for? I ignored it on windows 8 because it just looked like eye candy. Do you actually search for flights and hotels through here? Does it have better rates than Expedia, kayak, etc?

It shows the same prices as Expedia and Kayak, but on the web client they also have a flight price tracker and projections. It's my favorite feature.

Wow articles on Sunday too?

When I see an application like this, I think: this application will work in Chile and Latin America?

Not bad so far. Only found 1 bug.

Now MS is doing something I love it so far no need for flightTrack and flightBoard this has it built in only need a few more apps and my S3 is up for sale.

What apps are u waiting for? I boot up my crapdroid once in a while to deposit check. Waiting on banking apps...

JetBlue, geico, keyring app, realracing, GT racing 2, FIFA 14 twc-tv and I've tweeted them said they're looking into it, and a few mores not really a big deal.

Yeah, soon there will be no need for other developers to bother making apps for WP, right?

Aaww Bing apps, how I love thee :-)

Not to good a lot missing, i preffer Google search, but this one just might be too good if they run a quick update. You cannot find anything in the tourist atractions in cityes like Paris or Barcelona, no photos or info, just the points off interest. Uninstalled it allready!

Nice app but it's missing the awesome photosynths of the W8 version. That alone would make this a must have.

Just an awesome app.I love it.

Nice app. Thanks Bing team. Make all MS services better here first

Great. Food & Drinks, Health & Fitness left on the list..

Apps really nice looking top marks for that. Did a search for flight which came up more expensive than skyscanner app, was same date time and flight, not good.

Trip type must include children option. But all in all its a good app!

Looks good, just wish they would name maps and translator, bing ...

Good idea, name everything associated with the prefix Bing, easy to find apps in menue as currently is the case with Nokia apps.