Bing is trying to predict the winner of the 2015 FIFA Women's World Cup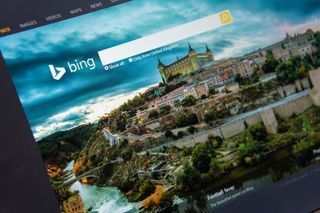 In 2014, Microsoft's Bing search engine had an excellent track record in predicting the winners of the 2014 FIFA World Cup soccer tournament. Now that same engine is attempting to prognosticate which teams will win their matches in the 2015 FIFA Women's World Cup tournament.
The event started in Canada a couple of days ago and so far, Microsoft says that Bing was 4-0 in predicting the winning teams during the opening weekend. Microsoft says:
People who search for "womens world cup" on Bing.com will be able to check out the latest results from the tournament at the top of the search result, including live scores when they are happening in real time.
Source: Microsoft
1- USA
2-Germany
3-Seleção Brasileira

Would be cool if Bing would predict FIFA officials' sentences.

They bribe the judges and are acquitted.

I second that! If Bing does such wierdo things, no wonder it will surpass google in a matter of time..

USA USA USA. I hope Bing is wrong. Machine learning can suck it. 'Murica!

Women's world cup? Do people actually watch that? Seems like a WNBA thing...

Far from WNBA, women's world cup is actually exciting to watch. USA should win this year.

Yeah, I actually enjoy women's soccer. Actually, I played with a girl in my team at a time. She was a top 5 player in a guy team.

Yea i really enjoy womens football, no diving, lots of goals, great footy, whats not to like? The last WWC in Germany was amazing, every game, even the group stages had packed sold out stadiums... Hope its going well in Canada, haven't seen any game yet, none on tv here yet (Ireland)

Thanks to bing..today I learnt that there is something called women's world cup

Its like the pan am games does anyone care(as long as the money grubbing officials can stick to host country with the cost)

Im thinking USA is going to win. They're out for blood from 4 years ago.

I hear Hope Solo is especially out for blood! Germany is going to take it.

People actually watch women sports?!?

Well the question is .. do you want to stir at 22 guys on the pitch or 22 women. I prefer volleyball for women though

Nothing wrong on watching women sports.

Straight males do... I'm pretty sure guys that like watching muscular, sweaty, guys running around instead probably butter their bread a little differently to the norm :P

Well the winner is the Fifa organisation and its staff.. very hard to predict :P

Thanks to Blatter's stupid decisions, this tournament will be played on artificial turf. Horrible.

Come on MS, get your sh*t together, we are close to W10 release and your search engine is virtually useless in some countries, and I won't even start talking about non-existaant Cortana.. -Rest of the world

Yeah, I type "Google" into Bing as an "F* You" to Microsoft for having such a shitty search engine. Today Bing was giving me pointless YouTube results first, when I just wanted some simple results. Of course Google got it right away!

Even duckduckgo is able to find way more relevant results than Bing! (actually waaaayy more relevant results) And giving in context that duckduckgo has less than 20 employees, then Bing team is doing a piss poor job at making the experience better. Sometimes I'm wondering if Bing has even a single employee outside the 3-4 markets they have invested their time and energy...

I live in US, if that matters, and I got google.com as first result. You sure you got that?

Sorry for the confusion... typing "Google" into Bing does give me google.com.au. I meant I was searching for something else (some specific details re: external drives for Xbox 360) and the first 5 or so results were Youtube "how to" videos instead of just giving me the information I needed like Google does. However, I just checked on the Bing website and it is giving me valid results there, so I think there's some weirdness going on with the mobile version (where I was searching from before).

The ones with the tightest shorts. (Source: Mr. Blatter)

Bing is for USA. . SEARCH RESULTS OUTSIDE USA IS USELESS

M using bing since 2013 in India, and m happy with it
Windows Central Newsletter
Thank you for signing up to Windows Central. You will receive a verification email shortly.
There was a problem. Please refresh the page and try again.