BitTorrent's secure messenger 'Bleep' gets a public release on PC and adds ephemeral messaging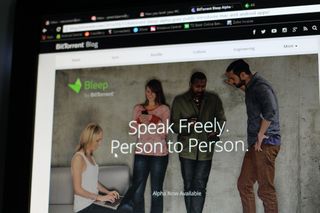 BitTorrent announced today that its secure messaging app, Bleep, has moved out of alpha and is now publicly available on a number of platforms, including Windows PCs.
BitTorrent Bleep, which launched in alpha form last September, is a privacy-focused messaging app for Windows that keeps messages out of the cloud, instead sending them directly to the recipient with end-to-end encryption. With today's public release, Bleep has also picked up an ephemeral messaging feature called "whisper."
If you aren't already familiar with BitTorrent Bleep, the app allows you to sign up with an email address or go incognito, assigning you a private key which can be shared with others via a QR code. From there, you can send encrypted messages to other users, which are then stored locally on the device you are using.
Of course, the a big part of today's release is the addition of the aforementioned "whisper" feature. If you have a message or picture that you'd like to keep extra-private, you can choose to send it as a whisper, which will cause it to disappear after 25 seconds. If you're worried about screenshots ruining the ephemeral nature of whispers, BitTorrent notes that the app will block out nicknames while sending whisper messages—making it impossible to tell who sent the message.
Unfortunately, there's no Windows Phone version of the app yet. However, if you're a privacy-minded individual and you'd like to give Bleep a shot on your PC, you can hit up the link below to check it out.
Windows Central Newsletter
Get the best of Windows Central in your inbox, every day!
Dan Thorp-Lancaster is the former Editor-in-Chief of Windows Central. He began working with Windows Central, Android Central, and iMore as a news writer in 2014 and is obsessed with tech of all sorts. You can follow Dan on Twitter @DthorpL and Instagram @heyitsdtl.
Actually it doesn't seem secure. How I'm supposed to trust a torrent site after all?

Maybe by reading up on it

@samir1374: There is a huge difference between the thing itself and how people use it ! Be open minded dude

Big difference between a bittorrent site and the creater of bittorrent technology.

Well, I meant to say, BitTorrent is not a torrent site. Its a protocol.

Seems like there are a huge number of these apps... I wonder if there has been any third party testing to see how secure they actually are.

Right...but BT has prior experience. Obviously need to do our own investigation. Sounds like a nice weekend play with wireshark.

Yes, there are many secure, encrypted communication applications (mostly on iOS & Android) including Vapor Chat, Wiper, My Enigma, Threema, Seecrypt, Signal, Avaamo, Bitmessage, Fleep, Peerio, Chadder, Glip etc. Wish more of these app developers would support Windows Phone.

Agree wholeheartedly. They're are many options - just that they're not on WP.

You forgot Sicher. I've been using it for over a year and it's great. It's available on all mobile platforms.

I think that's why none of this shit matters. I mean, there are... TOO MANY options. At some point having options stops being a benefit and starts to drag things down. No one can be realistically expected to install even 3 of those apps on their phone/tablet/PC and in reality different people use all of them which leads people to choose the most common factor and then use a fallback for everyone else. For example Android users may use Hangouts and then SMS/MMS the people who don't use it, or iOS users may use iMessage/FaceTime and then SMS/MMS the people who don't use it, or Windows Phone users may use Skype and then SMS/MMS the people who don't use it. The only real equalizer that exists at this point is Facebook due to how ridiculously vast its user base is - but that's assuming you want to be on that site... just for chat (assuming you aren't already on it, of course). I think a more secure, carrier-interoperable IP based messaging solution to replace SMS/MMS is the best solution to the messaging hell we've dug ourselves into.

The perfect app to send anonymous threats

I could be wrong but from what I was reading you're not anonymous to the person you're writing to.
Just to everyone else that might have interest in the conversation between the two of you.

why is everyone trying to be everything to everybody?

Yes.. Every company is trying to reach.. Every aspect of tech.... Like how google jumped into OS... though its own creation is still question mark n acquisition is shining.... Similarly how ms jumped into mobile manufacturing (google tried but withdrew ..), now v have bittorent... Make or take is todays rule.. Lets c how far it goes n succeeds!

I would give this some time before actually trusting it with secure content.

Shame they haven't got a wp app - not surprised though - the whisper feature could be a good stand in for snap chat, full a massive hole in the WP app market... Oh well. Coming soon. I hope.

They said they have native app for all platform.. Lol They were kidding :P

They should have mentioned native app for all major platforms..like Windows, Android, iOS.. no love for WP or Chrome OS..perhaps they didn't knew beauty of Windows ... They could have made one code base and target two...! Ppl still don't get it or refuse to get it! Another problem is Windows market share (win7-xp is still commanding major market share...) so they ll make exe first which works on all windows rather than xap (modern app) targetting smaller user base.... No wonder why Ms brought Win32-modern porting...coz they knew about this...wish win7 n xp die fast!

BitTorrent have native apps for uTorrent and BitTorrent Sync. The latter was available on day one. So they definitely support Windows Phone, but it's just not out quite yet.

Seems like more and more devs are attempting the self destructing message feature. Now if Snapchat had any app for every platform you'd have to assume that they would have held on to the monopoly. Now if Skype would incorporate it I would be ecstatic.

Skype has an app called qik as it's snapchat competitor

In short, I don't trust BitTorrent. When they bough uTorrent I gave them a chance, and they've turned it into an ad-infested piece of garbage which tries to trick users into installing Malware onto their computers. If anyone is still using it try qbittorrent. The only way I would consider trusting it is if it was made open source, which given BitTorrent's record is unlikely.

True. I will say give pimp my utorrent a try. Gets rid of the ads. Obviously use your judgement when installing, so you don't install any of their malware garbage deals. Utorrent isn't bad at all, when it's clean... Or so I've read ;)

Yeah, I hung onto utorrent for ages because it worked and I had it setup so no ads were displayed. But when I finally switched to qbittorrent, it didn't mean giving up anything (Other than the ability to hide the left side menu, not overly important) So for me it's a choice between an open source and well behaved program, or closed source, money hungry program that hasn't had any features of value added in the last 5 (if not more) years.

Thanks for the heads up. Almost installed it on my PC. Maybe I'll try install it on a VM first.

Took less than 10 seconds to make the ads on bit torrent disappear for good. #LearnToPC

Uh...you should probably learn how to use bittorrent. I've never had do deal with the drama you're spitting. Bunch of noobs/retards take your pick.

I know how to avoid the malware, and remove the ads. But I believe that installers that try to trick you into installing garbage that nobody would ever want and can cause damage to your system, as being morally wrong and I don't want to support such behaviour. I'm all for developers making a buck, but how Bittorrent are doing it is the wrong way. qBittorrent has all the features of utorrent, a UI just as good (it's basically the same) so I'm not giving anything up.

Im surprised it doesn't run using tor

There's only comments about Bleep for Windows Phone on the video... Let's draw attention... Leave a comment too!! ;D

Sounds very similar to telegram being privacy focused. Although I don't recall if telegram was p2p or cloud.

Cloud. I used to thing telegram was super secure but I wouldn't trust it with valuable information.

Telegram is both cloud and p2p depending on the chat mode you select, but cloud mode is the base of its service.

No, Telegram is always cloud based. Some modes use on-device encryption, but they are still delivered via cloud servers and are not truly P2P like Bleep.

Sicher is P2P with on device encryption. I've been using it for over a year. I works great.

Seems like a good aap for illegal activities

Officially all mailings calls messages are tracking and recorded in many countries where is cyber socialism like USA, UK, Europe and many more. Even Linux can't give you 100% anonymous.

Bleep is directly device-to-device, just like torrenting. BitTorrent couldn't intercept it if they wanted.

Who cares if you're not anonymous anymore? It's not like you have anything important to offer the world.

And who care about you like a non anonymous reply? Not me :)

Surprised there isn't an open source secure messenger yet, with apps available across multiple platforms. Have they said how the messages are encrypted? Where the keys are stored etc?

Someone send them an email asking them to make it universal. Really want to try it in my windows phone !

bittorrent? the guys who put cryptocurrency malware to the formerly great utorrent client? thanks nope.

I'm already using Sicher for my private end to end encrypted messaging. Maybe if this worked on my phone I'd give it a try but...

Ah. No Windows Phone app. Of course.