Black 'Surface Go 3' variant spotted in leaked renders, launch imminent?
Surface Go 3 may be about to go dark mode.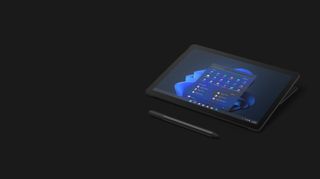 (Image credit: @ALumia_Italia)
Updated January 10, 2022 at 9:15 AM: This piece has been updated with more leaked information from Aggiornamenti Lumia regarding the black Surface Go 3, including the suspected release dates and which outlets will sell the new model.
What you need to know
Renders of a black Surface Go 3 appear online.
Not much else is known about the device.
This is not the first time renders of a black Surface Go have leaked.
Leaked renders have today revealed that Microsoft may be readying up a black version of the Surface Go 3, dubbed "Matte Black." Curiously, this is not the first time renders of a black Surface Go have leaked as the same thing happened with the Surface Go 2 back in 2020, though that model was never released. Will this time be different?
Microsoft is set to launch the 4G LTE models of the Surface Go 3 very soon, which may also line up with the launch of this new black variant as well. Additionally, and perhaps coincidentally, this year marks the 10-year anniversary of Surface, which launched with the black Surface RT in 2012. A black Surface Go 3 could be a good way to commemorate the date.
There's not much else to say about a black Surface Go 3 really. It'll likely launch with the same spec configurations that the silver Surface Go 3 is already available in, which includes an Intel Pentium GOLD 6500Y or Intel Core m3-10100Y with 4GB or 8GB RAM, and up to 256GB storage.
Aggiornamenti Lumia continues to share leaks and information about the black version of the Surface Go 3. According to the outlet, the new model of the device will ship on January 11, 2022 through Amazon. The new color option will also be available through the Microsoft Store, according to Aggiornamenti Lumia.
I must say, the black model does look really slick. What are your thoughts? Let us know in the comments.
Windows Central Newsletter
Get the best of Windows Central in in your inbox, every day!
Zac Bowden is a Senior Editor at Windows Central. Bringing you exclusive coverage into the world of Windows on PCs, tablets, phones, and more. Also an avid collector of rare Microsoft prototype devices! Keep in touch on Twitter: @zacbowden.
It would be nice to see an ARM device (Snapdragon 7c gen 3) for the 10th anniversary.

Agree 100%. I love the form-factor of my SGO2, and I'll hang on to it until there's an ARM version. The SGO is the perfect couch/bed/travel tablet, but it needs more battery life. (PS. the 3 has an Intel I3, not M3.)

Why? Based on the Pro X, I'd expect a more expensive device, with marginally more battery life and reduced compatibility with what you buy a Windows machine for.

This is where the Surface Pro X comes in and hopefully SQ3 Arm processor will actually be a vast improvement over SQ1/SQ2 found in 2021's Surface Pro X.

i would love to know how people use their surface as a tablet especially because there are few tablet apps compared to ipad

Webapps and sideloaded Android Apps for those that done have a good webapp. Your Phone for texting. Google Voice for phone calls. Better camera for Zoom than any laptop I've had. There's not one thing my old iPad could do that the Go can't do. Plus it's a full computer for the Win32/legacy apps that my still company uses. I plug it into a large monitor when I'm at work, detach the keyboard at home on the couch and throw it into a bag when I'm on the go. Best tablet/laptop ever IMO. (Only con for me is the battery life doesnt compare to iPad, but that's a concession I dont mind as I get so much more on the plus side.)

Office. Office is the killer app and the only real reason to use a Windows tablet imo. Though there are some touch-optimized applications like Bitwig Studio that I use as well, and it works great on Surface devices. Of course Office is available everywhere, but the experience is much smoother and just better on Windows.

You put it in Tablet Mode, and run apps full screen, just like on an iPad. I have no problems doing most of the same things on my Surface Go, as I do on my iPad. Pretty much the same screen size BTW. I can launch applications, use Edge to browse, MAIL to read e-mail from multiple accounts. I can use a stylus in various programs just like the pencil on iPadOS. Do I like to type on the screen? No. Don't enjoy it on the iPad either. That's why MS and Apple sell keyboards for these things. If I need two apps side by side, the process is not really that different between the Surface and the iPad. I don't run my Surface, in desktop mode, if I'm using it as a tablet. I will gladly acknowledge iPadOS apps are typically more touch friendly/aware. They had to be. Developers had to assume iPad owners did not have a keyboard and mouse. Generations of Windows developers could assume their customers did. Getting them to think tablet/touch first is a challenge. That doesn't mean all apps are impossible to use. Still, some just don't lend themselves to tablet/touch use. That's why there is a desktop mode, and why there is MacOS.

True, but I'm not switching to the Surface Pro X (hopefully this year) mostly because of the tablet apps,
I'm switching to the Surface Pro because of Windows. It's a real computer desktop OS and IPadOS is limited and restrictively wall gardened.
Only reason I kept with iPads is because Windows is just horrible to use as a touch tablet coming from an iPad user and Android tablet's aspect ratio pretty much made portrait orientation unusable. Microsoft finally are addressing, though still need a lot of improvement in gestures and touch spacing, Windows very poor touch tablet use with Windows 11 AND hopefully Android App support, which are tablet apps, will arrive soon plus you still have full desktop programs…because it's Windows not IPadOS pretending to be a desktop OS. Apple either too greedy or just not able to get full blown MacOS on the iPad Pro line and address many iPad Pro users issues over the years.
- a file management system - no, File Apps is crap and I've had to rely on third party apps just to get some useable file system like 'File browser' - Pro Apps - things you see on desktops like Final Cut Pro and Logic Pro - sideloading - which to any normal desktop/laptop computer user is called 'downloading' - Monopoly App Store - which I am more convinced the reason why the iPad is so locked down and not giving us iPad Pro users actual control and a choice to purchase, download and install from elsewhere is because it threatens Apple's profits in the one and only App Store on IPadOS. It may not seem like it, but many iPad Pro users are getting frustrated with the software/hardware disparity and it's not difficult to see if the alternatives finally catch up and offer compelling choices, core iPad Pro users such as myself will eventually jump ship. The last straw for me was Apple's 2021 software developers conference coming off the bat from the M1 iPad Pro release, many including myself where hoping an operating software that would be on par and give more power to users…but it's clear Apple don't want to do that especially in light of their monopoly App Store legal battles at the expense of both developers and user choice.

I've always used my Surfaces (previously SP5 and now SP8) to browse the internet using Edge browser, do some concept art work using the application called 'concepts', play xcloud with an xbox controller (i've yet to play using the touch input), and occasionally read PDF reports etc.
I'm not heavily reliant on mobile touch apps so generally those type of apps are irrelevant to me.

I'd buy it. but I'd install Windows10 instead

Windows 11 is much better on a touchscreen. It isn't perfect, but much more usuable than Windows 10. You can actually pick the device up and use it like a laptop without wanting to throw it through a Window.

For the love of pete, how? Lets start by acknowledging none of the applications changed. Office is the same Office, Edge the same Edge, Photoshop the same PhotoShop. OK, we got rounded corners, some got dark mode, maybe a menu change here and there. What changed is the 'Launcher', and maybe some minor gestures. The Launcher being the start menu. While it is somewhat usable on Win 11, once you hit Start, it is nowhere near as touch friendly as a Surface tablet, in Tablet Mode. I have an entire screen of tiles of varying sizes, that are finger friendly, some with useful information. Once I get past that, and actually launch an application, Win 11 is no different than Win 10. If you are on a tablet your app is full screened. Maybe split screen, but that is still better in Win 10. Tried to hover your finger over the windowing feature in Win 11? Yea, doesn't work. You need a mouse, or a touchpad. Win 11 removed even the option of a tablet mode. How is that better? If you are comparing Win 10 in desktop mode to Win 11 in desktop mode (which is all it has), maybe, just maybe you can make a case 11 is better. But if you are using Win 10 on a tablet, as a tablet, in desktop mode, you're doing it wrong.

'Tablet mode' is what I don't want, which is one of the reasons I haven't bought any new Surface Pro's since my Surface Pro 4 and stuck with the iPad Pro for tablet use. It's seemingly small inconsequential things like that causes people to switch, not saying IPadOS is without its faults because it definitely has plenty. Microsoft needs to work hard and make Windows 11 useable and seamless as a desktop and tablet, no jarring switching, no two sets of applications, tiles in one instance and then needing a mouse pointer the next. No "modes" just one UI that retains all the power of its Desktop abilities while also equally as usable as touch and mouse/keyboard on the fly and on the go. Let's not excuse Microsoft that it's too difficult or impossible, they are a multi-trillion dollar corporation, they can hire GUI experts, test groups and heck nab some Android and IPadOS ex employees.

The black version of Surface Go is already available in Belgium since 2 weeks ago: https://www.mediamarkt.be/nl/product/_microsoft-surface-go-3-intel-penti...
You can buy it at MediaMarkt.

Surface Go 4 wishlist:
- 11 inch screen/thinner bezels
- as thin and light as iPad Air
- replace the proprietary port with Thunderbolt type-c
- keep the audio jack
- performance/battery life improvements -> CPUs in Go in particular are just laughable and pathetic. iPad Air absolutely destroys it.
- and of course the Windows 11 UI mess, still dating back to Windows 95... Come on Microsoft, Surface Go is a dream device, I will gladly buy it if you fix these day one

With thinner bezels how do you hold it without constantly activating the screen ui? have you ever held a SPX as a tablet - terrible experience for that reason IMO.

Haven't heard or read a single complain from iPad users in that regard. Besides, there are software bezels that can be implemented.
Windows Central Newsletter
Thank you for signing up to Windows Central. You will receive a verification email shortly.
There was a problem. Please refresh the page and try again.