Why the BlackBerry KEY2 is my favorite phone since the Lumia 1520
Since the untimely death of Windows on phones, I haven't really found a phone that "can do it all" while retaining the aspects of Windows Phone I found hard to give up. The KEY2 comes the closest.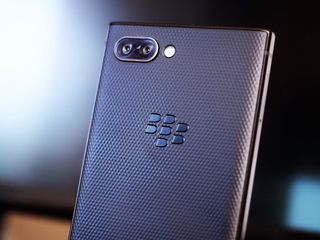 The Lumia 1520 is my all-time favorite phone. With the polish of Windows Phone 8.1, the stunning camera sensor, insane battery life, that huge, gorgeous display, that eye-popping polycarbonate body, ooh baby. No phone has really come close to delivering that sort of experience for me since. But man, the new Android-based BlackBerry KEY2 comes damn close.
What? Are you serious?
Swipe to scroll horizontally
Spec
BlackBerry KEY2
Operating System
Android 8.1 Oreo
Display
4.5-inch, 1620x1080
IPS LCD
434ppi
Processor
Qualcomm Snapdragon 660
4x Kryo 2.2GHz, 4x Kryo 1.8GHz
Adreno 512 GPU
RAM
6GB
Storage
64GB / 128GB
Expandable
microSD up to 2TB
Rear Camera 1
12MP (1.3 micron) ƒ/1.8
laser+phase autofocus
dual-tone LED flash
Rear Camera 2
12MP (1 micron) ƒ/2.6
2x optical zoom
portrait mode
Front Camera
8MP
Selfie flash
1080p/30 video
Battery
3500 mAh
Non-removable
Dimensions
151.4 x 71.8 x 8.5 mm
Price
$650

(opens in new tab)
Yep! I've used quite a lot of the flagship Android handsets since finally ditching Windows 10 Mobile, having been unable to deal with buggy, crashing Twitter app, and the battery-murdering PWA version that replaced it. Each phone I've used has some form of downside that frustrates in a way that Lumia simply didn't back in the day.
I've noted in previous articles that I'm not a huge app user. All the banks I work with have great mobile websites, and as long as my phone has the basics, like Twitter, Instagram, a decent Reddit, and YouTube solution, I'm pretty much happy.
Even while being ignored by the big players, Windows Phone 8.1 and Windows 10 Mobile had decent enough app coverage, so it was never really the allure of Snapchat or Pokemon Go that made me fall out of love with Windows Phone. The lack of support from Microsoft, and the knowledge that inevitably, eventually, it was going to become abandonware simply made the decision for me.
Personal power station
The best thing about my Lumia 1520 was the battery life. Several days on standby, what certainly felt like up to two days of moderate usage, the Lumia 1520 was a true beast. I travel a fair bit for work, and the ability to not have to take a hulking backup power bank is a boon I really enjoy. Lumia provided that, even on its smaller handsets.
Battery life was the headline feature that attracted me to the BlackBerry KEYone from last year. I fell in love with the handset for its ridiculous battery life, and thankfully, the KEY2 brings with it equal amounts of juice. You can simply forget battery life with these phones, and just have peace of mind that no matter how hard you drive the phones, even playing games, you're going to at the very least get through a whole day. If you're being conservative, you might get through several.
Of course, battery life isn't the KEY2's signature feature.
KEYboarding life
Another way BlackBerry's new KEY-line phones roped me is with its QWERTY keyboard.
Despite the fact algorithmic swipe typing seems to have become the norm, I still find it to be a clunky, slow, inaccurate way of interacting with a phone, particularly after spending over a year with BlackBerry's hardware mobile keyboards. The KEYone keys were quite resistive and took quite a while to soften up a bit and get used to. The KEY2, however, refines the experience in some pretty stark ways right out of the box.
The KEY2's keyboard, like the KEYone, has some pretty nifty tricks up its sleeve to help you get things done. Naturally, it comes with a compromise of the phone's screen real estate, but that has added benefits of reducing battery load. It's with some irony that the KEY2 actually helps keep more of your screen visible, since you can use the hardware keyboard itself as a scroll wheel by simply swiping on the keys. You can also set the keys to all sorts of long-press shortcuts, and set up new Speed key combo commands, similar to the Windows key shortcuts we all know and love. Less swiping through menus, less on-screen clutter.
The new keyboard is very "clicky" with keys that feel far more tactile and responsive, while being easier on your fingers. I have typed entire articles on the KEYone and KEY2, which is something I simply wouldn't bother with using Microsoft's Wordflow keyboard, SwiftKey, Google's keyboard, or any other touch-screen keyboard. There are simply far too many algorithmic mistakes to make, not to mention how those keyboards like to pretend slang words and profanity don't exist. When you write with the KEY2, it's the closest thing you can get to having a full-blown autonomous typing experience from your Windows PC. Once you get used to it, it's touch and swipe writing that feels like the dark ages, not BlackBerry.
Microsoft-powered BlackBerry
Another cool aspect of the KEY2 is that it's straightforward to strip out all of BlackBerry and Google's built-in Android stuff and replace it with Microsoft services. The KEY2 also has a programmable Convenience key on the side, which I've set to activate a Cortana voice prompt for setting up reminders.
With the Microsoft Launcher, OneDrive, Office apps, and Cortana, you can ensure that practically every core task you might use your phone for is synced over to your PC. Send web pages from Edge on your phone to your PC in a flash, resume tasks in Word across devices, and see your mobile activity history on Windows 10 thanks to timeline.
Unlike iOS and certain Android phones, virtually everything about the KEY2 can be defaulted out to Microsoft services. Replace Google's assistant with Cortana, replace Chrome with Edge, and even replace BlackBerry's Android launcher with Microsoft's own, which offers a clean look right out of the box. All those settings can also be backed up to OneDrive too, which made moving from Android phone to Android phone extra easy.
Not a perfect device by any means
The KEY2 is still nowhere near as satisfying as the Lumia 1520 was, however. The camera quality is remarkably poor, still, despite having an upgraded sensor over its predecessor. It performs well enough for most day to day things, particularly with a lot of natural lighting, but throw in a smidge of darkness and it's fuzz city.
The performance also takes a hit, due to the processor used for this handset. The trade-off is a boost to battery life, of course, but playing games or heavy multitasking can visibly impede performance. It's never what I'd call terrible though. For the most part, the handset is zippy, and switching between apps is rapid, but sometimes the animations can lag a bit, which is annoying.
Finally, the screen's clarity is a tad disappointing, exacerbated by the extreme summer weather we've been having in Europe. In direct sunlight you'll struggle to see the display, which is annoying, and a far cry from the best, similarly-priced Lumia handsets in my drawer.
The performance issues and camera mediocrity make the ~$650 price point a little hard to stomach, particularly when Android handsets like the OnePlus 6 are offering more power and sensor quality for a far lower price point (opens in new tab). You have to really want that keyboard and that insane battery life, and luckily for BlackBerry, I really do.
Despite the bump in price, I feel that it's a worthy trade-off for the overall step up in build quality BlackBerry's manufacturer TCL has put on offer here. The KEYone almost looks like a prototype right off an assembly line rather than a polished product, lacking symmetry and refinement. The KEY2 is incredibly thin, with an attractive, chamfered edges, a unique rubberized back cover, and simply more forethought when it comes to arranging regular phone features, such as the front-facing camera and speakers. Black everything with silver accents makes the KEY2 a true looker, almost reminiscent of a black Lumia 930 from the front.
BlackBerry also cleverly added a rough texture to the power button on the side, nestled between the volume rocker and convenience key, making it easier to identify and get used to. The KEY2 also has the best fingerprint scanner placement I've experienced so far with Android handsets, hidden away cleverly in the keyboard's space bar.
The design is understated, but sleek and smart, as a business phone should be.
Learning to love Android
Android is still ugly compared to Windows 10 Mobile, and Google's nefarious tendrils are never far away when you're using their operating system, but for now, it's the next-best thing for Windows fans. The fact you can't remove any of Apple's default services on their handsets makes it a no-go for me, not to mention their extortionate prices, middling battery life, and hatred of the headphone jack.
Microsoft has been hard at work making Android better for PC users, and so far, Redmond has done a truly awesome job of it so far. Like the KEYone before it, I find that this is the only phone I'm willing to use Word on actually for writing, rather than simply viewing documents.
My heart still yearns for a Windows-powered handset. Whether or not that will be Surface Andromeda, I simply don't know. For now, BlackBerry's KEY2 is filling the void pretty well.
What phone are you using at the moment? Let us know in the comments!
Windows Central Newsletter
Get the best of Windows Central in in your inbox, every day!
Jez Corden a Managing Editor at Windows Central, focusing primarily on all things Xbox and gaming. Jez is known for breaking exclusive news and analysis as relates to the Microsoft ecosystem while being powered by caffeine. Follow on Twitter @JezCorden and listen to his Xbox Two podcast, all about, you guessed it, Xbox!
I got my Key2 a couple weeks ago the day that the unlocked silver became available in Canada. I moved from an HP Elite x3, but before that I was a BlackBerry user so it was a partial homecoming. That keyboard is fantastic and my main draw. The main thing I love it for is being able to type without looking down. I've found the scrolling hasn't been that great for me so far, though, not as good as I remember it from the Passport. Everything else about it (shortcuts, auto-complete) I have found to be such a better experience than the HP Elite x3. I agree with basically everything you said, except that I have yet to notice any performance lags. Granted, I haven't tried to play any games on it, which I imagine would push it. I also stuck with Google Assistant instead of Cortana, although I do have a bug where sometimes the long press on home won't open it properly, which is not a problem when I make Cortana the default assistant. I put it on the convenience key, though, so not a huge inconvenience. Everything else I swapped to Microsoft (Edge, everything Office, OneDrive, Launcher) or used the BlackBerry options (Hub, Calendar, Contacts, Tasks). Basically Google gets the general Android data, Maps, Assistant, and YouTube, but I have better alternatives for everything else and it allows me to replace them. Convenience key doesn't work quite as nicely as I wish it would. It determines home by WiFi, car by Bluetooth, and meeting by your calendars. I really wish I could just set a schedule: give me work shortcuts during certain hours (I work from home some days so I get my home shortcuts), give me car shortcuts during commuting hours (in my case by bus so I can't use the Bluetooth option), give me home shortcuts the rest of the time. The meeting idea is fine except that I can't limit it to certain calendars or certain statuses, so if I have an entry in my calendar that's tentative, it goes into meeting settings; if I have an entry in my personal calendar, it treats it the same as my work calendar. I had to turn it off as not very useful. Sorry, that turned into a mini-review, but it was relevant to the post.

I will never open a phone and be as happy as I was when I unboxed the Lumia 1120 and 1520. Both phones were amazing and I am sad phone companies don't think out of the box anymore. The only other phone I was as happy with was the original Note (when not available in the US). Samsung killed that line as well.

Thanks for reading and the thoughtful comment!! :)

Looks like a cool phone (though I think the design of the Priv is more practical and better), however privacy will always be a problem on Android with Google steering the boat (/essential stuff like API's) so alas I will pass on these Blackberries.
Perhaps in the future we will see Priv-like phone with Windows with telephone support on it, that would be cool I think.

but Microsoft is not releasing any phone in the future, then what to do?

It will depend on whether Microsoft will add telephone-like features to Windows (10, 11 or whatever version) and if they can improve UI further for phone-like sized devices. I guess they will do that but that they will take their time.

When WP was released, iOS was incredibly user friendly but utterly lacking in capabilities. Android, on the other hand, was immensely flexible and capable, but the user experience was a buggy mess. Had WP maintained compatibility with WM (and thus had apps) it very well might have taken off, filling the void between those two extremes. But in the intervening years, Apple has greatly increased the APIs offered to developers, and iPhones are now powerful devices in their own right, while Google has successfully modernized Android so that it is as easy to use as any other platform. In short, there is no void for WP to fill any more.

No void to fill? My Lumia 640 XL was a great phone for only $250. You cannot find a good Android or iPhone for that price. Even this thing is priced like a flagship phone and it certainly is not one. Android is still a buggy, laggy and inconsistent mess with settings like storage and SD memory incredibly difficult where they were so simple on Windows 10 Mobile. And every Android purchase is such a crap shoot: this manufacturer lets you do this while another doesn't. And when is iOS and
Android going to realize that icons were never a good idea for a mobile phone UI? This article does give me hope that there might be something in the future that can free us from the big two.

No good Android devices under $250? What?! There are so many, including older flagships and great mid-range and lower devices from all the manufacturers. The Motorolas specifically come to mind.

There are plenty of $250 Android phones that are more than adequate.

No, there are no good Android devices. Any. There are some medicore devices, mostly from Nokia and Xiaomi in the range $350+, but definitivly nothing coming close the Lumia x50-Series.

And none of them can perform better than wp in 8.1 so.

There are solid devices like Motorola Moto G6 Plus / G6, however update policy is crap with Android and arguably privacy issues can be a major downside.

Like what Bleach said. What do you mean there are no Android phones for $250?? Have you even looked. Nokia 6.1 at $267 (barely above $250) comes to mind as an awesome choice.

Yeah if you can live with Android (no more updates after 2/3 years and privacy issues) than Nokia has some fine devices for the prices.

Hey, that reminds me of the $30 Lumia 640 LTE.

I'd buy in a heartbeat if that keyboard was a portrait slider. I'm tempted tho as it is to replace my hp x3

Yeah exactly, like e.g. the Priv had. That was a great design.

So is it possible to run this without a google account? I really despise google and the thought of having them have access to all of my mobile device activity is not appealing. Are there alternative stores to download 3rd party apps from?

You can just have a Google account just as a shell. It's a matter of settings. My google account is only a shell. I never save location history, and my contacts are hosted in an app that isn't Gmail.

Wait until you realize your ISP sees EVERYTHING and can do whatever they want with it with no transparency. Google is the least of your worries if privacy is a concern.

Why do you think I haven't realized that already, and taken steps to mitigate?

Hahahah what a douchbag comment. I was still tracked even when my location is turned off in android..google is really the worst of all. So **** the hell out of here ass ****.

you could but you will miss essential API's which are woven in Google's apps (hence you cannot run all apps in the Google Store correctly). Your only other choice is the Amazon store I think.

You need a Google account but you don't really have to use any of Google's other services. You can turn off location tracking (at least in theory - there was that story that they once got caught still tracking you anyway). You don't need to use any of Gmail, Drive, Assistant, Maps, YouTube, etc. You don't need to backup your phone settings to your Google account. You can use third-party app stores as long as you don't need any apps with Google Play Services (which it sounds like you don't want anyway). You'll never be completely Google-free on Android, but you can get pretty close to the point where the data you are giving them is minimal and not overly sensitive. I'm mostly with you on this reluctance around Google, but I also couldn't bring myself to use iOS, so it was my only other option.

Mine will be here tomorrow :):):) I have also been using BlackBerries consistently since 2005. I have had every BlackBerry since the Z10, minus the DTEK series. Hoping this is a solid improvement over the performance shortfalls that I experienced with the K1. I've been super stoked about the SD660.

"Extreme summer weather?! Pshaw!" --Yanks

I this phone reminds me of lumia 930

Can you please tell me what launcher and theme you're using to make your home screen look like that. I REALLY like it!!!

It's Microsoft launcher plus icon pack: Line, I guessed.
I personally prefer whicon icon pack though.

Thank you so much for the reply

How do you type reliably since keyboard is at the bottom? You have to hold the phone from tipping over using your small finger!

It's really not as difficult as you think. Your index finger is essentially what you use to support about midway on the phone. I only use my small finger to keep the device from slipping not from tipping. The index finger supports most of it.

The same way you type on every other goddamn phone in the world.

I went from my Lumia 950XL to a KeyOne Black Edition and really love the phone... Battery life is the major plus for me... Love the Blackberry features and software plus pkb... Have all of Microsoft's Apps installed too... All Google apps are disabled apart from the Playstore and Google Pay... Phone is well built and a pleasure to use... Still miss my Windows Phone though...

I have only ever used BlackBerry phones since 2010 and I've never had regrets about it and the KEY2 just proves why I stick with them.

I'm kind of liking it, though I prefered the Priv concept with sliding keyboard. I never had a Blackberry but I'm wondering something about the keyboard, does typing accentuated letters just like on the on-screen keyboard by long-pressing a letter? And access to lists of smilies? Or do I have to rely on the on-screen keyboard for these...

Holding a key makes that letter capitalized, but you'll notice a row show up on the screen with the accents available as well. The emojis are available on the screen close to the bottom from the menu. Pretty easy to access. Or just type them using the keyboard like :), etc

Doesn't seem too bad. If my 950xl gives up before the fabled Andromeda reaches the market I might consider something like this.

I was looking to switch from my then phone (Samsung Galaxy S4) to the Lumia 950XL, but, Microsoft started retreating from the mobile phone market and restricted the final set of Lumia phones to GSM carriers. As a Verizon Wireless (CDMA) customer, this rendered the Lumia phones non-factors. I settled on a Samsung Galaxy S7 Edge and installed various Microsoft apps. If Microsoft ever decides to release a new mobile device, makes it compatible with Verizon Wireless and doesn't cost and arm & a leg, I'll give it strong consideration. If nothing happens, I'll likely stick with the Samsung Galaxy family.

The Lumia 1520 was and still is my last great phone. Before that I would go all the way back to the Blackberry 9000 for a phone that was just a pleasure to use. I would already have a Key2 if it wasn't such a Mystery Busride to get a look at one and by one here in the States. And I would prefer the 128 GB version. This may be a dumb question, but would there be any performance differences between the 128 and 64 GB versions? Maybe as time went on and the storage space got eaten up?

Not sure about eMMC which I guess is what they use for storage in the phone. I know that SSD's do get slower if they are almost full. And since eMMC are referred to also Solid State Storage (note not the same as SSD) as think yes. However I think I would suggest to get the 64 gb one and get a fast sd card.

Jez and the rest here, I still use my 950XL because I still haven't found an email program that works for me under Android. I have tried a number of them including MS Outlook and none of them seem to work if you use folders and incoming rules to direct emails to folders. On my 950XL I can browse my list of folders and see how many new emails I have in each folder, using Android I have to go to each folder and wait while it updates to see if I have new email. Works fine if I turn all my rules and allow everything to hit the Inbox and then sort. Any suggestions?

Have you checked out Blackberry Hub? I think it might do what you are looking for.

I love the Hub. I was expecting to use Outlook since I'm so buried in the Microsoft ecosystem at this point, but the Hub comes with a lot of other features that drew me in. Better than Outlook Mobile in every way except if you need Office-specific features like Groups.

Hi I still craying and I miss windows phones I start from lumia 800 and finish on lumia 950, Nokia-the finish and materials used top of the top also the touch the best in lumia920, 1020,camera in all lumias alway better than other makes(phones). Now I'm user of Sony Xperia XZ premium and from day one I try customise new pone to be similar to my lumia, Microsoft launcher, word, one drive, outlook plus all synchronized with my old surface and works. Is a lot phones on market but to be fair witch next I still have Nokia 3100 works fine but I stay for now with Sony and wait for new win phone or something from Microsoft with Universal Platform and esim? Best regards for Windows Central and all subscribers

Jez, great write up! Love to read when some authors of this website still share that love for WP. Yes, I share the exact same sentiment about the 1520. A 6in polished Red euro-cool looking Nokia, with a glance screen as I sit in board meetings still catches everyone's eye, even the iphoneX peeps. The app limitation to this day has not been an issue, I've learned to operate without app-reliance and even with the Android and iphone that I play around with as a hobby, I dont feel any need for them, dont feel like I'm missing out. The downgrade to twitter really sucked though, pwa for uber was annoying as well...1520 on 8.1 was the best era...Lumias became duller in their design, and the w10m was all over the place.
Been with WP since a dell venue pro...To be honest, from everything I've read, I have zero interest in Andromeda. If it really is full fledged windows 10 on a smaller device, sounds super boring...therefore in search of that Android...but once in android, we windows phone users were taught to believe in "ONE" ecosystem...I plan to do the same on the android then, bye bye bing, cortana, outlook, hotmail...(will keep onedrive and office apps tho) Thanks for the tip!

1520 was my favorite. Still use 640 XL for mail and basics. Reasonably pleased with Android LG Stylo 3 which only cost me $99!

It's great device, but just to much money.

I remember reading they had plans to release a cheaper version.

Heave ho, I'm still using my Lumia 950xl as my one and only phone. I'm still okay with it so will use it for a while. I've only had it for a year and a half though. Let's see what the next year brings.

Same like you, my 950XL dual sim will continue to be my daily driver, maybe not so polished as the 8.1 running on my 930 but its a great fully featured device. About 18 months ago bought a BB Passport as I still yearn for the BBOS of past days Bold 9000 and all my earlier BB phones. Have been seriously looking at the Key2 for a while now, as much as I dont want an Android if MS doent pull finger on the Andromeda I will need to consider something.

Ya. This is the only phone I'd consider buying right now. Ya the camera is so-so, but overall this is so different then anything else out on the market. That's what I loved about WP/10M, it was different and yet still very functional. My elite x3 is only the former. I luv BB products too, so I'll probably get it at some point.

I just came back to wp after using android and ios(both primary and wp secondary) for almost a year. I doesn't find any reason to stay in other platform. I still find wp much better than both of them. I sold iphone se after using for 4 months. I used android for around 8 months (moto g5 plus 4gb). Now i have 830 in win10m and 640xl in wp8.1. I will wait for what Microsoft next.

And i forget to mention i am a pc guy. I used pc 95% and phones 5% so my smartphone needs are not very high.

Very pleased to see this review, it's nice to see others thinking out side of the Apple and Samsung box.
BB devices are always superb quality devices much like Nokia of old.

im still using my Blackberry PRiv. i like the discreet slideout keyboard. Reading this is making me want to downgrade-upgrade. There have been rumors of PRiv 2 sometime this year so let me finish 2018 before i think about changing my phone.

I would wait a bit and see if they indeed release a Priv 2, the Priv concept just seems more handy imo (bigger screen, screen more upwards so less ipad-neck syndrome).

anyone know who has a demo of this in store? im not about to buy something i have not test driven.

I've managed to find Keyones at Best Buy (sometimes) and more commonly Sprint stores. I'm guessing that the same applies for the Key2

I'm still using my Lumia 950 here in South Africa and see no reason to even consider changing. My bank has an app for Windows 10 Mobile, the camera is the best and the envy of iOS and Android users, top games are available and live tiles reflect latest news and weather. The only way I would consider changing is if the Surface Andromeda materialises.

Same, also have the 950. My only problem currently is that apps are prone to crash on start-up, though I have read they may be cause of Skype was installed and/or bad/corrupted contacts in Outlook (which apparently would cause messed up syncing or such).

Well, the fact that the andromeda will suck as a phone, I would not.

First generation undoubtedly, but perhaps later generations would not.

It will be no better a phone than the gpd. It's usage as a phone would be terrible. To big and clunky.

I'm looking to pick one up, still using my Passport. Thanks for your take on the phone, only solidifies that this should be my next one.

I miss my 1520 and 950XL every day. Microsoft needs to get back in the game before it's too late.

Still using my Lumia 950 XL even though I also have a Samsung Galaxy S8. The Lumia 950 XL screen and the Outlook app are simply just too amazing 🐱‍👤

Lumia 950XL daily driver, 1520 backup phone.

The first phone I tried after Window Phone was a used iPhone VI. I wanted to avoid the spyware morass on Android so I concluded iPhone was my only option. My expectation was that I had waited far too long to move on from Windows Phone and that I would find the iPhone to be awesome in comparison. Instead I'm shocked at how bad, limiting and stupid an iPhone is compared to Windows Phone. I've pretty much lost all interest in mobile phones but I'll look into the Andromeda if anything comes of that. Barring that I suppose I'll be forced into Android before long and perhaps I'll consider the KEY2 if so. I found the 1520 to be bland after a Lumia 1020. I doubt I'll ever have another phone that felt as awesome to me as the 1020.

This phone can NEVER compete with the great Lumia 1520 phone.
Windows Central Newsletter
Thank you for signing up to Windows Central. You will receive a verification email shortly.
There was a problem. Please refresh the page and try again.