BLU Products teases a shiny new Windows Phone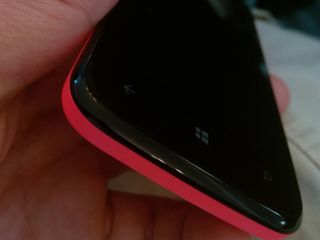 Blu Products is a mobile phone maker out in Miami, Florida. They focus on making devices aimed at emerging markets and have a great presence in Latin America, the Caribbean and in the United States. Head to their Facebook page and you'll see they've just teased a new Windows Phone. It's very, very shiny.
We don't know much about Blu Products or their plans with Windows Phone. Though it's not too hard for anyone to become a Windows Phone OEM now that Microsoft has relaxed the rules a bit. Even you can become an OEM by heading to oem.windowsphone.com.
The Windows Phone they've teased, image above, looks a little bit like an Android handset they already make called the Dash 5.0. Inside the Dash 5.0 you'll find 5-inch display with a resolution of 480 x 854, a 1.3 GHz dual-core processor, 512MB of RAM, dual-SIM support and more. The specs won't blow you away, but the device does retail for $129.99 on Amazon.
Could this upcoming Windows Phone handset give Microsoft a boost in the emerging smartphone market? Probably.
We'll work on making contact with Blu Products to learn more about their plans for Windows Phone. In the meantime let us know what you think of the teased image!
Source: Facebook, Blu Products
Thanks for the tip Bernie!
Windows Central Newsletter
Get the best of Windows Central in your inbox, every day!
Me too. I think they look great. Welcome to the Windows Phone party Blu! All - There are lot's of developers in South America right now, and they need to carry Windows Phones and see people carrying Windows Phones. It's good for the ecosystem.

I believe Blu have a 6in Android Phablet coming out running 720p resolution, 4GB internal storage, QuadCore with expandable sd memory.
ALL FOR US$250
If that hardware came to WP8 ....then we have a competition.

Don't you think Blu's website looks a little familiar❔

No, it looks just like WindowsPhone.com

What's up Rodney Posted via Windows Phone Central App

I like how you write the articles and then answer your own questions in the comment section lol

Damn, you made the article and you are the first commenter. Not fair-_-

Wait wait. Don't be so fast, so careless. We don't want Windows phone to become the brand of spamming out many cheap crap devices. More OEMs is good, but I hope they keep up the quality.

F*ck that plan. If I want quality, I'll just buy from Microsoft. I don't care if they put out hunks of plastic, as long as they sell.

Bad products won't sell..

But Samsun sold a lot shits.

my Galaxy s2 and Focus Flash agree with you.

My Galaxy S2 was horrible. I should have went with iPhone 4.

My iPhone 4 is on kid duty with ios 6.1.3 it has a shattered glass back and always had crappy camera, my i777 runs Kit Kat and has a decentish 8.0MP camera and is in great condition, I think the GS won... my 5c gets way better battery life though..

That may be your opinion but I really think that's not true. My Samsung phones never broke and were indestructible: Touchwiz and nexus S. All this talk always that Nokia is superior and Samsung is crap is bullshit. Many many Lumia's from people i know have problems so I'm really starting to doubt their superiority.

Yep I actually went back to my 8X. On my third Lumia 925 & and still have Screen problems, freezing, fast battery drain at least one day out of the week and now my headphones only work if I pull them slightly out (headphone jack sinks with pressure) but on my 8X I have none of these and I got that on Day ONE. Has scuffs from 4-5 drops at ear height and its still kicking. Screw Nokia at this point, if HTC or Sammy release a Tmobile 5" WP Flagship I'm gone until MS produces direct products.

Totally agree
I had a horrible experience with my 925, ana IMO quality is degrading over time, in all brands. As a previous owner of 6110 6310 3310 7110 N-Gage and QD Lumia 925 from Nokia and Samsung Galaxy Mini Pocket Nexus Nexus S as well as several brands and tried tons of devices, I can say that better quality can be found at HTC, Sony, and of course, Apple. Even Oppo has good quality phones.

Nokia is superior to Samsung though. Hardware wise. I always amuse myself when I hear about people saying Nokia Lumia has issues more than Samsung devices. Of course there will be more issues when at most 400k own a Samsung windows phone vs the millions of Lumia.

Ugh I'm talking from real experience, from devices from people around me. That's all.

And yet people are Jumping ship From Nokia and Not Samsung. You would think that with the Stability of WP, people would like to stay. But this isn't the case. As a previous NOKIA Fanboy, due to the "value" of their devices, I say Samsung HARDWARE Quality is MILES AHEAD of NOKIA. Even their support of WP apps is superior...NOKIA=17, SAMMY=19. There's nothing NOKIA has that is superior than Samsung. I've dealt with NOKIA since their symbian days. I gave them another shot with the 920. I have a 520 as I type this. The screen on this thing is subpar. I have 2 lights shining from the bottom. The one to my left seems to be more pronounced. Of course, I didn't expect much from it...after all, it is a budget phone.

Lmao you're using a 520 as an argument? Too funny. Haven't heard much news about people jumping from Nokia.

925, jumping ship, screen issues and subpar build quality overall Next phone wont be a nokia, maybe if wp advances more than that i'll come back with a Sony or sth

You make every excuse possible for Nokia. SMH. People have complained from 520 to the 1520. It's amazing the shit you blind eye.

I am on my 3rd Lumia 810. Screen issues were pretty annoying. I'll certainly be looking to other OEMs when it comes time to replace my Lumia.

Exactly i could care less about the outside of the phone if the components inside fail

I think Lumia is pretty much bought only because of the camera, comments on WPCentral and of course name -> Nokia

Ive been typing all the explanation and then I click back, for the second time, oh well.. Long story short, Nokia is/was actually the only one manufacturer with best specs as 1020, 1520, 930, and cheap 520 which represents more than half WP out there, Im pretty sure numbers would be different if HTC, Sony, LG, even Samsung step up their game with real things, but they need same rights as Nokia does.. That may change now under Microsoft Mobile, I certainly hope so.

Only problem is they cut corners in what are supposed to be high spec devices ie 920

Nope. Try the fact that are the only OEM ago gave a damn about the OS. The camera is just an added perk. :)

Your comment is understandable until you realize that WP runs smooth as butter on handsets with these specs. Shouldn't be an issue.

There are other aspects to a phone like build quality, support and firmware etc..

Well my 925 with 8.1 runs as smooth as chunky peanut butter.

Until you realised that main OS still needs good quality firmware and correct drivers from OEM in order to continue running smoothly.

If by specs you mean lower hardware specs... no need to worry as WP is optimized for the hardware they allow. If you mean cheap build quality, thn again no need to worry as bad products will simply not last. Manufacturers will have to come up with better hardware at cheaper cost eventually.


But not all apps/game are properly written to run on low spec hardware which ruin the reputation of the os

This is why android is on top, flood the market with crap.

But for WP it's good crap :)

I agree on that, but WP still didnt top high end phones, which makes people jump.. Before other OEMs start doing something..

Well maybe sometimes the hardware will probably be crap, but the OS will still be silky smooth unlike android (:

Well, the cool thing about Windows Phone is that it always runs great, even on crap hardware. I don't think we have anything to worry about.

Precisely. Lets leave android to spew out the cheap crappy devices. We don't need them!

Ask for more.... MOARRRR!!! PEPSI !!

I thought it was Just_Me ;)

Is it just_me or are this curves delightful :P

Its Just_Me and the curves. :)

I live near Miami ...never heard of blu

They been around for a hot second

Their more feature phone than smartphone

No they are not. Blu makes Android smartphones in all performance levels from budget tier with low res screens to quad core devices with massive 1080p HD screens and 32GB internal storage and 13MP cameras. It is nice to see that they are making Windows Phones and it would be nice if they make WP versions of their Android flagship phones so that more people can be exposed to Windows Phone in lower price points. The goal is to expand WP marketshare by any OEM who will help out.

Neither do I, i live in Miami.

I live in Orlando. I know one person with a BLU phone. Looks like a Galaxy S4 if you took a quick glance.

That's so true. My colleague has one and we trouble him by asking whether it's the Blu Galaxy or the Galaxy Blu. Here in Trinidad, Blu phones, Lumia and Asha devices sell alot. The only issue I have noticed is the Lumia are too expensive for the price conscious; while Blu, though crappy on the budget level because of the OS, sells extremely cheap and in all sizes. With WP on those same devices, customers are going to have a better experience. Also, BBM will play a big role in people buying Blu andriod instead of its WP counterpart. MS needs to ensure OEMs like Blu have access to, that app when it launches. If it's pre-installed, it'll be even better. Digicel operators in over 20 markets in the Caribbean and South America; so there's a great opportunity for MS to snatch via the Lumia and Blu brands.

Sounds like huawei would be a perfect fit there

They have a nice 5inch 1080p phone with good specs

Isn't Blu also a brand of eCigs? Can I get a smartphone that I can suck nicotine out of?

Lol I was thinking the same thing.

Sucking on a Blu now (formerly Skycig) and wishing I could just suck my phone

Blu devices are meh, but that are valued great. This is great progress for the low end WP market but we gotta get more high end phones

wow so smrt much obveyous many clever wow

Did you not read this article?

I know what you mean Sammys devices practically make full use of the top chassis specs to bad they settle for plastic wish they would've made the euro demo unit battery cover an aftermarket purchase for ativ s.

I like it! I mean, my mom would buy that phone in a heart beat. She doesn't care about specs, as long as it looks good to her eyes and makes a phone call, text and WhatsApps messages. Period. To her eyes, iPhone, android or windows phone doesn't matter. What matters is looks and how much it costs. This will play right there.

There's millions of people put there just like your mom. That's why these OEM's do well. Most people over 40 don't care about specs. They care about a phone call, messages, and some music.

I'm 39, are you saying next year I'll trade my Lumia Icon for a Blu phone!? ;-)

I think he meant people who don't care about spec's.

You can! If they come up with the matching specs; with cherry on the top!

I'm really excited for this for some reason. I've been looking Blu Products for a while. Waiting for a WP from them.

Same here. The title took me by surprise in a good way.

Yeah its odd for a manufacturer who doesn't use snapdragon

I imagine they will have to for this phone. Samsung didn't even get an exception.


This excites me very much!

I just hope the plethora of OEMs and their hardware will be able to live up to the great OS and won't betray its quality.. Like, don't ship out poor hardware with it..

480x854 at 5", yikes! (I know the Dash 5.0 is a low end device but, I just wanted to point that out)

The Lumia 525 is the same way and to top it off is they dont have to include 1gb of ram

I never heard of BLU until I was browsing phones on HSN.com a few months ago. Seems they have a ton of Android devices. It's good that they're now making Windows Phone as well. We need more manufacturers producing it!

What???Really??? No Snarky NOKIA comment. I like this.

Start with low end once, and then conquer the high end.

I guess that's where all WP OEMs are going to

Yeah, Apple pretty much have the high end locked down, well, for now at least.

Samsung has the high end market to...

Maybe going forward MS will only concentrate on high end phones and leave low end for OEM like this?

We can only hope but i dont consider onscreen home/back/search buttons highend its more cutting corners nokia style

If you are referring to 630/635 then we have to understand that until other OEM come up with viable other low end phone to cover that segment of the market, Nokia/Microsoft has no choice but to continue with low end phones themselves, someone has to cover low end market at the moment. Don't you think?

Can I vape from it as well?

That's what I thought about my live tile. Ecig...what?

Only problem is their current smartphone line uses meadiatek processors

What's wrong with the processors?

MS has relaxed the rules but not that much. They'll have to use Qualcomm. Judging by their history, they went with a reference design and moved on from there.

Same is the case with the new OEMs that Microsoft showed during build this year (Xolo was one), they use MediaTek processors for their current lineup of Android phones which they will switching over to Qualcomm just for the Windows phones

NICE! Who knew there was a handset maker in the USA?

You seriously can't think of 2 other major handset makers that are US companies? Like, one is a grandaddy of cell phones and the other a giant fruity juggernaut. Though to be fair, I dont think Motorola is US since Google sold them...cant remember who they sold them to. If you're referring to parts and manufacturing... Blu is no different. US company with products manufactured in China.

That one US company that's sort of big is a new Windows phone handset maker too, I think the name is Microsoft or something like that.

There's a new US OEM starting today :) Microsoft.

I've only seen their feature phones where I live, but it's good to see more OEMs getting into WP

I've been looking at these guys for a bit now. They even make Super AMOLED devices. I hope this device is successful, so they can produce higher end phones for WP.

How many OEMs is that now?

Last count was 15, I think..

Obviously wp8 device/specs

WP8 doesn't have dual sim support

WP8.1 supports dual SIMs.

I know. WP8 doesn't. WP8.1 does

In theory they do lookup knowroaming & Roamly they both utilize an unused feature of gsm called sim toolkit(not available on all wp7 devices but standard on every wp8 device) & knowroaming is supposed to be making an app to handle the handover(my guess is it will require blue)

Why do they still have capacitive buttons

I don't mind capacitive buttons but I prefer to have a physical home button as it can be used to wake the device.

I feel same way that was one of the problems with the dell venue pro

Count me as another person interested...in getting something like this for parent types. Big screen for $130? Heck yeah! They wouldn't see the difference between VGA or 1080p either! :D

My mom is starting to complain about the screen size on her iPhone. This would be perfect for her. All she does is take pictures talk and What'sApp

It's like a Palm Pre. I love it.

If I lived in the states I would embrace them....means jobs ;)

Looks great, good news for WP. The next months are going to be exciting, as all the OEMs will at least introduce one device, so at the very least 15 new devices, right, not counting Microsoft/Nokia

The more OEMs the better ( that's me stating the obvious)

I actually think they have some nice looking devices. Doing a quick Amazon scan they seem to get a 3 1/2 to 4 1/2 average rating for thier devices. So I wish them luck, and hope they can help move some WP's


looks pretty neat, especially with capacitive buttons. It could be another L520!

I mean it could be a bestseller like the 520.

BLu wasn't even one of the announced OEMs. WP8 OS needs more phones to the carriers, period

Finally something from Blu. :)

The phone looks pretty to me. I like the shape and the color.

I like the look of it. I welcome blu as their studio phone was great for the value.

Lumia 520 beats this any day

Looks like an updated version of the original Samsung Focus. I miss that phone.

This is how Windows phone will beat ios. The budget handset makers will embrace it because it performs better on low end hardware than Android, and also because it's cheaper than Android (both are free but Windows phone won't require OEMs to pay patent fees to anyone, whereas Android does because Google is too stingy to license the patents themselves). As market share grows so do apps and pretty soon Windows phone will become a dominant force in high end markets too.

Looks good, might have a blast.

Blu is Good. The only Brazilian OEM with some quality, even run and made by Brazilians but ironically with no plant in Brazil. (gradiente SUCKS hard and positivo is still Stuck in the PC only Market).

My bro has a Blu smartphone. Very nice quality for a very appealing price. Can't wait to see what Blu is cooking up for Windows phone.

I don't think that resolution is going to cut it for a 5" phone.

With that price tag, it will.

Nope, I have the Lumia 1520.

I LOVE LOVE LOVE LOVE LOVE THAT RED COLOR!!!!!!!!!!!!

Not the ugliest of phones. Does remind me of the Moto G though...

Loving the comments on the Facebook page. Fair amount of hatred but more love I think. Fave comment is just "Disgusting" haha! Facebook is so shit.

I hope OnePlus considers making a Windows Phone with the same price to spec ratio of their just announced flagship.

That would be cool. But honestly looking at the pics, I'd prefer BLU made one like that. They seem to have a better design language. Still, wouldn't mind OnePlus +1 at all. The more, the merrier.

They make decently priced unlocked phones.

Considering how you can get an unlocked 820 or 620 fora similar price, I don't know if this is such a great idea for Blu. Blu made their mark by selling decent (not stellar) Android phones to combat the inflated prices of the Galaxy S series and the HTC One line. Windows Phones are already cheap. And although the price is reasonable, I'd rather have the Lumia if they cost the same thing.

Now there is no a worthwhile Windows Phone on the market, isnt it? I mean a device with a modern hardware and HD-screen of 4.3-4.5 inches. Nokia 925 looks like that, but it has just 16 GB of internal memory. Nokia 1020 has an ugly and expensive camera on board. So?

How about Samsung & HTC ??

Samsung and HTC have no as cool apps and functions as the Nokia phones has. So?

The Lumia 525 is more inline with the specs

Nokia 525 is nice as a cheap phone to introduce the Windows Phone OS.

I had one of their phones. I had the Life play. Decent nice colorful phone. If they move thier Life line to wp, well that would be cool. Nice cameras at low prices. They are good with their packagaing. My phone came with screen protector, case, charger and headphones.

Yeah few ship cases with phones anymore last i got with a case was a Mitsubishi g310 with a neoprene service provider branded case

That's good blu is doing their thing. I seen there devices out here in Indiana and its awesome.

Blu in time for Cyan. I wonder if they run the more modern Snapdragons or last generation's S4. Either way, glad to see more companies getting in on this.

USB isn't on the bottom, which is very nice! Looks like an attractive phone.