Bluetooth Keyboard Video Smackdown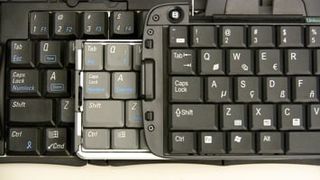 We already lists a ton of reasons why we like Windows Mobile, but let's add one more we forgot about: compatibility with a wide array of accessories, from A2DP stereo headphones (take that, iPhone!) to Bluetooth Keyboards (take it again! ha HA!). So to that end, we grabbed three of the most popular bluetooth keyboards and put them through their paces.
After the break - go take a look at our video smackdown of all three. Well, it's not so much a "smackdown," but "smackdown" is pretty much the word we've been using instead of "comparison" lately so we kind of have to stick with it, otherwise the wrestlemania segment of our readership will throw a folding chair at us. ..Anyway, we'll also toss in quick mini-reviews and some photo galleries of these folding wonders. Read on!
iGo Stowaway ($99.95)
The 'classic' fold-out keyboard. You remember this puppy from your days with a Palm IIIx, don'tcha? Add in bluetooth and you have the same basic story here. We're not fond of the relatively flimsyness of the thing when it's folded out. The feel of the keys themselves is great - nice clackiness and travel without being too loud - but since the body as a whole is flimsy it only feels great on a desk. We are fans of the fact that this thing is a full keyboard - no compromises on size (except when folded up). Well - one compromise: the device stand is a separate piece that's a pain to set up and begs to get lost. (Driver Download)
iGo Ultraslim Stoawaway ($99.95)
This is the smallest keyboard of the bunch - both folded up and laid out. Small is generally good, though in this case it might go too far for some users. The ultraslim cuts out the number row at the top and is also not a 'full' keyboard. On the bright side, the ultraslim is the sturdiest of the three and comes with an integrated device stand. Key feel is good and typing is relatively quiet. I'll admit it feels a stitch cramped from time to time, but not too bad. If you can live without a number row, this is probably the keyboard for you. (Driver Download)
Freedom Universal Bluetooth $99.95
The Freedom Keyboard may likely be many's "just right" keyboard, in the Goldilocks vein. It's not the sturdiest (UltraSlim) or the smallest (UltraSlim), nor can it claim to be truly a "full sized keyboard) (Stowaway). On the other hand, it's a lot sturdier than the Stowaway and it sports a full, dedicated number row. Nerds will appreciate that it supports both SPP and HID (i.e. both BlackBerries and Windows Mobile). Non-nerds will appreciate that it has a relatively simple fold-out action. We like it quite a bit. (Driver Download)
Conclusion
So we like the UltraSlim the best of the bunch, but mainly because we're willing to forego that number row. Otherwise the next best is the Freedom. But if you just can't handle losing a half an inch on width and a quarter of it on height, well, then the full-sized Stowaway is pretty much your only option.
Really, we're pretty big fans of folding keyboards, we just wish that the drivers for them were a little more standardized. All three worked with our Motorola Q9h "out of the box" without any drivers ....except for the "enter" key. The enter key, it's kind of important, it turns out. So downloading drivers from the manufacturers is a must. Fortunately, the drivers work pretty well.
Get the Windows Central Newsletter
All the latest news, reviews, and guides for Windows and Xbox diehards.