Bluetrek Metal Bluetooth Headset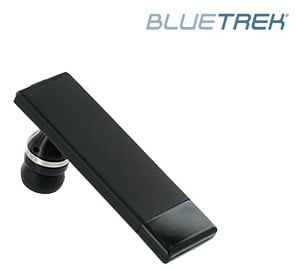 Thin is in? Are you someone who prefers sleek, slender, light weight gadgets? Bluetrek may have something to meet your needs. Bluetrek has been making Bluetooth headset for a while now and it looks like the company may have hit a home run with its latest headset, the Metal Bluetooth Headset ($59.95). The sleek, black aluminum body has the Metal standing out amongst other headsets but does the performance stand out as well? Will it make a nice slender companion for your BlackJack II, Motorola Q9h or Treo Pro? Read on to find out how Bluetrek's latest at bat measures up.
Out of the Box
Out of the box you can't help but think "tiny". Measuring a paltry 1.96" long, .6" wide and .16" thin the Bluetrek Metal is a one of the thinnest Bluetooth headsets I've tested. It reminded me of the Samsung WEP-410($49.95) but noticeably thinner. The Metal is not only thin but it's also one of the lightest headsets weighing in at .19 ounces.
The Metal has a smooth finish to accentuate its thin design. Three buttons rest at the top end of the headset controlling volume and multi-functions of the headset. A small LED light is on the interior side of the Metal, confirming and alerting users of active features. One of the more unique features of the Metal is how it charges.
The Bluetrek Metal comes packaged with a USB cable, car charger adapter and belt clip. At first I looked for a charging cable and then I thought the headset plugged directly into the USB cable. Then I looked at the belt clip a little closer to reveal the mystery. The Metal comes with a small adapter that when attached to the headset, allows you to plug the device directly into a USB port for charging. The USB cable is simply an extension cord of sorts. I plugged the headset into the adapter and then inserted it into my laptops USB port. A tiny red LED lit up and the charging cycle began. Out of habit, I shutdown the laptop and was surprised to notice the Metal was still charging. It took about ninety minutes before the red LED turned off, indicating a full charge.
In addition to the headset, USB cable, belt clip and USB adapter Bluetrek packages the Metal with various sized earbuds and ear hooks and a Quick Start Guide. A full manual can be downloaded from Bluetrek's Website.
Performance
Pairing the Metal with my Treo Pro was uneventful. To enter pairing mode, with the headset turned off you press and hold the center button for about seven seconds. The LED will flash blue and red. Then you simply have your phone recognize the Metal and with the Treo Pro, pairing is done automatically (other devices may have you enter in the top-secret factory code) so you're in business real quick.
With regards to features, the Metal is a basic Bluetooth headset. Features include last number redial, voice dialing (device dependant), call reject, and call waiting. Call quality was good with callers being heard without difficulty and my voice being picked up clearly using a normal tone and volume. Background noise was filtered out really good with the car stereo and traffic noise reduced to where it was barely noticeable. Bluetrek does recommend that you wear the Metal with a little spacing between your cheek and the headset. If you wear it flush, the microphone gets muffled.
The fit of the Metal was marginally comfortable. Without the optional ear hook, it rode well in my ear but had a "loosey goosey" feel to it. Choosing the right ear bud is key to the fit and Bluetrek gives you a large assortment of sizes to choose from. Even with a tight fitting ear bud, I couldn't loose the sensation that the Metal was about to fall off. Enter the ear hook. With the ear hook attached, the ride felt noticeably more secure but you loose the convenience of just popping the headset in your ear.
One nit I have with the Metal is the tiny buttons. While the center multi-function button is raised between the volume keys, it was difficult to manipulate any of them while the device was in my ear. It was far easier answering a call by pressing the answer button on my Treo Pro than trying to find the center button. I could see the buttons being more user friendly to someone with smaller hands but for me, it was something I had to adapt to. I would have preferred the multi-function button to have been on the Metal's face (like on the Samsung WEP-410) or more distinguishable in some way. Another issue with the small buttons, and again this will vary from person to person, is that when worn due to the angle the Metal sits in your ear the button rest inside your ear lobe. There's not much room between your ear and the multi-function button so those with larger fingers or smaller ears will be challenged.
I'm not one to walk around all day with a Bluetooth headset in my ear so the belt clip was a welcomed accessory. I like it better than the lanyard carry options some headsets come with in that it's a low profile option. Placement and removal from the clip was easy but one word of caution for those who have a little overlap to their mid-section; if you're not careful you may accidentally press the multi-function button when bending over (e.g. getting in and out of a car). I had the darnedest time pressing these buttons with my finger but my belly didn't always share this difficulty.
Battery life is reported to be up to 5 hours of talk time and 7 days of stand by time. The headset has a range of about thirty-three feet, which is standard for headsets these days. In my testing of the Metal, I won't disagree with either of these specifications. I don't see battery life being an issue with the charging options the Metal has. There is an optional wall charger that can be used but if all you need is a computer USB port, you should have plenty of options available. The travel charger helps extends your battery life while traveling.
Overall Impression
Judging the Bluetrek Metal was a tough call to make. While I liked the thin, light weight design the button layout wasn't the most convenient. Call Quality was good but not enough to overcome the difficulty in manipulating the buttons. The loose fit is simply an issue of finding the right sized ear bud and I did like the convenience of the belt clip. The unique method of charging the Bluetrek Metal took some getting used to but it did grow on me. I like that you can charge the headset from your computer, without needing cables. The charging adapter is integrated into the belt clip so it's not difficult to keep track of so your charging options, while unique, are as close as a computer.
The Bluetrek Metal Bluetooth Headset ($59.95) is worth considering when looking for a basic, stylish Bluetooth headset. I wouldn't say the Bluetrek Metal is a homerun for the company but it's definitely worth extra bases. As an alternative, look at the Samsung WEP-410($49.95) or the Motorola BH680($59.95) as potential alternatives.
Ratings (out of 5)

Build: 5/5Design: 4/5 (buttons may be too small for some)Comfort: 4.5/5Performance: 5/5

Overall: 4.25/5

Pros

Solid ConstructionGood Call QualityBelt Clip carry

Cons

Buttons too small for larger handsWithout the ear hook, it rides a little loose
Nice review, it seems the minimalist approach works well except for having to get at the tiny buttons. Clean design overall.

Is there any way to buy some in-hear buds?

one day i went shopping outside ?and in an links of london store?I found some kinds of links of london i love most?they are: Links of london mens bracelets Links of london mens bracelets Links of london mens bracelets Links of london mens bracelets Links of london mens bracelets Links of london mens bracelets Links of london mens bracelets Links of london mens bracelets Links of london mens bracelets Links of london mens bracelets shopping Links of London Bracelets shopping Links of London Bracelets shopping Links of London Bracelets shopping Links of London Bracelets shopping Links of London Bracelets shopping Links of London Bracelets shopping Links of London Bracelets shopping Links of London Bracelets shopping Links of London Bracelets shopping Links of London Bracelets

I bought the Bluetooth, and the first thing was to get information on the web page creator, that was a bit difficult but next to impossible to contact them, because the charger does not work properly that was a good thing, they me Charger and send people to customer service was really good, the bad thing is the quality of audio in Bluetooth, it is my hope.
Windows Central Newsletter
Get the best of Windows Central in in your inbox, every day!
Thank you for signing up to Windows Central. You will receive a verification email shortly.
There was a problem. Please refresh the page and try again.