Book radio cabs in India with the new Mega Cabs app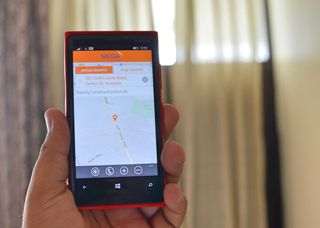 Mega Cabs is an on-call taxi service available in several cities in India - Delhi, Bangalore, Kolkata, Ludhiana, Amritsar, and Chandigarh - with dedicated services at the airports. Started in 2001, the company claims to be India's largest radio taxi network.
The official app for Mega Cabs has finally launched for Windows Phone devices. The app allows you to book a cab quickly and conveniently.
Once registered, you can specify the pickup and drop off locations on the map or enter the address manually, and then proceed with the booking. It's seamless and needs just a few taps. In case you aren't comfortable with the app, you could call the Mega Cabs customer service from within the app and book a cab.
You can also check out all your previous bookings made through the app. There's also a handy feedback section in the app, which you can use to share your feedback about the Mega Cabs experience.
Download the Mega Cabs app for free for Windows Phone 8 devices from the Windows Phone Store (keep in mind there may be some regional restrictions). The app has a neat user experience, and is quite functional. There have been quite a few apps for radio cabs in India in recent times – Ola Cabs, Meru Cabs, TaxiForSure and of course Uber – and Mega Cabs joins the fray now.
Give it a whirl on your next ride, and let us know how you like it.
Nice!. I think I will have to move to India if I have to continue using Windows Phone. That's where the app gap seems to be closing quite fast!

It's closed already..... Windows phone is Indias 2nd most used OS. Beat IOS! :)

Be prepared for a culture shock!

I love the mentality of the devs in India. They use the if you build it they will come ideology which the correct one imo.

Now in India apps are not lacking. We need More phones more ads coz here competition is heavy. New androids are coming for which many pp are waiting. This time Microsoft needs a little pace in marketing in India. We need good ads too. Come on Microsoft

I totally agree about the Ads part and BTW, we still need a competitor for Moto E (I know that phone has some disadvantages) but normal people don't see that... And with emergence of Acer, Xiaomi, production of a new Android every now and then by Lava... Anyone who thinks of his budget first will go buy them blindly,
regardless of OS (I'm talking about the average consumer)... Xolo's WP didn't get good reviews from flipkart and I've no idea what Micromax is doing. They still have the tag "coming soon"

Fun fact: Flipkart accidently shipped Android Xolo Q900s instead of Windows Phone model..

You mean more people???
Or is it all people?
I only read 2-3 reviews on flipkart that said the phone runs Android...
This was a real bad joke. They should replace the phones as quickly as possible, delete that page and create a new one when they've the real phones...

Abhi...Why are you reviewing these kind of local apps only...there are universal ones which developed in India...Please I need the best ones from you

When is it coming to India?

Windows phone is second most OS due to their price .hope they grab at least 30% market share.still android population in India is more than 80%.this should change.
Windows Central Newsletter
Thank you for signing up to Windows Central. You will receive a verification email shortly.
There was a problem. Please refresh the page and try again.