Book flight tickets in India with Goibibo on Windows Phone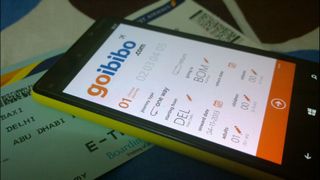 Goibibo, one of the fast growing online travel booking platforms in India, now has a Windows Phone app to book flights on the go. Incidentally, Goibibo has a Windows Store app since last year.
Like the Windows 8 app, this one is pretty basic too. While it is very clean and fast, it's limited in offerings. The app does not allow the booking of bus tickets, hotels, and travel packages as available on their website. Even for flight bookings, the app only allows the booking of domestic flight tickets.
It's funny that the app listing on the Windows Phone Store mentions booking international flights, and I spent ten minutes looking for the option thinking I was missing something there.
Anyway, cribs aside, the app works pretty well for what it offers. Booking tickets is seamless, and the intuitive user experience guides you to search, choose, and book flights. The payment gateway, although functional, could be better. The app also includes an offers section where it lists coupon codes that can get you discounts on flight bookings.
Apart from that though, the developers were very lazy and embedded Goibibo's website (not even a mobile responsive one) for FAQs, Cancelation Policy, Terms & Conditions, and About screens. Not cool.
Goibibo is a neat app for booking flight tickets, especially if you are an existing customer of the service. It lacks the features to attract new customers though since there are better apps in the Store. Although this is just version 1, and we'll hope that successive updates would iron out the kinks and add more features to the app.
Grab it free from the Windows Phone Store (only for Windows Phone 8), and tell us which is your favorite app for booking flights in the comments.
India is nailing it left, right and centre! USA gotta learn soon! WP is going to be a big hit in India!

Not really, we still don't have many apps like McDonalds, KFC, My Vodafone, Citibank Mobile, ngpay, Meru Cabs and so on. Microsoft & Nokia need to do a lot more to fill these gaps. Some of these apps have been due for several months now, they just keep saying we're working on it and nothing has been released yet.

The Windows store could use some killerapps too. Would like to have a WPcentral app for my new Surface 2.

If you would have seen WP in 2010, you would know how far and how rapidly support has increased. Microsoft and Nokia don't *need to do* a thing to fill this gap. Their job is to make OS and hardware, not apps.

Really the eat cow in India ?

Wow, we need an app for MC Donalds and KFC? Come on.

Its already a big hit here, lets make it world wide. Love u nokia

I hate weekends at WPC. Hardly anything good ever happens...

That's how I feel about reading comments here on the weekend too :|

And this is why Nokia World should have been held on a Sunday.

Let us just say Daniel hiring Abhishek was a brilliant move. He seems to be on top of things and any Indian looking for the latest on Indian WP is in good hands. I hope that if other major regions show the same growth they also get their own editor. It would be a tremendous sign of progress.

Hi but this app is released almost so many days back im India, if u r in India then this news is very old n not interesting wpcentral guys pls keep phase up pls

News is always a news, if u knew it leave, they didn't say its flash or breaking news, there are still lot of people didn't know about the app, so if u knew it then read the comments enjoy and tip WP central from next time

I agree with u sudhish what u said News is always a news , but if it is old news then its not a gud one for viewing. If u bring old news users will switch the channel, users always looks for new things, that's the whole purpose of these kind of blogs n everything

Yaah that's true too, but now we have an indian writer in WPC we can do what is tip him at the instant when we get these kind of updates so that it will reach thousand of WP users in India.
At least in India we got more support for WP than anywhere else. So i urge you to support everyone.

Nokia moves up to fourth place in us market, Danny where is the update post it in WP central forum, you people are getting lazy now a days

Haha that's truth! We hardly found something cool for everybody on weekends, but it's ok

Even i too started hating wpc on weekends, nothing much interesting

Yaah i agree to that, no news of abby, Daniel and Sam. But let them enjoy weekends too

I managed to post one over the festive weekend here! :-) Anyway, I'd not have dry weekends as we go along.

Yes, welcome aboard Abhishek.

What a boring weekend. I knew I should of went to the Swiss alps with my snow bunnies.

Anyway, it is a realy Nice designed app.

I read it as Go Bilbo. Though it was a Hobbit game. 'Tis all.

Wow! Do they have planes in India ? Since when ?!

Stop being sarcastic,will ya?;)

No sense of humor in India !:)

Believe me. There is a lot but you know what? There is a limit. If you do it everytime people will take you seriously. Or at the very least put up a emoticon

Yaah we have planes, jets, rocket and some time machines

What makes you think like that?

Haha Bruno there u go again "keeping the topic alive". Whatever this time i wont interfere enjoy the show.

I Know that deep down under they all love me :)

You again.. You seem to come and make useless comments in every India related thread... :S

Yeah,im jealous that all the apps go to India,:)

At least the article did not claim that this is a brand new app. Phew! Very nice.

wp has 2 nd place in India

I'd rather say that India has always been a good market fo Nokia,and that with the joint venture with MS they managed to get strongher for spreading mobile business :)

Nokia is still no 1 in India on overall phone marketshare Wp is 2nd in smartphone ecosystem
Windows Central Newsletter
Thank you for signing up to Windows Central. You will receive a verification email shortly.
There was a problem. Please refresh the page and try again.