Borderlands 3 developers are reportedly not getting expected bonuses by Gearbox
For his next trick, Randy Pitchford makes their bonuses disappear.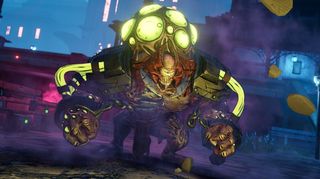 (Image credit: Gearbox Software)
Gearbox is no stranger to controversy, and a new report only makes the developer look worse and worse. According to Kotaku, who spoke with a handful of sources under the condition of anonymity, Gearbox is not offering staff the expected royalty bonuses they had thought they were getting for working on Borderlands 3.
Sources speaking with Kotaku said that Randy Pitchford, who took a $12 million bonus in 2016, held a meeting yesterday in which he told employees that their bonuses would be much, much less than expected. Pitchford apparently cited the game being more expensive than anticipated to make, the company expanding, and off-base sales projections as the reasoning behind this. He did not point to the COVID-19 pandemic as a factor in this decision.
The company is known for paying its workers less than the industry standard, but would previously make up for it through profit sharing. Royalties from all of the developer's games would be split 60/40, with 60% going back to Gearbox and its owners, while the remaining 40% would be split between the employees in the form of quarterly bonuses. This had been going on since the studio was founded, and the report indicates that bonuses from Borderlands 2 were so large that some employees were able to by houses from them. Management apparently promised some of the Borderlands 3 team that they would get six-figure bonuses this year.
Gearbox provided the following statement to Kotaku:
Pitchford reportedly told people that anyone unhappy with the royalties system — people who are now potentially missing out on tens of thousands and even hundreds of thousands of dollars — was welcome to quit.
Explore the universe
(opens in new tab)
Loot and shoot your way to riches

Borderlands 3 is packed full of content, and it's only getting more in the form of some major expansions. Whether you want to loot Handsome Jack's casino or help Wainwright and Hammerlock's wedding go off without a hitch, there's plenty to do.
Windows Central Newsletter
Get the best of Windows Central in in your inbox, every day!
Jennifer Locke has been playing video games nearly her entire life, and is very happy Xbox is growing a stronger first-party portfolio. You can find her obsessing over Star Wars and other geeky things on Twitter @JenLocke95.
Did we forget the horrible launch? The bug ridden launch? The terrible bugs that plagued the game for weeks after the release? The journalist that had to pull reviews because it was so bad? Now months later the game is playable. Still some quirks but at least I don't have to restart multiple times a day anymore with 1/2 of those restarts happening on their own.
Windows Central Newsletter
Thank you for signing up to Windows Central. You will receive a verification email shortly.
There was a problem. Please refresh the page and try again.