Borderlands 3's explosive launch trailer promises to bring some mayhem
Those itching to get their hands on the game can do so very soon.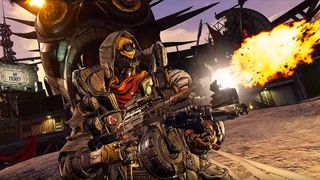 What you need to know
Borderlands 3 just received a new launch trailer.
It doesn't really show us anything new, but more of the same from Borderlands is always welcome.
The game releases on September 13th.
After a seven year wait (let's not count The Pre-Sequel) we're finally getting a new Borderlands game this week. It's been a long time coming and like its previous trailers, Borderlands 3 promises to bring the mayhem in its launch trailer, packed with tons of explosions and some of our favorite characters.
There's nothing really new in this trailer, per say. We've all seen the action and gunplay we can come to expect from Borderlands 3 at this point. Borderlands 3 takes players from the dusty planet of Pandora on a trip across the galaxy to new planets with their own unique threats. So gear up and get ready for action.
Players can start pre-loading Borderlands 3 up to 48 hours before its digitally release. Gearbox has released a timezone map showing when the game unlocks across regions on console and PC.
Welcome back
(opens in new tab)
Prepare for the fight of the galaxy

Borderlands 3 promises a ton of action and mayhem. Pick your new favorite Vault Hunter and get ready to save the worlds. No pressure or anything. Oh, and watch out for the wildlife.
Jennifer Locke has been playing video games nearly her entire life, and is very happy Xbox is growing a stronger first-party portfolio. You can find her obsessing over Star Wars and other geeky things on Twitter @JenLocke95.
Windows Central Newsletter
Thank you for signing up to Windows Central. You will receive a verification email shortly.
There was a problem. Please refresh the page and try again.