Brilli Wallpaper Changer is the Universal Windows 10 app you have been waiting for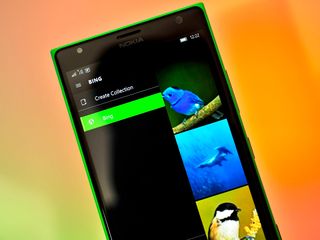 When it comes to Windows 10 and Windows 10 Mobile, the promise of Universal Apps is a big part of the equation for many users. One popular request we have seen is for a wallpaper changer. After all, nothing is more personal than the image on your lock screen, desktop or Start screen.
Brilli Wallpaper Changer is a fascinating app for a few reasons. For one, it is universal. That means the app runs on your Windows 10 PC, tablet, Surface and phone. The other is that it can change your lockscreen, desktop and Start screen automatically every 15 minutes (or more).
The app
Brilli is a free app in the Windows Store although there is an optional $1.49 in-app purchase to unlock some features. Those unlocked features include:
Unlimited collections (Free mode is just 2)
Up to 200 files per collection (Free is just 30)
Plus, you get that rosy feeling knowing that you are helping a developer.
In terms of size, you are looking at a 62 MB file, which is in line with universal apps these days.
The app's design uses the hamburger button for navigation. However, the developer noted on Reddit they will be adding a swipe option for Phone users in the next update. Otherwise, the app looks very much like a native Windows 10 app akin to Photos.
Features and what it can do
By default, Brilli uses Bing images for its source. You can, of course, create your collection that lets you add your own images from your phone or PC. You can name the collection and depending if you are using the free or paid version, each collection can range from 30 to 200 images.
The app can auto-change your wallpaper for both the lockscreen and desktop/Start screen. Intervals can range from every 15 minutes up to once a day giving you plenty of options in between. There is also a random or sequential choice for each collection to help add some spontaneity.
Finally, you can opt to use the same image for the lock and Start screen to make them match.
Takeaway
Brilli is quite a fantastic app. I've been using it all morning on my Lumia 1520 and Windows 10 PCs. Obviously the best part of the app is the auto-changer that keeps your device looking new each time you turn it on. The default Bing images are very popular and make it a worthy starting point for most users, although those with peculiar tastes will very likely create their own albums.
The $1.49 in-app purchase works well too. I was able to buy the app through the PC version and the app on the phone was unlocked as well. I did have a syncing issue with the name of one of my albums, but I'll chalk that up to an early bug.
If you have been looking for an auto-wallpaper changer, definitely try out Brilli. It works well, has a great design and you can't go wrong with it being universal.
Brilli Wallpaper Changer - Start, Desktop & Lockscreen (opens in new tab)
Daniel Rubino is the Editor-in-chief of Windows Central, head reviewer, podcast co-host, and analyst. He has been here covering Microsoft since 2007 when this site was called WMExperts (and later Windows Phone Central). His interests include Windows, Microsoft Surface, laptops, next-gen computing, and for some reason, watches. Before all this tech stuff, he worked on a Ph.D. in linguistics and ran the projectors at movie theaters, which has done absolutely nothing for his career.
Nice job. Next step....live wallpapers.

Yes, let's get as many inefficiencies from Android as possible.

Nothing wrong with live wallpapers IF they are subtle.

I am always leery of things that needlessly take up hardware cycles and strain the battery.

While I myself don't find any point in live wallpapers, iOS has them too--and handles them pretty well. Yes, they're subtle, but every latest version of iOS, despite being such a complex OS, is able to remain fast and snappy on most 2 year old iPhones. They need to make the OS more efficient and handle the idle battery usage. With a stricter App Store policy (such as not letting apps misuse Location services just to run in the background and consume infinite battery, which they have been since WP8) and some pixie dust at Redmond, they can do that.

Yeah I'm surprised MS has not talked about this. This should have been done a while ago.

I've been asking for this forever. Even Apple has it now.

Are your referring to that wallpaper feature that was making people nauseated?

No, that is the parallax background that give the home screen faux depth. The live wallpapers on iOS are animated and some respond to the accelerometer.

Buy a 2nd hand Samsung wp

I also want the live tiles to flip exactly how they do on PC.

Does any YouTube app have a live tile on PC? I have mytube and tubecast but neither have a live tile.

MyTube, but the LiveTile isn't consistent. It quite often goes static.

I'd like to be able to turn live tiles off like on PC.

Yes, live wallpapers plz.

I'd love to see the Windows 10 hero image as a live wallpaper.

Get Bing desktop app!! Does the thing for me

You know what I miss? -- just being able to press "download app" on the Windows Central app to get the apps. Now that it's harder, I just give up

You still can for most things. I'm guessing in this case its because its for windows 10 mobile that they have left it for now

Pretty cool, but I have to say that the title is a bit off. I wasn't waiting for this at all.

Much needed app :) kudos to devs :)

Cool job developer! (thumbs up)

When are we getting a Windows Central W10 Universal App?

This. Particularly in lieu of woeful performance on the preview.

Do you also get the lag when opening a new article?

Ya, at this point they should just port the android app, it's better.

LOL! You got 8GB and not expandable, eh.

Try Dynamic Wallpaper. It does basically the same thing(change start screen and lock screen wallpaper periodically) and is only 9 mb.

Awesome! Definitely been wanting this!

No store link to the app?!

I use Bing desktop for PC to change my wallpaper everyday.

Come on, we could set slide show in windows XP , vista ,7 to change wallpaper, even in Symbian

"Plus, you get that rosy feeling knowing that you are helping a developer." Best part of the article.

For this to be a truly Universal App, shouldn't it sync collections and photos between mobile and PC apps?

I think you have misinterpreted what Universal App really is. It isn't for content synching but having the ability for the same app to run on multiple devices such as desktops, tablets, phones, xbox one (when running windows 10), IoT, and HoloLens. I understand he could implement synching later on but that's not the real advantange of UWP.

Umm, no I disagree. If you have a Universal App you better make sure the user can have the content in sync between devices.

I have been waiting for this..

The link? I can't find it in Windows Store

Why can't i scan QR codes with w10m?

One of the best app ....
Looking forward to it....
Review it pls Daniel sir...

I use Lock Screen Changer (https://www.microsoft.com/en-US/store/apps/Lock-Screen-Changer/9WZDNCRFJ0DQ) on Windows Phone 8.1 and it is very good. On PC I use Windows settings to do it using my OneDrive wallpapers folder.

Looks awesome. I'm going to try it later today

Yeah now really looking forward for an updated WINDOWS CENTRAL universal app !! Hope we get it ...

Can anyone recommend a good source for wallpapers? I want to create a whole bunch of sets to match my mood

I'm heavly relying on Flickr here. Would be very cool to use the pics of my flickr friends (and mine of cause) automatically as wallpapers. Please feel free to use: www.flickr.com/urbautz

I just found "Flickr Central", which does exactly this with flickr favourite pics.

However that app can't set the background on WM10 like Brilli.


Yep, that is correct. But the background for me has to be smooth, so mostly i use something something artifical but no real pictures.

I have an error always on WM10 store, when I try to download an app :(

Let's see how this fairs' against lockmix, so I'll give it a whirl.

This app is amazing. That is all.

What I want is a universal background changer that can change ALL of my backgrounds for ALL my devices at once: be it laptop, tablet, phone, or Band, all automated, with various interval settings including monthly.

That functionalily is already in Windows 8/8.1. I don't see why Microsoft wouldn't bring it to 10. You should request it at UserVoice or ask them using the Windows Feedback if you're an Insider.

I'm sorry, I must have missed the part where I can change my background in Windows 8/8.1 on all my devices on a monthly automated basis. Where is that again?

Another BS app... I set it to cycle every 15mins... It's been an hour now.

Your phone is broke. Works on mine.

Maybe he has too many tasks running. The developer changes the background usung a BackgroundService which is managed by the OS and depending on how busy the environment is, some tasks may take longer.

One thing I am wondering about is orientation. Usually phones use portrait wallpapers but tablets and laptops and desktops use landscape. Sounds like that might lead to some issues using the same image for both devices...