Brookstone website reveals more about Fitbit Surge fitness watch, works with Windows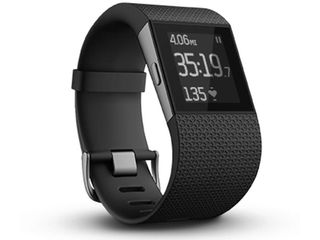 A few days after leaked documents about the upcoming Fitbit Surge wearable device hit the Internet, the Brookstone website has decided to go ahead and post up their pre-order page for the product ahead of Fitbit's official announcement.
While the pre-order page shows that the Fitbit Surge is currently "out of stock", the bullet point list shows nearly everything there is to know about the device, along with images and even a one minute video demo. While it's mainly being marketed for the fitness crowd, it will have some smartwatch features such as call and text notifications, a way to control your smartphone's music and more:
Built-in GPS tracking gives you pace, distance, routes and elevation climbed—without needing your smartphone nearby.
Automatic, continuous heart rate monitoring gives you more accurate fitness stats
Eight-sensor technology measures steps taken, distance traveled, calories burned, floors climbed and active minutes to maximize performance
Advanced smartwatch features for receiving call and text notifications right on your wrist—control your music, too
Record running, cross-training, biking, strength and cardio workouts
Touchscreen display offers easy access to fitness stats
Monitor how long and how well you sleep, and wake with a vibrating alarm
Set goals, see progress and analyze trends on your phone or computer via the Fitbit® dashboard
Share and compete with friends and family in challenges on the leaderboard—earn badges, and log food, weight and workouts
Sync stats wirelessly and automatically to your computer and over 60 leading smartphones
Compatible with iPhone 4s and later, iPad (3rd generation) and later and all leading Android devices, as well as Windows Vista and later and Mac OS 10.6 and later
Android user? Launch the free Fitbit App instantly by tapping Surge on your NFC-enabled Android phone
Works with Fitbit Aria Wi-Fi Scale
Water resistant
Hopefully Fitbit will officially announce the Surge in the very near future, which is rumored to have a $249 price tag. What do you think about the features listed for the Fitbit Surge.
Source: Brookstone (opens in new tab) via The Verge
Windows Central Newsletter
Get the best of Windows Central in your inbox, every day!
This or the MS smartwatch?!

For all we know this is all the MS smartwatch will be able to do. And if it is, I'll be contemplating going back to iPhone... Lol

Huh? How does a smartwatch that supposedly works with every major platform have a bearing on your choice of phone? Can't tell if you're serious or not.

Smartwatch that works on all major platforms (with no mention of windows phone)

Fitbir app already exists, and works smashingly well, for WP.

Because if the watch MS puts out sucks and can't do a good portion of what the iWatch is capable of, then I'm not going to keep sticking with Windows phone if they keep slipping behind iOS, functionally.

The iWatch *looks* great. Only problem... Battery life is terrible. It needs to last a minimum of 2 days Imo.

Eh, did they announce battery life? I thought Apple was keeping that under wraps for now. I'm actually not that big a fan of the look. Nice job on the crown though.

I'm pretty sure we don't know battery life. The website still doesn't even have a technical spec section for batteries.

http://www.macworld.com/article/2606573/apple-watch-tidbits-one-day-batt...

Pretty sure they said they were hoping for a day battery life... Errrggghh

Actually, it "looks" terrible.

To bad there's no such thing as an iWatch and the Apple Watch can't do continuous heart rate monitoring

I'm waiting to see what's happening with the rumored soon to be be released Microsoft wearable

Yeah I want to see if this is what Microsoft had planned or if they are really working on their own.

Of course it works with Windows. Nothing about Windows Phone though. :/

I mean, there's a Fitbit app. Wouldn't that work?

They specifically mention all platforms which already have support for FitBit except Windows Phone. I doubt the current FitBit app has any support for the functions of this watch.

It sure implies that it means Windows PC not phone. That'd be disappointing, since Fitbit has an official WP app now

It says it explicitly ("Windows Vista and later, Mac OS 10.6 and later" meaning computerOSs), nothing implied by it. Maybe it'll work with Windows 10 on phones, but that's a long ways away.

Going by what a Brookstone ad page says is probably not a good idea.

I'd agree, but the rest of the info is fairly detailed. Considering how long it took for FitBit to have an official app for WP I don't think we should expect one at launch now either.

It references an iPhone app, android app and then says Windows vista or higher. Not a great sign

Whoops. Like I said, going by unofficial announcements by third-party partners is not a good idea ;)

Exactly! No windows phone, no buy from me! I'll wait to see the MS watch.

All fit bits work with windows phone and tablet and desktop.. I use it daily the Fitbit One that is and the app is pretty good.

It might sync basic info with the phone (if you have BT LE), but it would need an app to take advantage of new functions, I'd assume.

I think, if you are an iPhone user and are willing to dish out 249$ for this, you should just save 100$ more and buy the iWatch, which has way more features.

People will call it the iWatch just like they call the iPod Touch the "iTouch"... Don't know why Apple doesn't call them that to begin with :)

iS*** and iF*** for the price

iTouchwiz... Well I don't, but just sayin...It's a funny combination.

I know well what it is called, and it sounds stupid to call it the Apple Watch. Extra syllables, and doesn't match the theme very well.

iWatch and iTouch actually sound odd. "I watch" is an actual phrase. You don't "pod" or "pad"(unless you are a packer by profession) or "mac" or "tunes". You CAN phone someone but who says "I phone Tom right now?" So those are ok. No iTV but instead AppleTV.
Apple Watch was the way to go.

Its not iTV because of trademark issues here in the UK; ITV is a television network much older than even the first consumer-grade PCs, so no point Apple suing. ;)

Depends why you're buying the device. Fitbit is more than just wearables. The community is almost as important if you're trying for fitness or weight loss.

Except the Apple Watch is way uglier.

Man I had my fitbit flex for less than a year and that shit seems to have shorted out

This seems pretty cool. Hopefully the Windows watch will have comparable features (and more). But if the WW is more expensive than this....I don't know what I will do.

Windows phone support? It's not listed.

Not seeing WP listed either. Really hoping the notification feature is supported for WP.

This is cool looking. I gave my flex to my girlfriend after it caused me to break out (I have sensitive skin). I prefer the One because it's inconspicuous and measures stairs climbed. I doubt I'd go back to wearing something on my wrist again.

I doubt all off the features would work with Microsoft Phone Lumia. (or whatever it will be branded next week)

But it doesn't work with windows phone???

All the talk about fitness everywhere makes me want to sit and do nothing.

meh, horrendous design, better wait for ms' watch

I truly hope the ms watch is on par or better than this...this might be the straw that brings me back to the Iphone or keeps me with Lumia.

I'm getting sick of the lack of Windows phone support from companies...This is 2 companies just today that we're hearing (Revolv and now FitBit)...I feel like I'm being forced to use iPhone soon because I find myself constantly saying "Wish I could use that product or service but I can't because I have a Windows phone"...With my contract ending on both of my 920 lines next month and no end to this app disparity ending anytime soon I might have to leave Windows phone and hope that I can eventually return to them if things ever improve.

Things won't improve if people leave WP and hope things get better, it will only get worse cause the user base would be shrinking. We need to bug the hell out of these companies and keep asking "why not WP?" Until they realize there is enough of a market for them to invest in WP support.

A few hundred voices aren't enough unfortunately...You can sit back and get less from your phone for another two years if you like...Loyalty for your phone will get you nothing...I really like the Windows environment but life is too short to be constantly waiting for things to change...Especially with 2 year contracts...To each his own though.

Asking and begging gets us nowhere. User numbers do.

Yeah. Two years ago there were apps missing, but most weren't that interesting to me, and still aren't. But with new ways of using NFC and BT LE for devices that I'm actually interested in, the lack of support for WP is starting to sting. Add to that Microsoft's insistence on supporting all platforms and in somce cases like the BT keyboard they just released they can't support their own mobile OS even if they want to because it lacks the necessary BT functionality... not sure I can keep thinking "soon" all the time. If Microsoft can't give it the respect and support it deserves, why should we? I guess we'll have to, once again, hope for the next OS version...

Why I'll use this smartwatch with my laptop??

I really want one of these.

And now we know why Apple pulled all Fitbit products from their Apple stores. This is a direct threat to their watch. With this launching months before Apple's watch, it will put a big dent in their watch sales (even bigger if it was in their store). Although, even with it not being in their stores anymore, this launching so long before the Apple Watch will hurt them. This has multiple advantages over the Apple watch, even when it launches. Surge is $100 less (maybe more) Surge is clearly thinner and lighter. Surge works on most platforms (and almost certainly will support WP) Surge is simpler and easier to use. (Apple watch may be smart watch overload) Battery life will likely be far better on the Surge, allowing sleep tracking (no sleep tracking on Apple because it needs to charge at night) In my opinion, the battery technology does not yet allow us to do the Google Watch and Apple watch without an unacceptable compromise in battery life. One day battery life is not acceptable, especially for something you would want to wear continuously. A phone with 1 day battery life is not as bad because you put it down on a daily basis (when you sleep). In my opinion, a watch needs to have a 1 week battery life. I don't know if the Surge will hit that number. But, if it can, this will set the bar everyone else and make devices that last only a day, seem like a joke.

I was contemplating this, but no windows phone app means no buy from me. Hope the MS watch has the same features...

I would love to wear a t-shirt from WP central as I am die hard fan for windows and Microsoft
A medium size shirt that's all I want

GPS? check; HRM? check; Sleep Tracking? check; Silent alarms? check; if this reliably tracks HR while working out / running, this may be my first smart wearable.

Exactly. This thing is indeed, Smart! Price isn't right for me unfortunately. If it was $150 I would certainly get it.

Definitely seems like the best one so far.

Can't wait for ones with GPS to become affordable. I would indeed like one of these for spring when I start biking again to track my calories burned.

Since it has built in GPS and HR, if it can predict race time based on lap pace or current pace and distance, I want it now.

I think if Brookstone really wants to work with windows they should work to make all parts of the windows experience accessible via the smart watch. I.e. Tablets,phones and desktop

No support for windows phone??

If its fully compatible with windows phone, im selling my TomTom runner watch and buying it!!!! XD TomTom is refusing to make a windowsphone app

This looks great, but I kind of wish they brought back the Force with better manufacturing. That thing was awesome, and only $150. Too bad it gave thousands of people chemical burns.

They ARE bringing back the Force! It's called the Charge and Charge HR (with and without heart rate monitoring). It's probably launching alongside this Surge. Of course, all this is leaked info right now. Nothing is confirmed.

Can any one answer this?
Can windows phone actually send text alerts etc to a Bluetooth device?
Is that why we have no smart wearable products available?
Do manufacturers think we don't want one? We buy expensive surface pro's have the best phone hardware with WP.
Just some one give us a quality wearable. We are not poor cause we use windows phone. Get the message

Yes, I can receive text notifications over my vehicle's Bluetooth.

Too expensive and too ugly. At 150$ (equivalent in my country) and with a proper design, I'd take it...

So get the Fitbit Charge instead. That should fit your budget and likely works with Windows Phone.

It may be cheaper, but it's just as bloody ugly...

There's no way that watch is only worth $25 more that the Fitbit Flex (priced at $125 here)

Too bad it wont work with our Lumia phones unless you have Cyan

This is going to be tough. I'm known for being loyal to a brand, and Fitbit has served my family well for years. I have the scale too. But i'm also a Microsoft nut, and i'm going to want their smartwatch. Finally, i have the Nike GPS watch for running and have used that for over a year. I can't have three watches on my hand, so i'm going to have to throw in with somebody. I can probably give up on Nike (i think they would lose against Fitbit for features) but I wish Microsoft would just buy Fitbit, know what i mean?

Last one recalled. I don't trust fit bit!

That was due to some reported allergies with the wristband rubber - nothing to do with the technology itself.

Nice features. Too bad it's ugly as hell and likely will not support windows phone. Man I'm getting sick of this platform.

I can't even sync my current fitbit to my windows phone since I don't have cyan. Thank you Verizon.

I agree, a Brookstone page is probably not the best source of information about compatibility.

I sure hope this can really track strength training. All those fitness trackers that just track steps piss me off. Steps alone does not equal calories.
The world needs something that automatically knows whether you are doing pushups, bench press, squats, deadlifts etc. This would need a touch screen to input weight since that's impossible to measure otherwise.