BT completes its acquisition of EE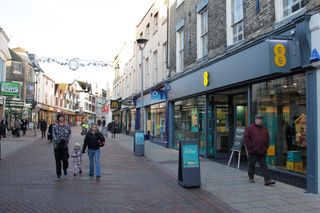 BT has successfully escaped the gauntlet of regulatory approvals and is now able to complete the company's purchase of EE. Picking up and absorbing the largest UK mobile operator, the £12.5 billion deal is a victory for BT, which has plans to enter the competitive mobile industry once more. 31 million EE customers will be included in the deal, which will put BT in a strong position against the competition.
BT already offers mobile phone options and EE has a limited TV and broadband service, but combining the two companies together to offer complete packages would make sense to prevent overlap. However, it's not just EE and BT who have plans to join forces. Eyes will now switch focus to Hutchison Whampoa (owner of Three) who has hinted at a potential purchase of Telefonica's O2.
Simply put, it's gearing up to be quite the period for mobile networks in the UK.
Source: 4-Traders, via: Engadget
Rich Edmonds is Senior Editor of PC hardware at Windows Central, covering everything related to PC components and NAS. He's been involved in technology for more than a decade and knows a thing or two about the magic inside a PC chassis. You can follow him over on Twitter at @RichEdmonds.
Any one remember the we cheap bt cell net phone from about 15 years ago. You were able to send a text and turn the phone off quick and you wouldn't be charged. Lol.

I had a StarTAC from Vodafone at that point, but I remember friends doing that trick :D

Yeah - cellnet, securicor etc. Good times. Hope bt and ee can join and become better because of it. History says otherwise lol.

Guess prices will increase so they can pay for the takeover and due to lack of competition :(

Things used to be simple... Remember NTL?

Didn't NTL become apart of Tiscali? lol Tiscali were quite good until they got too big for their boots.

NTL, nothing to do with Tiscali. I recall Tiscali was originally Freeserve? Dixons and Orange, then Wanadoo, then Orange, then Tiscali somwrhre, eventually bought by TalkTalk when it was owned by Carphone Warehouse. NTL was a small cable company that went on a fatal acquisition spree that cost them billions at the height of the dotcom boom. They gobbled up giants like Cable & Wireless (residential services, formerly Nynex), Bell Cablemedia etc. Then the dotcom bubble bust and they filed for Chapter 11. They eventually merged with Telewest (who also went bankrupt just before the merger) and because NTL had bought 95% of Virgin Mobile, or something to that effect, Richard Branson acquired shareholdings in NTL Telewest, and decided the best way forward was to make a clean break and rebrand the company to Virgin Media. As for NTL Telewest, well it took them about 10 years to actually merge their cable platform into one (was originally a mixture of DOCSIS, euroDOCSIS, and DAVIC).

A more expensive period more like, lack of options = lack of competition thus higher prices. As all we will have left is really is BT/EE, Three/O2 and Vodafone just three carriers. Had O2 not sold the home broadband division to Sky, I wonder what the acquisition would have looked like now... hmm..

And Virgin, U, Tesco Mobile, GiffGaff, etc I know they are only virtual networks, but offer the best deals, after Three

If Three does buy O2, Three will kill off giffgaff first, as for Tesco mobile it also runs off o2 and o2 own a 49 or 50% stake in Tesco mobile so not sure what will happen to that either. BT/EE own way too much spectrum, even o2 and three combined wouldn't come close to the amount of mobile spectrum they have. They need to be forced to give or sell some.of that huge amounts of spectrum they hold

@afgzee, they sure do, I know why BT was allowed to participate in the 4g auction - the government needed to raise as much cas as possible. BT is the winner here, they now have T mobile's, Orange's and the spectrum they bought at the auction - which is a ridiculous amount.

Why would they kill off brands that have a lot of customers? They'd be shooting themselves in the foot that way.

@HarkAtYou. They do yes, broadly speaking but what happens when they too go up?

I have two comments on this: 1 Just switched my wifes phone to a SIM only EE contract and my one is going over in two months, partly as my daughter gets a staff discount and partly because we want to be as carrier independant as possible ands in future only buy unlocked phones. 2 As mentioned my daughter works for a franchise company in an EE branded store, I hope this is a good deal for her.

EE is on the path of destruction. BT will destroy them just as HP killed PALM.

My wounds of that torture have only just healed, F*** HP for denying the world of what personally think would have been the best mobile OS.

WebOS 2.0 seems to live a wonderful life in LG OLED UHD televisions.

And that's why I bought that series TV. Still I still use my Pre3 from time to time. Such a beautiful wasted opportunity.

New name, since BT ate EE.... BEET.

I'm planning to switch to Three when my EE contract is up. If Three are as good as they say, then I might actually stick with them for a good while.

Been with three for 7years. Their like home service saves me a fortune. No brainer really

Test it with a free PAYG SIM https://www.three.co.uk/Support/Free_SIM/Order Been with Three for 8 years now - the network is so much better than it used to be - can be patchy indoors due to the 2100 MHz & 1800 MHz Bands they use. Even thier Customer Serivce has improved - they no longer offer the Unlimited data sims for £15 per month - and are doing a rubbish move of forcing people off it onto the £30 per month tarrif but its still one of the best for data out there. £30 per month gets you Unlimited Voice, Text and Data. (just checked)

I've been with 3 for three years, I'm considering swapping to O2. Three's signal around N.Lancs isn't great. I travel to the Isle of Man a lot and it isn't included in the Feel at Home tarrif, plus the roaming partner they force you to use there is unreliable. I wouldn't consider EE now, as BT's customer service is beyond shocking.

The rich will become wealthier and we will pay more for service..guaranteed!! It's called capitalism and is government ideology...service prices are not based on what it costs but what you can get for it...when your down to 3 providers all of them will raise prices slowly as not one of them can overcome the other in the market

Hope this generates competition between them to give the customer a better deal!

Wow, people still say "to let"? (See article picture.)

Wow. Did that little girl dress herself or did her parents really make her wear a coat that clashes with her leggings? :0)

I'm hoping for a subscription to BT sports with my mobile contract, only we with EE for 241 movies and was thinking of O2 for my next contract, however if I can watching premier league football then I think that'll make me stay :)

I am an o2 customer and I am getting tired of the poor signal they provide and letting lots of other companies share there network which slows it down. I am also a BT broadband customer and BT keep asking me to join the mobile front. I have long talks about it with them and I might actually switch once the deal is complete and BT offer phones as well as good price plans. I spoke to a customer services personnel who informed me once the deal is finalized they will start to bring out package deals. I know EE is much better signal than o2 in the areas I am and the cost of o2 is ridiculous for a well shared network. The only thing I like with o2 is Priorities but I could deal without having it. BT indeed will shake up the mobile networks in the UK and I hope o2 gets better or it be bye bye from me

T -Mobile and Orange merged to become EE. Now BT has bought EE. I'm guessing the reduction of competition means higher prices all round!

@Nick Hoyle1. I was with O2 for a aeons, when I switched to 4G with them everything went down hill. When they removed my loyalty discount before my contract was up that was the last straw. I switched to three and haven't looked back since, I am saving £132 a year compared to O2 and get unlimited data (200 minutes and unlimited texts but I don't make many calls any more) - win - win all around for me.

All I need now is BT to build an Xbox One app, and then give EE customers some bundle offer.

So glad I left EE last year, BT is the worse internet provider

They've been spot on with my 80MB fiber for the last 2 years, surprisingly most of the time I'm topping 84MB down the pipe when I was only expecting 50MB because all companies really like to abuse the "up to XMB", I must live nice and close to the exchange. But anyway, in those 2 years I've only ever had 1 outage and it was over in less than an hour, I can't comment on their support as I've never needed to contact them for anything which is great because TalkTalk used to be on my speed dial lol

Monopoly is my favourite game too.

I can't believe the competition commission allowed this. They say that BT weren't a so called threat in the mobile world. No they aren't, but they now have the ability to offer 'packages' for home, mobile, broadband and tv. And having had dealings with them in the past, I wouldn't wish them on my worst enemy! They have so many catches and get out clauses, they have you by the short and curlies. God forbid, anyone who signs up for them. They are so damned expensive. Will they 'ring fence' current EE contracts?? This all seems a little 'convenient', especially with the O2 rumours. We will end up with 3 carriers, and how can that be competitive? Even the 'virtual' carriers will end up getting screwed, sue to their piggy backing on the major networks. Only good thing to say would be, maybe O2 will get their pitiful network sorted out!

@Mad Cabbie. Telefonica, O2's parent company want out of the UK market so any investment would have to come from Hutchison Whampoa..unless they strike a deal with Telefonica.

Those who think of going to Three think again, their signal issues drove everyone I know away and no one including my self looked back after leaving them. Not best value either.
I hope they will never get to share O2 network.

BT, EE? might be fine for childish comments, but using only short names in actual article and title? really?

No one has even mentioned Vodafone lol. Who??? Posted via the Blackberry Priv
Windows Central Newsletter
Get the best of Windows Central in in your inbox, every day!
Thank you for signing up to Windows Central. You will receive a verification email shortly.
There was a problem. Please refresh the page and try again.