Buy a book on the Windows Store and score $5 in free credit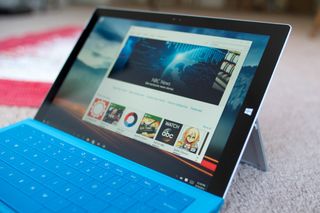 (Image credit: Windows Central)
If you have yet to give the relatively new Books category a gander in the Windows Store, Microsoft is looking to reel you in with a new deal. Right now, the company is offering $5 in Windows Store credit with any book purchase from the Store.
While the offer applies to book purchases, the good news is that the credit itself should work store-wide. That means you can use the credit on apps, music, TV shows, or anything else on the Windows Store.
As the fine print notes, there are a couple of caveats worth noting, however. First, the offer is only set to run through June 30, so you'll want to act sooner rather than later. Second, a code for the credit will be sent to your email and you must redeem it by August 15 and use the credit within 90 days. Lastly, this looks to be U.S. only, at least for now.
Unfortunately, this doesn't work with free books, and you'll obviously want to find the cheapest book possible if you're looking to make money off the deal. Still, it's not a bad offer, particularly if you have yet to check out the Book section of the Windows Store since it was launched with the Creators Update.
See at the Microsoft Store (opens in new tab)
Windows Central Newsletter
Get the best of Windows Central in your inbox, every day!
Dan Thorp-Lancaster is the former Editor-in-Chief of Windows Central. He began working with Windows Central, Android Central, and iMore as a news writer in 2014 and is obsessed with tech of all sorts. You can follow Dan on Twitter @DthorpL and Instagram @heyitsdtl.
SO, what is the CHEAPEST book ? Is there any 0.05 or 0.10 cent books ?

The cheapest one I've found is $1 (One of these is called "A Short History Of The American Revolution")

There is a section in the Books tab of those on sale. I saw at least a half a dozen at 99 cents. Spending $1 and getting $5 back is a pretty good deal, especially when you get a free book too.

There are a lot of 55 cents books. Search for "wildside megapack" in the store.

Edit: Dammit, @hanhua yin beat me to it :)
Search for "Wildside Megapack". They have short story collections in various genres for 55 cents :)

I dont see many people being interested in books that can only be read on Windows.

Not only that, but there is no reader app for them. They can only be read in Edge!

Not only that, but they can only be read in Edge post-Creators Update, which means they cannot be read on the majority of Windows 10 Mobile phones as those were not officiall on the Creators update path. They can be converted to other formats, though. The ebook reader on Edge (PC) is pretty good, but it's a bit too buried. It should be its own tab, and it needs to make use of Edge's inking features too.

I know what you mean. There are what, two, maybe three computers out there that run Windows, and why would people restrict themselves in that way?

We all know there's a ton of PC's out there but if you go for Kindle over MS here you get so many benefits it's not worth bothering to buy any considerable number of books from MS. You can only read them on your PC and for now W10M (but it doesn't so far have the sync features from the latest PC fast ring). They need to release a reader app on other mobile platforms but even then will MS just drop the idea of selling eBooks in 12 months? With the alternatives you get an established ecosystem and freedom to read on as many devices as possible

Only available in the US. Same as usual. And the regio lock for books suck.

I used to get my books through Amazon. Browsing the Windows Store too for books now, and buying them there whenever available. I do like the fact that Edge IS the app for reading these books, it is installed by default on any of my PCs and my 950XL Looking forward to the improvements to Edge's reader (annotation, inking, etc) in the Fall Creators Update.

Will Edge on W10M get any of the eBook sync features though? Right now the MS store is one of the worst places to invest in eBook purchases unless they are all DRM free. Not saying it won't get better just that the smart choice is to avoid it for now and see if it's just a whim for them. P.S I love my 950 and really want to stay on Windows for my phone in 2018, just pointing out the obvious downsides to buying these from MS right now

No e-ink reader support..

Edge is a fine EPUB reader. You can also easily convert to MOBI and read in the Kindle app using calibre: http://calibre-ebook.com/download.

I will not buy one until Microsoft detaches the reader part of edge into its own app.

I'm not really sure what a reading app offers over the Edge implementation, could you naysayers specify what you gripe is. There is content formatting, notation, syncing, bookmarks, etc.

I don't think an app has any advantages except...it could be available on other platforms. Right now there's no sign Mobile will get the new features coming to PC for book sync, annotation sync etc. Edge isn't the issue, it's more that there's no real positive to buying from MS right now over other more established platforms. You box yourself in to reading on PC and W10M (for now) unless all their books are DRM free in which case that's a great reason to. I'm a big W10M fan and love my 950. Hope they do bring the new eBook features over to Mobile but right now there is no guarantee

1. There are multiple clicked needed to open the book.
2. If you are also browsing in other tabs, there are ton of browser process running (especially the extensions running in background).
3. Reading eBook requires additional overhead on top of browser and it consumers more memory.
4. I can't leave browser open for long time as it sometimes consumes lots of memory.
5. Edge occasionally crashes on me.
6. I do not like Microsoft forcing me to use specific app for my reading experience.

The memory things have never been an issue for me. Number 6 is silly, how is this different than Kindle, Nook, or Kobo

Kindle is different because it is a dedicated reader app and not a web browser.

How? Your comment was "I don't like MS forcing me to use a specific app" doesn't Amazon force you to use Kindle, B&N forces you to use Nook... How is that different from MS forcing you to use Edge, they are all specific apps.

Did you ever try reading on a Surface Pro? Hello, I want full screen. How do I get rid of the title bar? On mobile, how do I get rid of the useless address bar on the bottom? And why doesn't the reader's fake app bar work like every other app bar? Oh yeah, because this is running in a browser. So if I want to look up a word, I have to open a new tab. Or, I guess I can ask Cortana, but she's likely to open a new tab. I can't help but think that Microsoft thinks it's too much effort to write a UWP eBook reader. Maybe they can ask one of their "Garage" groups to take some time from writing iPhone apps and make something for Windows for a change.

Or give us the API to access the library and let us build the app. The users will choose what reading experience they want.

The cheapest book that I've found is $0.55. Raspberry Pi: Raspberry Pi Guide on Python & Projects Programming in Easy Steps.