Buying a Lumia 1020, 925 in Poland? Nokia gets you started with free Windows Phone app gift card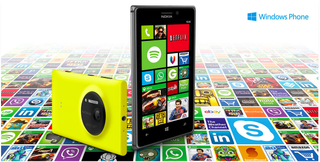 If you're considering the purchase of either the Lumia 925 or Lumia 1020 in Poland before the year is out, you'll be able to take advantage of a free app gift card worth 80 Polish Zlotys (about $25). The bonus credit will enable new platform adopters to download a wide variety of apps from the Windows Phone Store. It's a perfect way to get started when unboxing your new smartphone.
So how does one get involved? It's real easy. Simply purchase either Nokia Windows Phone, register the device through Nokia Poland's website and you'll receive an email within 30 days. The promotion is valid through January 15th (register your purchase by February 15th), so you've got plenty of time to act.
Update: Turns out, this deal is also available in the UK (opens in new tab). Thanks to AlphaDeltaZ and Jamie D. Hunt for pointing this out!
Source: Nokia (opens in new tab); Cheers, Marchin, for the tip!
Rich Edmonds is Senior Editor of PC hardware at Windows Central, covering everything related to PC components and NAS. He's been involved in technology for more than a decade and knows a thing or two about the magic inside a PC chassis. You can follow him over on Twitter at @RichEdmonds.
Go Poland lol :P good to see this offer is expanding to those outside us.

Also in Italy there is a similar Gift Card.

Give 520 and 620 users free gift cards..

TELUS and Nokia are doing this with the 1020 in Canada. $20 CDN app card.

Lol. There is a good reason why the same deal is available in the UK as well as Poland, half of them live and work in the UK for most of their time.

Yes,there are 20 millions poles in the UK. Get real,and be thankful that someone tries to save your economy,ffs...

These kinds of deals are pretty interesting... Encourages people to buy Windows Phones and helps to grow the Store by ensuring people download a bunch of apps

Good phones with excellent cameras in pretty country.

In Poland Nokia gives a lot of promotions eg your photo can be send by post as postcard :D

Anyone having trouble with this? I received my code from Nokia but everytime I enter it in MS wallet I get an error code "141107-redzHgAAAAAAAAAA-d7d91503-8741-4a86-b2c7-d34142c54021" MS support chat just gave me a phone number!

I get the same error. Im in the uk and am stuck on this error. Some please update if you have a solution.

Yep. Am in UK too. Could be something to do with location as the voucher is at first accepted but it states my account has been credited with 20 euros rather than 20 GBP. Clicking next though brings the error message.

Same problem in Canada. Receiving euros not Canadian dollars. Nokia please fix. On a brighter note my visa was charged today for my Xbox one. Noticed that wile in my http://billing.microsoft.com account when trying to fix this gift card problem.

I know it said 24 hours, but, I see others getting thier codes already and I'm still waiting for mine. How long has it taken for those who are getting them? I had one for my 1020 and 2 for my kids 521's and none of them has arrived yet.

Don't they use euros in Poland?

No, we don't, because that wouldn't make a good deal for us.

Took about a minute to receive my code. Pity I don't seem able to use it.

Has anybody managed to successfully use their voucher code?

Not in Canada mine won't accept. Wrong currency

Is there a Nokia support email address to query this? All I can find is live chat which would be great if it wasn't just 9-5 when I'm in work and can't use it.

Anybody managed to sort this yet. No luck here.
Windows Central Newsletter
Thank you for signing up to Windows Central. You will receive a verification email shortly.
There was a problem. Please refresh the page and try again.