Buying VR titles from the Epic Games Store is a mess
There are a small number of VR titles available from the Epic Games Store right now, but you might want to buy somewhere else.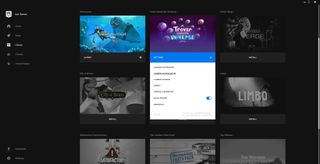 Through a series of exclusives and discounted deals, occasionally ending in titles not being available where the publishers originally announced they would, the Epic Games Store has made quite a name for itself this year. While many of the headlines you see are in response to some sort of controversy regarding specific titles, the store itself is visually pleasing and fairly simple to use. You go in, buy the game you want, and get to having fun.
Unless, that is, you're buying a virtual reality (VR) title. If you want to get a sweet discount on a cool VR game through the Epic Games Store, be prepared to jump through hoops to actually play the game.
Not enough info in the listing
VR titles in the Epic Games Store are listed like any other game, which means if the title works on Windows it just says Windows in the platform listing. But it's not quite that simple, and not every game sold in the Epic Games Store is universally supported on every VR platform. The Epic Games Store does not have a VR client of its own, so it pushes you to one of the others.
That's not great, especially when it's not spelled out before you buy. Sometimes you get titles like Trover Saves the Universe where after purchase you can choose to launch either SteamVR, Oculus, or OSVR. That is awesome, because choice is awesome, and offering flexibility is a unique thing for Epic to do. But sometimes you get titles like the Epic Games Store exclusive Tetris Effect which will only run with support from SteamVR or Oculus.
Yeah, you read that right. You can't even buy this game through Steam right now, but SteamVR is required if you're using anything other than a Rift or Rift S (like Vive or Windows Mixed Reality).
This causes some complications because it means VR owners could potentially buy a game from the Epic Games Store, and then be asked to launch the game in SteamVR with no guarantee that launcher has been installed on the system. It dramatically increases the number of steps that player has to go through in order to go from purchasing the game to playing it, very quickly making it not worth the discount you got off the price tag.
The only indication that something might be a little unusual in the listing for any VR title in the Epic Game Store is a single line of text at the bottom which reads "Check VR FAQ Page" but the text doesn't even link to that page and it's not immediately obvious where that page is on the site. Individual FAQs for games like Trover Saves the Universe include a listing of which headsets are supported, but even that doesn't paint the whole picture. There's no visual indicator anywhere for Trover working in OSVR if you go to buy it from the Epic Games Store until after you've installed it, which is confusing.
Failure to launch
Unfortunately, the problems don't stop with the listing confusion or launch. The inconsistency in how games are launched, often without warning, is problematic at best. Occasionally it works like Subnautica, where you tell the title to launch and Oculus fires up and everything just works. But that's not always the case.
Multiple times, I've gone to launch a title and forgotten to plug my headset in first. This launches the title to my monitor but also launches SteamVR and Oculus in the background. You can still use a keyboard and mouse to play, but why are the VR apps also launching? There are no instructions or warnings anywhere for any of this.
While I should know better than to launch a title without the right hardware connected, it's clear this system just isn't ready for people who aren't VR experts. That feels like the whole story here. Epic just sort of bolted VR "support" into its store without a lot of explanation and basically no support, expecting its users to figure it out as they go. It's not only poorly implemented, it demonstrates a lack of basic respect for users that's not typically seen in the rest of the store.
Affordable VR accessories you'll use every time
Energizer rechargeable batteries ($14 at Amazon)
Touch and WMR controllers require AA batteries to operate and speaking from experience, you're going to want to invest early in some rechargeable batteries to save money in the long run. This pack includes a wall charger that can handle four AAs at once, so you shouldn't have any downtime while waiting for a charge.
SecurOMax microfiber cloths ($7 at Amazon)
There's nothing worse than foggy or dirty VR lenses. They obstruct your ability to focus on the action in the headset properly, and frankly, they're just gross. These cloths from SecurOMax won't scratch your headset's lenses, and you'll be glad you have them on hand after a couple of sessions.
Hyperkin FreeStep ($22 at Amazon)
If you're tired of tripping over the cable running from your VR headset to your PC, you can get it up off the ground with this suspension system. It has six retractable carabiners that stick to a ceiling and provide the right amount of slack to keep the cable at an ideal length.
Get the Windows Central Newsletter
All the latest news, reviews, and guides for Windows and Xbox diehards.
Russell is a tech nerd who chases the best of everything, from phones to game consoles to laptops and everything glowing or beeping. He's the Managing Editor of gaming content for Mobile Nations and can be found contributing to all of the Mobile Nations sites. Reach out on Twitter!