Call of Duty: Infinite Warfare pops up in the Windows Store out of the blue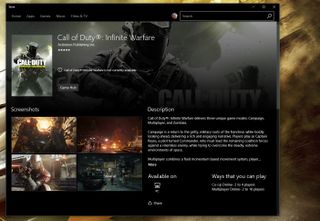 Color us surprised here, but a week out from the launch of Call of Duty: Infinite Warfare the Activision title has appeared in the Windows Store. Not only that, but Modern Warfare: Remastered, hinting that we might be looking at both parts of the "Legacy Edition" hitting the Store.
To this point we've heard nothing official from Activision or Microsoft to suggest that the latest Call of Duty would be available in this way, and as yet it can't be purchased. We're hopeful this isn't just another Windows Store bug, since the listing makes no mention of Xbox One. Visiting the Game Hub from the Store listings for both games also specifically labels each as a PC title.
That Call of Duty is on the PC at all isn't new, but the potential of one of the world's largest game publishers putting a top franchise like this in the Windows Store would be extremely encouraging. The listings are currently useless and we'll have to wait for an official word from either party before it's really real, but it's definitely peaked our interest. For the Windows Store to truly become a viable source for gamers, this kind of support is a necessity.
Richard Devine is an Editor at Windows Central. A former Project Manager and long-term tech addict, he joined Mobile Nations in 2011 and has been found on Android Central and iMore as well as Windows Central. Currently you'll find him covering all manner of PC hardware and gaming, and you can follow him on Twitter and Instagram.
This is great! If they could start speaking in indie titles too, they could become a major player in the computer games business. No need to make fanfare until there's enough content to satisfy the average pc gamer.

For sure. But Activision Blizzard controls some of the biggest franchises out there. For it to get attention they need to start at the top and work down.

Honestly, I got a little giddy when you replied to my post...

At first I was confused about why this was interesting or surprising because of course it's in the store for Xbox....Then I realised it's the PC version - This would be pretty exciting for the Windows Store to get a game like this in there

Would be a shame if it didn't have Xbox achievements. But great news none the less.

I totally agree, it needs Xbox support or it will fail

I agree. The lack of promotion for indie games is a major problem with the Store as of now (and especially the lack of uniformity in XBL branding too can throw customers off). That being said this is a great step by getting CoD on board.

What`s great about that? Windows Store is garbage. Their DRM is also garbage compared to other stores on PC. At the moment, there is no reason to buy anything from Windows Store if you can get it elsewhere.

Well I think competition is a great thing. Not only that, MS will need to have a more loose approach to DRM if they will be competitive. I see this as a win-win if it goes right.

Why do they need to have less DRM features than Steam?

Because the idea of having a game that's tied directly to the account you use to access your computer means that there doesn't have to be any DRM at all other than the OS running. When I load up a game the longest load time I usually have is Steam checking to make sure I own the game, then the game loads; but with my store purchases I just click and the game starts loading instantly.

If they can get more Indie games in there and get them on Xbox Play Anywhere then I'd buy more Indie games, and I'd always buy them from the Windows Store over Steam

Damn, this is great! More AAA titles to the world. The windows store has to reach more people than the steam store anyways so there should be more titles incoming.

It can't be just a bug. If it is, it's a very sophisticated bug. ;)

Yeah, I could see a bug delisting an app from the store or changing it's price, but not creating a detailed description with screenshots and putting it on the store.

It can't be just a bug because somebody would've had to type in the name and upload a graphic. This was deliberate. It could be human error perhaps (though even that is extremely unlikely) but it can't be a bug.

If it were Xbox Play Anywhere, that would be huge for MS.

The launch of Recore, Gears & Forza went pretty well on the PC side. Launch problems were quickly addressed via the more user friendly UWP store patching. I'm pretty sure the other major publishers have been watching to see how MS does with the play anywhere inititive. With centenial already in place to easily convert win32 apps to UWP, plus beam & arena mode coming to xbox live, it only makes sense for a major esports title like Call of duty to end up in the store. Steam has 120M users, If only 25% of Win 10 users actively use the store that is a 100M userbase... As Win 10 heads towards 1B installs over the next 3 years, it will become harder and harder for indie devs & publishers to ignore the store pre installed with every copy of the os.

US only? Can't find it in the Latin American store.

As much as I would love to see this game in the windows store, I think that it is just a bug and it is pulling a listing from the Xbox's product catalog. I have seen this happen with other games before on an insider build. I really hope I'm wrong though. I already decided I wasn't going to buy this game, but this might change my mind if it's true. Hopefully we will find out soon enough.

That's what I thought too, but it actually has both required and recommended system specs listed and OS version requirements. I don't think those could be added in such detail if it were just a bug.

***Yawn*** I am prepping myself for the shower of downvotes.

What are the PC minimum requirements?

This is really good news!

If it goes play anywhere I will buy it

It shows its available on pc only so it won't be a play anywhere title

Plus if it was there's no doubt Microsoft would be shouting it from the rooftops

No way a COD title would be play anywhere... People will buy 2 copies anyway...

I just wish MS would promote smaller XBL games on Windows 10 on their store. I know of a couple that aren't even on the front page tabs like Rocket Riot and Stealth Inc 2.

I would be nice if they even provided a way to sort by game genre, so that way you could actually find more games. Even list something as vague as 'casual' would be nice.

Indeed. Even when you click on the "Xbox Live" section of the Store, I've never seen Stealth Inc. 2 or #IDARB there. That's got to be frustrating for indie developers. Also, I do not like the recent trend of Xbox Live games in the Store no longer having an Xbox Live banner on the gameart (like Rocket Riot, Gears of War 4, Forza Horizon 3, Recore, etc). It makes it even harder to find them and, even worse, now creates a total lack of uniformity with some games having them and some not.

While I buy my games on Steam, this are great news for the Windows Store

Not buying, but this isn't anything great if it doesn't support preloading.

Some of us like physical copies of our games. If you buy the Xbox disk, it should come with a code to get the Windows version and vice versa.

Microsoft has been very clear that Play Anywhere only applies to digital only copies. Besides, this isn't a Play Anywhere title.

I get they have made it clear, but no reason they cant apply it to physical copies. Thanks though.

There's plenty of reasons. Mainly licensing requirements on behalf of the publishers. And because it would defeat the purpose of Play Anywhere: It's a single version of the code that can be used anywhere, while a physical disk is written to only work on the Xbox One. It's just not practical technologically or financially.

Better answer. Thank you.

I maybe talking out my ass here, but i believe they could actually still incorporate the function of they wanted. The PC should still be able to see the title or table of contents of the disc so long as it has a blu-ray player. You should be download a play anywhere version from the store and just authenticate with the disc when needed. Even though you aren't playing from the disc (just like on XB1) it is still required to play the installed copy on PC meaning you could only use it on one device at a time. It's a problem that is easily solved if they gave a crap.

I thought so, but these guys are making it sound like that couldn't happen. Would be just as easy to slip a code in the case also.

Putting the code in would mean too many people just selling either the disc or the code, or two friends paying half price and one getting the digital copy and one getting the disc. It would have to use the Disc in both devices like somebody suggested above - I think this could technically be done but I don't think it will happen with the push towards digital content on consoles. At the moment the way the licenses work is a lot simpler in that it's one license for one store listing in the digital world, so a PC only code doesn't even exist and would need to be licensed separately. The biggest drawback to digital for me is the price. At times it can be silly. Skryim Special Edition is a great example. A reasonable £34 on disc, but £50 for the digital copy. Titalfall 2 - £42 on disc, £55 digital copy. I am trying to go all-in on digital as much as possible as I've gotten used to it and don't like storing the discs v.s just having it on a HDD but I can see many reasons why people don't like it - Up until recently I had to pay per GB for my internet so digital just wasn't an option for me. I hope the prices even out a little as at the moment I just tend to skip games until they go on sale so I can get the digital version at a reasonable price. There's no way that Skyrim should be £50 when Gears 4 is £41 for both Xbox and PC versions, more closely matching it's disc price

the Xbox one disc is a blu-ray disc... Meaning with some adjustment from microsoft, they could make a very small parition on the disc that could be readable on the PC, where sticking the Xbox one disc in a PC (if the PC has a blu-ray drive), could work as a licence for the game... Just like on the Xbox one, needing the disc to play in the Xbox one, the same disc could be used on the PC to play the game...

>Some of us like physical copies of our games. If you buy the Xbox disk, it should come with a code to get the Windows version and vice versa. Agreed. What they should do is force you to put your Xbox one DISC in the PC (if the PC has a blu-ray player, it should be able to give ENOUGH for the licennce). This will be just like having a Disc game where you need to have the disc in the drive to play. Of course Microsoft is only about selling digital... Where when the game gets killed, you might not be able to download it again, or 20 years from now when Xbox one is NO MORE, and you want to play a classic game, No Xbox live, NO digital games... but, if you had a disc, you could install it and at least play it... Think about it, there is a lot of advanages to disc games..

At this time, Windows Store is a joke to purchase games from. Lack of major AAA titles, excellent Indie games, country specific pricing, promotions/deals and discoverablity are all lacking. I am comparing to Steam of course. Play anywhere is a welcome addition though
Windows Central Newsletter
Thank you for signing up to Windows Central. You will receive a verification email shortly.
There was a problem. Please refresh the page and try again.