Call of Duty: Modern Warfare's Battlefield-esque 64-player Ground War mode is coming to this weekend's beta
As Battlefield seems shy about bringing large-scale warfare back to the modern day, it seems Call of Duty is taking its shot.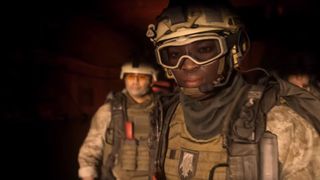 What you need to know
Call of Duty: Modern Warfare beta testers will get access to a massive 32-on-32 multiplayer game mode this weekend.
Players will get a chance to test out the new Ground War mode in a 64-player map called Karst River Quarry.
Call of Duty: Modern Warfare is available to preorder now for $60.
While many video games will claim that new entries in the franchise are bigger and better, Call of Duty: Modern Warfare could actually make a decent claim to be a fair bit bigger. It's the first title in the Call of Duty franchise to feature 32-on-32 combat.
Revealed properly in a live stream on Infinity Ward's twitch channel, the Battlefield-baiting Ground War mode adds vehicles and large scale combat to the core Call of Duty experience, and anyone jumping into the beta this weekend will be able to have a crack at it. It takes place on the new map, Karst River Quarry, a large map that should easily fit 64 people fragging each other in it, in addition to some other fun mechanics.
Karst River Quarry will have helicopters you can base jump out of. While the team acknowledges a thematic similarity to the popular Modern Warfare 2 map Quarry, multiplayer design director Joe Cecot says the only similarity is the huge rocks.
As the maps get larger to accommodate vehicles, it seems the spawning system in Ground War will be changed up, too. You can spawn on squadmates, you can spawn on objectives and you can also spawn on an armoured personnel carrier (APC), a heavily armoured vehicle that is rolling around the map.
It could be an interesting move. I played the Call of Duty beta this weekend and found the tempo overwhelming, but dropping the action into even-larger maps and adding vehicles should change the pace of things remarkably. It's hard not to see some of the work done with Call of Duty: Black Ops 4's battle royale Blackout mode having an impact here.
You can get in on the Beta that will take place this weekend. For those who pre-order or snag a code elsewhere, you'll be able to get in on 10am PST, September 19. Everyone else will have to wait until September 21 to have a go.
Look who's back!
Call of Duty: Modern Warfare
Captain Price and his cigar make a return

The stakes have never been higher as players take on the role of lethal operators in a heart-racing saga that will affect the global balance of power. Call of Duty: Modern Warfare engulfs fans in an incredibly raw, gritty, provocative narrative that focuses on the changing nature of modern war.
Get the Windows Central Newsletter
All the latest news, reviews, and guides for Windows and Xbox diehards.
Jake Tucker has been writing about video games and technology for a decade, which he loves. He is better at this than writing about himself, which he does not. He's on Twitter on _Jaketucker.