Call of Duty: Warzone 2 — Everything we know
Battle royale for a new generation.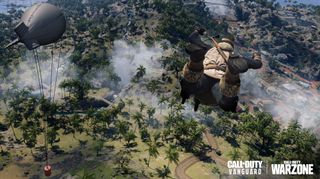 (Image credit: Activision)
Released in March of 2020, the free-to-play battle royale Call of Duty: Warzone was initially intended to be a simple tie-in to 2019's Modern Warfare reboot reminiscent of Call of Duty: Black Ops 4's Blackout mode. However, Warzone quickly gained notoriety as one of the best first-person shooters available, giving other battle royale titles like Apex: Legends and Fortnite a run for their money. Call of Duty as a franchise has always had an annual release cycle, however, and the need to tie Warzone in with future premium titles quickly became an issue.
In a call with content creators, Infinity Ward's Pat Kelly was reported by CharlieIntel as having said that the challenges of integrating Call of Duty: Black Ops Cold War and Call of Duty: Vanguard with Warzone left the game in a state where it no longer felt like Modern Warfare nor Black Ops. While the studio leadership involved in that call have stated a willingness to continue improving Call of Duty: Warzone, they also confirmed that Call of Duty: Warzone 2 would officially be released as a tie-in to Call of Duty: Modern Warfare 2 — the sequel for 2019's Modern Warfare which is expected to release in Fall 2022.
While the developers did not divulge a lot of information about Warzone 2 — we don't even have an official title yet, after all — they did share some details about what we can expect for the next generation of battle royale.
Call of Duty: Warzone 2 — Release date
There is no official release date yet for Warzone 2, but we do know for certain that content creators were told it would be released alongside the upcoming sequel for Modern Warfare (2019). Call of Duty: Modern Warfare 2 was officially unveiled on June 8, 2022, and has been given a release date of Oct. 28, 2022. While Warzone 2 is expected to tie into Modern Warfare 2, development leads from Infinity Ward stated that it will not release on the same date.
There is some speculation that the game could release in December, along with the Season 1 content launch. This would mirror Warzone's change to Warzone Pacific when the Verdansk map was destroyed to make room for Caldera following the launch of Call of Duty: Vanguard.
Call of Duty: Warzone 2 — What we know
With a lot of details left to be filled in or confirmed, we do have some information about the upcoming battle royale. On the call with content creators, Activision confirmed that Infinity Ward has been leading the development cycle for the 2022 Call of Duty premium release, as well as Warzone 2. Call of Duty: Warzone was originally helmed by Infinity Ward when it originally released in 2020, but had since been handed over to Raven Software for maintenance, who received help from support studios High Moon, Beenox, and Toys for Bob.
It has been confirmed that Infinity Ward has developed Warzone 2 on an entirely new engine, and that engine will be shared with all future Call of Duty releases to prevent the same bloated mismatching of content that the current iteration of Warzone struggles with. Players should expect that integrations between annual Call of Duty titles and Warzone 2 will continue into the foreseeable future, but these should go more smoothly when the games are built with Warzone 2 as the intended foundation unlike the current game.
Pat Kelly expressed that Infinity Ward hopes to explore "disruptive and innovative" ideas for Warzone 2, including a massive new sandbox mode and custom rule sets where no two matches play out the same way. We also know that Call of Duty: Warzone 2 will take place on an all-new map, though we don't yet have more details about it. During the Call of Duty League championship event it was announced that a new showcase for the Call of Duty franchise, titled Call of Duty: NEXT, will be taking place on Sept. 15. Call of Duty: NEXT is centered around providing information related to the immediate future of Call of Duty, including reveals and information drops regarding Warzone 2 as well as Project Aurora, which we now know is Call of Duty: Warzone for mobile.
Call of Duty: Warzone 2 — Current-gen only?
One of the most pressing questions about Call of Duty: Warzone 2 is whether the game will be available on last-gen consoles. In the call with content creators, developers explained that Call of Duty: Warzone's largest install base is still among the previous generation of consoles. However, they further elaborated that often-requested features, such as the field of view (FOV) slider, are nearly impossible to add to last-gen versions of Warzone and that the lack of parity between the generations gave current-gen players too much of an advantage.
However, Infinity Ward has stated that due to the lack of availability of current-generation consoles they have opted to develop Warzone 2.0 as a cross-generational experience. How that decision will impact the features that players have requested remains to be seen.
Writer, Call of Duty Know-it-All
Cole is the resident Call of Duty know-it-all and indie game enthusiast for Windows Central. She's a lifelong artist with two decades of experience in digital painting, and she will happily talk your ear off about budget pen displays.
Windows Central Newsletter
Get the best of Windows Central in in your inbox, every day!
Thank you for signing up to Windows Central. You will receive a verification email shortly.
There was a problem. Please refresh the page and try again.