Office Lens or CamScanner, which will prevail?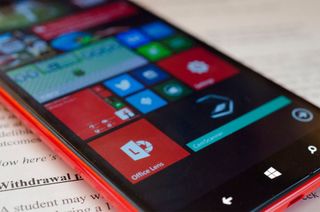 While many of us are trying to live in a completely digital world, much of civilization has yet to catch up with us trendy hipsters. Whether you are a student trying to manage the stacks of papers that your professors throw at you or you are a business person trying to clear off your desk – digitizing your papers are a great way to simplify your life.
Up until recently, CamScanner has been seen as the number one application to scan your physical documents on the go, but Microsoft's recent release of Office Lens might change the landscape. The Office Lens application has already hit the top of the Windows Phone Marketplace, but we are going to take a detailed look at the two competitors to see who really deserves the number one spot.
CamScanner
As CamScanner came first to the marketplace, we will begin with it in our comparison of the two apps. In fact, CamScanner's own origins began before it landed on Microsoft's Windows Phone platform; it is also currently available on Android, iPhone, and iPad. Downloading CamScanner is completely free, but premium features are available as we will mention shortly.
Upon opening the application, you will be prompted to sign in or create a new account for the CamScanner website. If you have never used the app, the setup process is quick and simple – otherwise, hit the login button to access your current account.
The menu system within the app is quite simple and easy to use. The application opens with a list of all of your currently scanned documents, but you can swipe to the side to view your documents via various tags. If you notice some of your past documents missing, you can open the settings menu at the bottom and select the "sync" ability.
One of our favorite features of CamScanner is the fact that your documents can be grouped into different collections; this ability can be extremely useful when scanning a packet of information or if you wish to keep specific scans grouped together.
To begin a scan, simply hit the "plus" button at the bottom of the app's home screen and you will be launched into camera mode. There are two buttons at the bottom of the screen allowing you to control flash operation or import photos from your phone's library.
Taking shots of documents is extremely quick and once you scan a single document it moves on and allows you to take the next shot. Using this method, you can easily scan through a large amount of information. Once you are done taking photos, you can select the "checkmark" symbol at the bottom of the screen.
You will then be brought through a review phase, where you can size and crop the photos you have just taken. CamScanner automatically attempts to find the edges of the document you are scanning and while it does not work all the time, we found it worked for the vast majority. You can also easily rotate photos for correct alignment if you happened to take a photo with your phone upside down.
Once you have finished cropping your photos and you select the "checkmark" symbol, this is where the magic beings. CamScanner automatically applies a high contrast filter to the documents you scan, which makes the text extremely readable. Besides the default "Magic Color" mode that the application applies by default, there are also "lighten", "black and white", and "greyscale" modes. If you are extremely picky, you can adjust the exact amount of brightness, contrast, and "magic" (which, appears to also be a form of contrast control). Once finished, hit the "checkmark" button and you are finished.
While viewing collections of previously scanned documents, you can sort files or share them with friends via a PDF in an email or via an image using the default Windows Phone share menu. CamScanner is designed to be a completely one stop solution for your document managing needs and provides safe backup to the CamScanner website.
While the service is free and users are given 200 MB of free cloud storage, you can also upgrade your account to premium for $4.99 a month or $49.99 a year. The premium ability adds automatic OCR conversion, allows you to share documents with up to 50 people, removes all ads and watermarking, enables text extraction, unlimited annotations, password protected document sharing links, and much more.
For more details on CamScanner you can visit their website by clicking here. Additionally, you can download the application from the Windows Phone Marketplace by clicking here or scanning the QR code above.
Office Lens
Microsoft's addition to the document scanning space comes in the form of the recently released, Office Lens. While CamScanner can be seen as a completely independent app for scanning and document storage, the Office Lens app serves as more of a companion app to OneNote.
When you launch Office Lens, you are immediately presented with the camera. There are no menus to go through or buttons to click – opening the app gives you access to the scanning function right away. Four buttons are present on the screen: a library button to view your previously scanned content, a flash control button, a mode button, and the camera shutter button. You can also access the settings menu below to easily change settings, save snapshots, and import photos from your device's library.
Unlike CamScanner, which simply takes a photo of your document and begins conversion, you can set a specific mode within Office Lens to allow the app to know what you are scanning. Three modes are bundled including photo mode, whiteboard mode, and document mode. Photo mode seems to boost contrast and saturation, while the latter two modes seem to boost mainly contrast. The whiteboard mode is supposed to remove glare that could be caused by plastic whiteboards, and while it seems to work most of the time, your mileage may vary.
After taking a photo in document mode, you are given the ability to crop the document out, but the method is not as precise as within CamScanner. Office Lens also includes the ability to automatically detect your scanned document and we found it to work just as well as CamScanner.
As far as the changes made to the photo we took – we were not impressed. While the application did increase the contrast a bit, shadows and paper cringes were still evident. In many ways, while CamScanner actually seemed to create a digital version of the document, Office Lens simply looks like a picture taken with any phone (app or no app).
When it comes to sharing your content and managing it, as we stated above, you are going to be plugged completely into OneNote. Office Lens does not feel like a complete application, but instead compliments Microsoft's OneNote software. You can share your photographed document via the standard Windows Phone share menu, but if you wish to save your content – OneNote is the direct one click option.
If you are interested in checking out the Microsoft Office Lens application, click here to download it for free from the Windows Phone Marketplace or scan the QR code above.
Conclusion
While Microsoft's Office Lens app has been openly received by the Windows Phone community, we cannot help to feel that the features it offers are a bit lacking and under whelming.
Office Lens might make a nice companion for heavy OneNote users, but we believe that CamScanner is a much better alternative. Not only does CamScanner deliver a better end result, but it allows you to sort and tag documents in an efficient manner. In the end, if you really want pair the app with OneNote, you can always share the image via the Windows Phone share option.
As always, we recommend downloading both application and trying them for yourselves, while the author of this article feels that CamScanner is the winner by a large margin, I'm sure some of you will find more comfort within Office Lens' simplicity.
Do you use one of the two applications we just compared – which do you prefer, CamScanner or Office Lens? Or is there a third option out there you'd recommend?
Windows Central Newsletter
Get the best of Windows Central in your inbox, every day!
I've been using HandyScan Pro since Windows Phone 7...If you want a complete solution pay the one time upgrade and save to OneDrive without any month to month to month subscription crap...you can also email PDF's or save locally to the phone...CamScanner is a rip-off...for the same price as one month subscription, you can buy HandyScan!

same here. I don't do much of this stuff(scanning) but when i do i use handy scan. Shocked WPC didn't mention it in the article

I too would recommend HandyScan. Not much into paying monthly fees for an app. I have been using the Office Lens app for capturing whiteboarding sessions. Like it for that.

Another vote for HandyScan

Been using HandyScan since forever. Highly recommended. How come it wasn't included in this comparison. Or is this just an advertorial? $50/year! Why would anyone pay for cloud storage on a Windows Phone? Also, in the No Sh!t Sherlock dept., the description for Office Lens states "Office Lens trims, enhances and makes pictures of whiteboards and docs readable, and saves them to OneNote.", so yes, of course it is a companion app for OneNote. Reviewing it as anything else is inaccurate. Very poor article really.

+1 for handyscan. I tried camscanner and the minute it required me to sign up, I dropped it. Huge red flag. I tried office lens, but I keep coming back to handyscan. I use it about 3-4 times a day recording incoming material tags. I then email it to myself and drop it in the server for storage. It's the best solution for me.

You good folks sold me on handyscan and I bought it for $2.99, I like and will also use Office Lens as needed.

Officelens is the best hands down!!!!!

Camscanner is better, but unfortunately it can't save the docs into OneNote

With Microsoft opening up the OneNote APIs, they should be able to easily add this feature. I hope they are listening, as it is necessary for them to compete.

I can always share to OneNote via the share option. Besides, the share options saves the file first to my phone, then to the cloud, opposite and more convenient as compared to office lens.
My scanner got redundant (its driver didn't work with win8), and I've been using camscanner to scan and print copies (or edited versions) of documents at home, till i buy an all-in-one.
I think that speaks volumes about it, if you can take out photocopies with camscanner and make people believe its a real copy and not a printout of an image.

I prefer office lens because it saves my notes on one note

Survival of the fittestttt!! :p

Office Lens is nice, but after using it for a few days: I quickly bounced back to CamScanner. Office Lens has potential, but yields a worse result and isn't as conveniently organized. Hopefully future updates will improve this, because Office Lens is really pretty and has a very clean UI, one that I love very much.

The real kicker for me is that all images in OneNote automatically get OCR so I can do full text search on all my scanned documents instantly for free...

Like them both for different reasons.

I love cam scanner since it came out and I'm sticking with it.

Camscanner is sloooow!... No OneNote.

Office lens cause it synchronized with one drive and my one note, simple clean interface thank you Microsoft

cos or 'cause OneNote . Yours Grammar Nazi

Handyscan is pretty nice and should have been included.

+1. Been using it for a year, love it.

+1
That's what I use at work. Scan, PDF, email...boom!

Yup, my favorite. Keep all my important stuff in there. Licence, reg, insurance cards, etc.

Agree! I try others on occasion, but always return to Handyscan because it ends up being the most practical overall.

Yeah.. Handyscan done perfect job for me enough said.

I tried office lens, but the results I got weren't readable enough. When I used camscanner it was much better. I'll keep camscanner for documents, maybe use office lens for class notes.

CamScanner! I uninstalled Office Lens.

For out and about, Office lens is plenty sufficient. For real jobs, I'm going to be using my brother ADS-1500w. Now that thing is nice. Does duplex color scanning and can send directly to a computer, FTP, a half dozen cloud services including Onedrive and all over WiFi.

The fact that office lens works so well with one note is the game changer for me

I installed camscanner and shot a couple of test docs. They looked great, but then I went to email them to myself (because the only other way to get them is from the camscanner website, unless I copy/paste)... Camscanner informed me I only had 9 more emails on my free account. Yeah, NO. I find Office lens works great for docs in whiteboard mode. I can't choose which notebook or section, but that's okay. Moving stuff in OneNote is easy and free is good. I also use Bing Lens a lot... Its great for OCR when you want only text without the PDF baggage.

I tried to email PDFs via Camscanner and every time I'd try to access the link for the PDF it would tell me the link had expired, and that was trying the link within seconds of receiving the email. Pretty useless. I'll have to try the Handyscan App and see how that works.

I really like CamScanner. But, the premium price might be a bit too high some. I never taught of using OneNote to archive my documents. Now with OfficeLens + OneNote if it's good enough I might jump. It may not be as seamless as CamScanner and the output is a bit meh but it's free nonetheless.

Buy Handyscan once, and you won't need anything else again.

I like HD Scanner. I'll have to try these and compare.

Anyone use Handyscan? I like it better.

"(Insert whatever you use) is better." Thank you all for clearing that up for me, with your well thought out reasons.

Camscanner! Don't know y i have premium account without water mark or restrictions..
camscanner has better ocr, better leveling of documents, quality conversion, better re-editing. Office Lence is quicker+oneNote but lacks what camscanner has.

CamScanner works for me. It makes the end results looks like it was being scanned with an actual scanner and not some photo version that office lens give. However, I like office lens OneNote saving capabilities, but you can save the PDF link of your files from camscanner to your email, so its not too bad.
Overall, I prefer CamScanner. :)

Office Lens works very well when taking pictures from a white board - most glare is removed, text and pictures are legible. It does leave some artifacts though. Will be interesting to see if and how much Microsoft manages to improve the app!

I prefer office lens over cam scanner because of the icon

The video is over exposed! hard to see the screen. Most of the wp's videos these days are like that. I find this very strange

I work with machinery and having to record all setting manually was a hassle. Now with OneNote and Office Lens it saved so much time. It is just the perfect tool for the job.

Both apps have exactly the same goal but oddly are behaving pretty much different. In practice I kept on using Camscanner, because of the much better visuals of scan. I don't like that they're using their own separate cloud and have a hard time now and then to resize my pictures manually. Still, the visuals are most important to me.

Why no mention of data usage? Some of us are data challenge due to high data costs, so an offline scanner is essential. I can then just transfer to my computer/Skydrive when I'm in a wifi zone. HandyScan works great for this reason.

My preference is cam scanner. It adjust white paper to be white, saves pdf. Other one... O couldn't even find where it puts files on onedrive.

Office Lens is out of this world.

I hate that it adds signature to onenote
and the fact it won't let me share as pdf

I think it is missing a feature to convert in pdf!

I don't know why but i have a premium account of camscanner .. And it works great for me :-) Posted via the WPC App for Android!

Another vote for handyscan! Have had it since the Win phone 7 days and use it frequently. Have scanned and uploaded all my important docs to SkyDrive so they are available to me and my family.

Office lens has great features like auto page perspective and colour correction, but can't mail it in PDF format, which is a major drawback! Camscanner too is good in features but, damn thing does not mail in PDF format without syncing! And it refuses to sync on my Lumia 920 and is a dud! Now I am left with Handyscan which I have been using from the beginning and has been working great! No syncing crap or other thing. So there you have it! Handyscan it is if you want productivity!

Camscanner used to work fine for me initially, however it started to lag a lot after my document scan no. increased to more than 10... :(

I use OneNote for this kind of stuff.

CamScanner is my default but OfficeLens has potential

Office lens works great for the Algebra class in taking. Able to take whiteboard formulas and then the app imports them into OneNote.

CamScanner is better, but Office Lens is much simpler..

Pros for Lens:
- The whiteboard mode
- The integration with OneNote
Pros for CamScanner:
- The zoom while adjusting corners
- More filters to the resulting scan So... I use both in my Lumia 1020.

I love Office Lens, I just wish they can add a zoom feature to take the pic.

The zoom is there in the iPhone version. Just not in the Windows (10) Phone. The Windows version always has to be the worst... Bugging me immensely.

CamScanner is much more powerful. It has a document management system (documents, pages, tags) so that you can categorize, sort, and search you docs; you can capture multiple pictures which are then automatically processed, save them to photo hub, make annotations one them using InNote, more effect filters, detail adjustments, and much more... Apparently the developers are keeping updating the app so that I can expect more. I've sent my feedback and according to their customer support, PDF will be, once again, able to uploaded to OneDrive in the coming update.

I find CamScanner better than OfficeLens

HD scanner give it a try , you'll like it

They are both really good apps, but the real winner might be some other scanner app. ScanWritr is a good candidate ;)

Hmm, ScanWritr seems to be made by 'Vanaia' -- probably the most shameless plug I've seen in a long time (and all of them were pretty shameful).