Candy Crush Saga and other King games will be released for Windows 10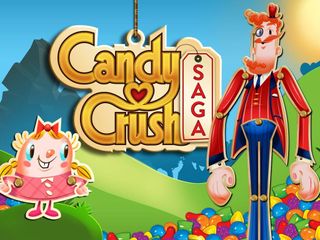 Game publisher King finally released its hit puzzle game Candy Crush Saga for Windows Phone in December, and now Sugar Crush addicts will be happy to learn that the game will be released for Windows 10 as well.
Microsoft made the announcement on the Xbox Wire page:
Microsoft also stated that other games from King will be released for Windows 10 as well but game titles and details were not announced.
Source: Xbox Wire (opens in new tab)
Cross play options huh? That's boss, kinda like Minecraft, except it most likely syncs via Facebook

Indeed - cross play is a fantastic option! It's great King are bringing their titles over, I hope this trend continues! I'd love to see the Sorcery series on windows, Sorcery 3 screams to be on my 1520!!! ( it's free on amazon UK at the moment, picked it up for my gs5).

Since Microsoft used this game as a test bed for their porting tools, I'm sure King releases on Windows will accelerate.

I thought every wp8.1 app was gonna work in w10? And also CCS is old. None that I know still plays it. Even candy crush soda saga (which never came to wp) is old now.

Of course, months after the addictiveness wears off.... Posted via the Windows Central App for Android on my Oneplus One

Actually it's NOT good news - I decide what gets installed on my machines! I guess this is how the upgrade to w10 will be free lol. First thing I'll download. This no choice bs needs to stop. MSFT isn't Apple, even if they want to be.

As long as I can uninstall it, I won't care.

I can't stop saying it: Seems tasty.

Hahahah...#SpotOn #LaughOfTheDay

SUGAR CRUSH! *random fishes appears*

Yay! Thanks Astoria! and whats the one for ios?

That's awesome. Btw anyone see Arrow yesterday?

Because he took an arrow to the knee

Oh yeah I did
I fuking love Malcolm Merlyn as The new Razh Aghul

* Ra's Al Gul
Season 4's main antagonist will be Damien Darhk

S3 ep 23 right? Not yet watched..

You Oliver queen's step brother? Lol

Wow, that's a great partnership. Preloaded...

Great jop Microsoft ,, king is very important partnership we are waiting for more big developers

Looking forward to see more companies make windows apps and games

This is good but we need supercell on the band wagon (clash of clans, hay day) oh and Simpsons tapped out!

I don't know why Tapped Out isn't available, it's an EA game.

Guess now we'll have to extend our Win8.1 usage for some more months to skip bloatware.


Or uninstall the stupid game?

No, it will still show as a purchase. And I don't care if I take some months to install RTM Win10.


Because Windows needed more preinstalled bloat...

Not really a Candy Crush Fan but still a Sweet news.

Yesss! Btw I miss Slingo game from Zynga... I think they already shut it down...

I miss Slingo too! After they closed it I vowed I'd never play another Zynga game again.

Yeah that game are super addictive... Wonder why they shut it down... I want Bubble Safari on WP too..

I used to work at Zynga. Slingo was shut down due to a copyright issue...some company bought the Slingo name from Zynga and they had to shut down the game.

Thanks Jake... They should rename it btw..

Good news but CC as is now won't connect to Facebook.

Un-install the game and re-install... i had that same problem after an update or two ago

Tried that several times. No joy. FB has affected a few other games too, they've changed some API or other.

It should, mine connected no problem and synced up with my game I'd been playing on my Android tablet.

Get me Snapchat and I'll never complain about apps again

Tweet the owner of snapchat then. It's out of Microsoft's hands.

Screw that, support Rudy Huyn and Mark Cuban with Cyber Dust! At least Cuban cares enough for Windows Phone users than Snapchat.

Hopefully Family Guy back for update new features seems like on andro or ios ;)

Yes, I want the Star Trek update they pushed out a while back.

Windows 10 ppl get ready to get irritated by ccs requests your friends will send to u.

Good move MS, good move. Since were announced in the Xbox Wire site can we expect Xbox Live features in there?

Here in Sweden we have Candy Crush advertising on the TV, but it doesn't stand Windows phone :/ Hopefully it will stand there than ;)

Pre-installed? Oh dear. I can see this ending up like the Apple/U2 fiasco.

I think it's far less dire than that. Nowadays, consumers get way worse software preinstalled on their PCs.

Lol. True. But you know how picky the general public can be and how things get blown out of proportion.

Hoping that with Windows 10 thr will be more featured apps and games.

Windows as an OS already has better apps and games than iOS and Android combined. If your PC is powerful enough, you can play all the latest games. Not to mention the millions of desktop apps. I bet you meant the Windows store apps.

You talking about mobile or pc? The pc has a massive collection of programs!!! Are we calling pc programs apps now? And for games get steam and gog. You've got all the games bar console exclusives. And I'd you've got a decent PC they're better! Get with it ;)

Very nice. Me and my mom both play several King.com games, so this is a good deal. I'll just have to convince my mom to upgrade her phone to Windows 10 when it becomes available!

10080 now available for phones.

It would be good to have a list of expected windows 10 apps somewhere, similar to the small list MS have us when they were talking about the companies who had committed to it so far.

So one can only hope other apps such as periscope, meerkat, snap chat will be added....

I guess that preinstallation is the reason King was willing to do it.

Well we don't really need it anymore. There are many new games already available which can make u an "ADDICT" within mins from starting the game, King ur really really late now.

I'm already playing Android games on my windows based PC.


"As an added bonus, Candy Crush Saga will automatically be installed for customers that upgrade to or download Windows 10 for periods of time following the game launch." That is NOT an added bonus. This is known as bloatware and no one likes this. Furthermore, they should not be using the Xbox Wire to issue press releases for non-Xbox games. That's misleading.

So, also for Xbox One as well? If it is, killer app confirmed and bye bye PS4 :P

well good news for windows but today I made the switch to an iPhone. ive had 3 lumias for 2 years and im sad to be leaving but there is no high end hardware here. farewell windows.

You are complaining about no high end hardware, and yet your profile shows that you have a Lumia 521, or the lowest of the low end Lumias. Why not get something like a 830 or 930, but you get the 521?

Fun watching some of the Apple fansites, or what was once Windows sites that are now Apple fansites (including the former employer of the author of this article). The Apple people who were throwing around the name hater for anyone who didn't want that U2 album forced upon them are now screaming bloody murder over this. Anyone who wanted to remove that album (but couldn't until Apple wrote a special tool you need to know about) was just part of the machine that hates Apple, but a game that can be uninstalled with two taps is somehow indicitave of how Windows is a failure and surely means the end of Microsoft.

I'd rather they give us choice whether we want to install this garbage or not. That's why I don't buy Apple. It's rather presumptuous. Well I'll be getting the Enterprise multi license anyway so this won't bother me. I'm not looking for freebies paid for by bs advertising choices and the inane fantasies of middle marketing managers. Sod that.

Actually this is NOT good news - I decide what gets installed on my machines! I guess this is how the upgrade to w10 will be free lol. First thing I'll download. This no choice bs needs to stop. MSFT isn't Apple, even if they want to be

Smart move, King. At least for someone who didn't even give a crap to Windows until 6 months ago...

I'm not really a fan of the Candy Crush games but this is big news for WP.

People who said, "If Android apps come to WP, i'll leave the platform" are so stupid !! Agreed, in terms of just numbers there are many apps in Android and iOS too, but not all are quality apps. If they port the apps from Android to WIndows Mobile, it doesn't mean the app is bad. It does not have 'Android' in it!! Simle as that! And if the app isn't good, just unstall it !! I'm not a Candy Crush fan, but i did try it, and it works great. #JustSaying. It is god news overall. :)

The people saying that are against the blackberry model, where android apps just come to blackberry. Not tools to easily port the apps from android, even though they start as android apps, they still end up windows apps.

I'll be uninstalling and one star rating the hell out of this game. Seriously Microsoft, make up your mind. Are you advocates against crapware? Or pushers? I don't care if it's Lenovo or Microsoft pre installing rubbish, I don't want it.
Windows Central Newsletter
Thank you for signing up to Windows Central. You will receive a verification email shortly.
There was a problem. Please refresh the page and try again.