CamScanner and Car Dash pick up new features and more in latest updates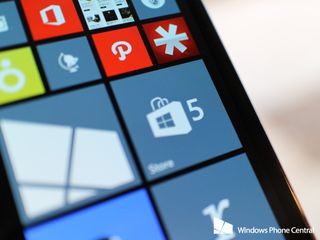 One sign of a healthy app ecosystem? Developers giving their apps frequent updates. We love waking up and seeing that tile count on the Live tile for the Windows Phone Store. Big or small, we love app updates. Today we're looking at updates for CamScanner and Car Dash. Two apps on Windows Phone that fulfill niche needs, but do it well. Let's check out what's new.
CamScanner
Nokia announced CamScanner for Windows Phone back at Nokia World 2013 in Abu Dhabi. The app is essential if you want to scan documents and convert them into PDFs from your Windows Phone handset. The app was just updated to version 2.1.29 in the Windows Phone Store. Here's what's new:
Supports scanning documents in batch mode
Newly designed app icons and UI
Improved experience to share document PDF via email (OneDrive is not required any more)
Now you can save scanned images directly into the Photos Hub
Adds the Russian language support
Many other improvements and bug fixes
A fairly good update for CamScanner. Scanning documents in batch mode will be appreciated for those needing to process multiple documents at once. It's also a relief that users can share PDFs through email without needing to go through OneDrive anymore.
Fan of CamScanner? Grab the free app in the Windows Phone Store.
Car Dash
We first covered Car Dash for Windows Phone back in October. Since then the app has received plenty of updates. The app serves as a dashboard when you're driving in your car. It puts useful functions at your fingertips in a manner that's easy and safe to access while operating a few thousand pounds of metal at high speeds. Head into the Windows Phone Store and you'll see Car Dash updated to version 2.4. Here's what's new in the latest update:
Improved Speech Recognition
Added HERE Drive to available shortcuts
Dutch, Turkish and Italian translations
Integration with 3rd party Podcast apps using the PodcastWP Library
A great update for an app a lot of you use on the road. Podcasts are a great way to kill time when doing longer trips in your whip. Any podcast app that uses the PodcastWP Library can now tie into Car Dash.
Grab Car Dash for free in the Windows Phone Store. NFC and weather forecasts can be unlocked through in-app purchases.
Via: Windows Phone Central Forums
Thanks for the tips everyone!
Windows Central Newsletter
Get the best of Windows Central in in your inbox, every day!
Cam scanner is working buttery smooth. Cant wait for wp8.1 please release it b4 build Microsoft

Typical process. Find app that i want to mess around with, open it, immediately begin getting calls and text messages from everyone that I know. It's like someone knocking on the door when I go to the bathroom.

So glad they implemented sending via email!

Wont camscanner be redundant with Office Lens being release in less than a month.

I thought camscanner duplicated function of Bing Lens (which can OCR to OneNote using Copy/Paste) so I didn't d/l it. But conversion to PDF? Cool. And if I'm not mistaken, Office Lens does the OCR to OneNote thing.

My only problem with CamScanner is that they haven't added the ability to upload a PDF or jpeg to Evernote or OneDrive or Dropbox. That's the feature it needs to be on par with its siblings.

Pretty nice CamScanner update!

I personally love CamScanner! Makes school just a bit less hectic, because I can keep my work digitally organized: even in the classes where the teachers refuse to modernize.

Lots of cell phones are made in china. Not to mentions lots of other daily use items

Oh s$%t i don't know what to do with my phone now since Snowden showed that US&UK are so non-communist so that come a heavier threat than said CC... Break it on the floor maybe?

The new CamScanner update removes option to upload to OneDrive, which is my central file storage. I am furious about this change. I now have to go to CamScanner website and download and upload to OneDrive. It is ridiculous. I will definitely drop it when office lens is out.

Actually, you don't have to go to camscanner website. Share to OneNote, add title for page, and its not only on your one drive, but better organized than loose PDF files.

I don't find "share to OneNote" option, where is it? In my "Share..." only email and open with...

Seems faster. You know someone had to say it.

Too many major changes to seem faster ;)

The "capture" mode isn't working for me. I can see no one else has had this issue here. But when i go to "capture" mode, nothing happens. I tapped on the screen, swiped, long pressed- nothing works. Even the back button doesn't work, and i have to force the app to shut down. I had the previous version, and it worked great for me. Re-installing didn't help either.

I'm using a L525. So i guess it's for us 520/525 users only.

Suddenly my battery drained after update, the only thing yesterday that I install or update or do anything before sleep is update the camscanner... Not sure drainage of my battery is due to camscanner or other thing. I'm going to check one by one.

I love CamScanner. OCR offline. :)

They added Russian language as translate of app, but not added Russian OCR, it was fail...

but why do i need another login? i just want to scan into my phone. no thanks
Windows Central Newsletter
Thank you for signing up to Windows Central. You will receive a verification email shortly.
There was a problem. Please refresh the page and try again.