Car Starter, a Windows Phone 8 dashboard app to make your travels easier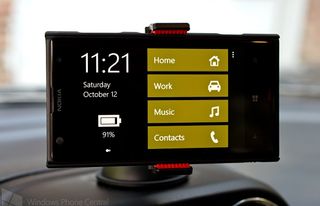 Car Starter is a handy dashboard app for your Windows Phone 8 device that puts a handful of tasks at your fingertips. The app is designed to make accessing key features on your Windows Phone easier while traveling down the road.
The large, touch-friendly interface lets you set two destinations for quick navigational access, have access to your music library and pulls up a small collection of contacts for speed dialing. You also have easy access to your WiFi, Cellular and Bluetooth settings.
Car Starter's concept has appeal and the app delivers things rather nicely. If you're looking for handy dashboard app, this Windows Phone 8 app worth a try.
Car Starter's layout has your menu tiles span the about three quarters of the screen. At the top you have your time/date and battery level displayed. Swiping this area will toggle between the time and a trio of tiles to access your WiFi, Bluetooth and Cellular settings. Car Starter's display supports portrait or landscape orientations.
The four menu tiles will pull up turn by turn directions for two preset addresses. When you first tap these tiles, you will need to set the address by either entering the longitude/latitude or scroll around the map and tap your destination. Should you ever need to change these destinations you can edit these addresses in Car Starter's settings by tapping the "edit" tile. While scrolling around the map to set the destination works (not everyone knows the lat/long of an address) it would be nice if there was a way to search for the location by entering the physical address.
While the tiles are labeled "home" and "work" you can edit the labels from the settings as well or by tapping/holding the tile and the edit option will pop up.
The other two tiles pull up a music player and a contact list. The contact list is essentially a speed dial list of up to six of your contacts. You do receive a confirmation window when you go to dial the contact just in case you tap the wrong name. The music player interfaces with your Xbox Music files and has a voice command button to launch specific artists or songs.
In addition to the menu tiles, up under Car Starter's three-dot menu are options to access the settings, an option to unlock Car Starter's NFC features and view the About screens. Settings allow you to set the navigation app to HERE Drive+ or "any Navigation App". Settings also offer the options to turn on/off your location services and to disable the lockscreen.
The NFC features basically allows you to program NFC tags from Car Starter to launch the app.
Car Starter isn't a bad option to have easy access to your basic needs while traveling. There is some stability issues that causes the app to crash when access the music player but the developer has already submitted a fix to the Windows Phone Store.
While some may find the dashboard a little on the limited side, the concept can be useful while on the road. I wouldn't mind seeing a "911" tile for one touch dialing during emergencies or maybe an additional navigation tile. Stil... as is... Car Starter isn't too shabby of an app.
Car Starter is a free app for your Windows Phone 8 device. The NFC feature will cost you $.99 via in-app purchase. You can find Car Starter here in the (opens in new tab) Windows Phone Store.
George is the Reviews Editor at Windows Central, concentrating on Windows 10 PC and Mobile apps. He's been a supporter of the platform since the days of Windows CE and uses his current Windows 10 Mobile phone daily to keep up with life and enjoy a game during down time.
Very nice. This looks a bit like the Nokia Driving Mode App which is started as soon as you put your phone on a NFC carholder for example. Only this one is more functional and customizable. I'll give it a try :)

Downloding now. I've been looking for a good "driving" mode app. Think this one fits the bill.

Also look up CarStand. About the same as this, but with nice pretty backgrounds.

Nice... Gotta try this while driving to work tomorrow

Downloaded and tested. This looks really good. I've also been looking for a decent app like this. Only real fault I can find so far is with the music player integration which could be a little better but if a fix is on the way that should resolve it. Great job.

I was just on the road a lot this weekend and would have loved an app like this. Downloading now.

Lol I thought it meant starting the car battery with your phone.

Do you need to use a "long press" on the back button at any point? That kind of ruined the Nokia Car app for me.

I have been using this for about a week now. Pretty good but can use some improvement in Music Player integration.

What types of improvement would you like to see with the music player? Car starter now has a user voice if you'd like to submit ideas http://carstarter.uservoice.com

for some reason launching here drive+ doesn't work for me from the app, I get an incorrect parameter error. I have an unlocked german lumia 920

This will be fixed with an incoming update. The app is sending coordinates using a comma instead of a period in regions like Germany.

so it's actually what I expected. I hope that this update will arrive quickly, I really like the app. Especially the voice commands for playing music!

Update just made it's way through certification! http://www.windowsphone.com/s?appid=5c8c34e1-34c4-4e3e-87b5-bbb7d4a8c652

I have tried this and Carstand. Carstand provides more options.

Does this glue onto the dashboard or not?

What features would you like to see added? http://carstarter.uservoice.com

Love this app and was one of its beta testers, its UI is a bit simpler than Carstand but Carstand has a bit more customization.

If you need a app to find your way between work and home your in big trouble. Just saying.

lol. True... but I think those options are for analytics... people who like to see how many miles they drive daily and figure out gas mileage and averages. Here Drive tracks that data I believe.

Even if you know your commute by heart you can't predict traffic delays. But a good nav app like CoPilot GPS can and route you around the traffic

Do the buttons for 3g, radio and bluetooth shut the radio directly or is it a shortcut to the settingsswitch? It would be nice if the butoon itself was the switch. The link will distract and is still a two step proces having to go in an out of the app, which, I think, defeats a little the point of having that functionality in the app. Its good for direct acces, but I wish microsoft alowed the app to access the radio api directly.

They take you to the settings pages. Unfortunately there is no way for an app to directly toggle bluetooth, wifi or cellular settings from an app.

WAIIIIIIT!!!!
http://www.youtube.com/watch?feature=player_detailpage&v=xTGeagS4HcU#t=37

What is that carmount and where can I get one?

http://store.wpcentral.com/aduro-u-grip-universal-car-mount/3AA14505.htm

If Nokia/Microsoft would only bring the SAP-Protocol back to Bluetooth, so I could connect the device to my car...

Shame it's a criminal offence to use it while driving.
Windows Central Newsletter
Thank you for signing up to Windows Central. You will receive a verification email shortly.
There was a problem. Please refresh the page and try again.