Carphone Warehouse releases official iD Mobile Windows Phone app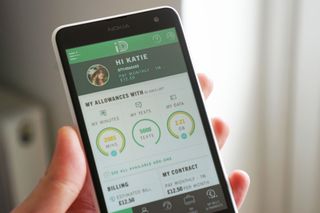 Carphone Warehouse recently launched its own mobile network, called iD. The UK retailer has also released a companion app for Windows Phone, enabling customers to manage their accounts while on the move.
With the app installed, those subscribed to the iD MVNO will be able to manage their accounts and make payments. Bills from the past six months will be available for viewing and bundle extras are also accessible for purchase. If you believe you're eligible for an upgrade, the iD app can also confirm whether or not you're due a new smartphone.
It's worth noting that the app does not currently support business customers. Give it a go if you're with the network and let us know how you get on.
Download iD Mobile for Windows Phone (free)
Windows Central Newsletter
Get the best of Windows Central in your inbox, every day!
Rich Edmonds was formerly a Senior Editor of PC hardware at Windows Central, covering everything related to PC components and NAS. He's been involved in technology for more than a decade and knows a thing or two about the magic inside a PC chassis. You can follow him on Twitter at @RichEdmonds.
Fuuuck...I'm in America....

What the hell???
Vodafone UK must have many times the WP customers but still no account management, this network is barely off the ground and there's one. Makes sense.

There is MyVodafone available in India for account management.

dude we Indians are lucky that most of the local apps are available for us and get updated regularly... (well maybe not all but most) in other countries its not the case.. but yeah for us the app gap is extremely small :D

Vodafone is a parent of Vodacom in South Africa, we do have MyVodacom app. I think he must searh very hard from the WP Store.

Vodacom and VodafoneUK are different entities, you cant download another app and hope it links to the backend. It'd be like me walking into RBS expecting them to give me money from my Ulster account - one parent bank, many brands.

To be honest when you way up the costs of using uk Vodafone network, you'd be better off switching to a network that has an App..... And will be cheaper to for you.

For £32.50 I have 8GB of 4G with a Lumia 930 and 24 months of Spotify. I'm not complaining about the price, I think it'd be hard to match.
Coverage is most important to me and I'm very happy with Vodafone. Anecdotal evidence from friends indicates O2 is not the network to be on in my area and personal experience means EE isn't worth touching. I can deal without an app but I'm no less disappointed.

Most people I know are on O2, paying around £26 and £30 for unlimited package with Top end Android devices. But, their will always be geographical or personal reasons to choose another provider.

Are you sure those aren't O2 refresh packages where the phone costs X and the airtime costs Y so you pay Z?

They are Refresh deals, offered by O2 to entice their continued custom. Still nice packages for the unlimited data though.

I'm O2 refresh with my iPhone :-)

If you check ofcoms latest maps you'll see EE and Three at the top with Vodafone having terrible coverage. O2 isn't much better. Posted via the Windows Central App for Android

And in the real world... where I use my phone (Manchester, Belfast, Bristol and Houndslow) Vodafone's 'terrible' coverage outclasses Orange/EE from personal past experience and O2 from friends experience. My company network is O2 and the phones constantly drop to GPRS for simply walking through a door. The map may say one thing but nothing beats physical evidence. As always everyone's mileage may vary, so you may find otherwise.

My family have Vodafone, EE and O2 and Talk Mobile (Mvno) on Vodafone network. So I get to check coverage and also as accounts holder I also get to talk with all those call centres!

Conair346. Yes, you should defintely check your own local circumstances. However, I visit some of the places you state, have done so with all 4 SIMs, from EE, O2, Three and Voda. My own testing mirrored the latest rootmetrics survey (note, my major element was data - not phone calls) EE, easily, and I mean EASILY the best data network in the South East, and the 3 other major cities outside I visited. Three and O2 were roughly the same, and not bad, but more patchy. VodaFone's network is plain dreadfull, to the point where its unusable on a train.

HSBC Bank has no app. Go figure. Customer numbers don't matter to them.

Does the hamburger kinda menu suggest Android/iOS port? Can anybody comment if it's same design.
No, I am not complaining. I would be happy to know if developers are comfortable with the easiest route that Microsoft has brought for them...

If you're referring to the tools announced at Build, then no. Those tools aren't officially available yet. For about the bazillionth time. It is however likely that CPW just designed the app once with one interface to use on all platforms.

I was gonna ask the same thing

See above. Seriously..."is it ported" does not need to be the new "seems faster."

Your the only one making an issue of the "is it ported" thing @richard devine There's no harm in asking. Look at Candy Crush, they had access to the tools before release, so why not CPW? Its not a bad thing, just don't dismiss your readers for asking a simple question.

To be fair that's MS fault. A lot of people got the wrong message regarding the "bridges" at BUILD.

No absolutely not...These hamburgers can be designed using XAML as the rest of the UI...but right now the problem is they don't have pre built templates for this..take the OneDrive app for example...it is a native app but still has that menu...the aim of this hamburger is to have consistency in design across Windows PC and phone but it is upto the developer to implement it or not...they can use existing carousel pivots also...these menus are helpful in porting in the cases the developer doesn't want to redesign the app once more and just implement the same design code. There is no mandatory guidelines to use any of the menu options..its upto the developer and the functionality of the app to use it

Does it matter if its a port or not. As long its going to work....

Read my comment again. It matters because, it will reflect developer's acceptance of the new process. Which in turn is a good news as we can be confident of more apps coming onboard

Not really. There is a 3rd party control that developers can use to implement a hamburger menu very easily. Not that it's hard for developers to make the menu themselves anyway. Chances are the hamburger menu fits with their design guidelines for CPW

From screenshots, looks better than "My AT&T" app

There isn't even an T-Mobile app. And This guys have.

Yep, so some people I know switched to Vodafone or KPN. T-Mobile lost.

Shame CPW chose to ride on the back of the Three network. Poor coverage in a lot of areas, in fact my local CPW advised my wife to go with anything but Three in my town. If coverage was improved I would be happy to go with it. Deal costs look good if you love in reception area though. Capping costs is definitely a good idea on their "shockproof" plans

Three have that too, I imagine others will do as well if you ask them.

Have no problems with Three coverage personally, and like their 'Feel at Home' service. However, their app is in dire need of an update. It's even more annoying if you consider that both O2 and CPW have much better apps (O2 now part of Three and CPW using their network).

Three and EE have the largest 3G coverage in the UK with 99% 3Gcoverage comparing that to Vodafone who have 89% 3G and O2 at about 90%. Figures provided by ofcom Posted via the Windows Central App for Android

You do have to be careful though, as you haven't stated whether they mean % geographical area or % population. There's a big difference there!

I hope we can use WiFi to manager our accounts and not rely on being on a cellular connection. Or set it to access via WiFi like the O2 app.

Off Topic : Richard, do you have Samsung Galaxy S6 Edge like Dan?

GIFFGAFF is still better sorry checked the sim only deals not impressed tbh

Giff Gaff is cheap, and if you don't mind loads of people who you don't know and don't really know works for who access all your personal details :/

More the merrier, keep the apps coming!