Catch Windows Central's Daniel Rubino on Fox Business this afternoon
Rubino will be on hand to discuss Microsoft's latest earnings with a roundtable of guests on Fox Business' "After the Bell."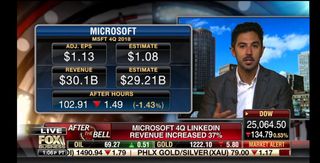 If you're near a TV when markets close today in the U.S., you'll want to switch on over to Fox Business to catch Windows Central Executive Editor Daniel Rubino. Microsoft is set to report its fourth-quarter earnings today, and Rubino will be on hand to discuss every dollar and development with a roundtable of guests on the network's "After the Bell" show.
Other guests set to join Rubino include Dominick Tavella, President of Diversified Private Wealth Advisors, along with John Petrides, Managing Director for Points View Wealth Management.
The spot is set to start at 4:05 ET today (find your local time here). Check your local listings to find Fox Business in your area. And if you can't catch the segment live, it should be available online at a later time.
Dan Thorp-Lancaster is the former Editor-in-Chief of Windows Central. He began working with Windows Central, Android Central, and iMore as a news writer in 2014 and is obsessed with tech of all sorts. You can follow Dan on Twitter @DthorpL and Instagram @heyitsdtl.
I dare you to sneak in the word "Andromeda" in there somewhere :)

Yes bring it up two or three times....

Sadly, there is no need to mention it. Panos Panay said there will be no "Surface Phone", so it makes Andromeda a puzzling device right now. If not a phone, then what will it be and what for? There is no mobile app ecosystem and running full Windows on a small split screen just seems strange. Believe me, I'm a Microsoft fan but saw the writing on the wall with Windows Phone in 2015 and had to move on. I still loved the phone but I had to leave. Windows Phone to Android (Pixel 2 XL), Windows Media Center to Plex, Microsoft Band to WearOS, Cortana to Google Assistant. I truly wish these Microsoft devices were more successful.

They said million times already over the past couple years that they would not make any phone, Surface, Windows or whatever. Nadella for a long time was saying about a disruptive new kind of device. Just some people got stuck in the past and can't imagine that it might be something different than regular Windows Phone. And they keep waiting and talking about it.

While they won't call it a phone, it most certainly will be a phone. It just won't be a 5 to 6" slate like most people are used to.

Re: Garak....
You sir, are a big time quitter. It's funny. It seems you are almost proud of quitting. The user experience and features of many of the things you have quit, still function and are still, dispute Nadella, great and unique experiences. To each their own.
Best Wishes.

Quite the contrary. There is a big different between being a quitter and adjusting to what still works in my Microsoft World. I had to change phones because I'm on Verizon at work and had no choice (I use Microsoft Launcher) since they stopped carrying Windows Phones altogether. I'm IT Director at work and we use Office 365 and I make a lot of Apps with SharePoint/Power Apps and it works across iPhone and Android. Windows Media Center was not brought to Windows 10, so I had no choice but to find PLEX, which thankfully, runs on Windows. I could no longer replace my BAND and I don't do Apple, so I had to get a WearOS watch and I sue Outlook for email and it has a great watch app. Until the Invoke speaker, we had no choice for a speaker at home. I used Echo and then Google Home. Invoke came a little too late. I use Cortana a lot on my PC. My wife and Daughter's have Surface Pro's and I have a Surface Book 2. We all use Office 365 Home. The XBOX One X is the center of our home media center. I am not sure what constitutes being proud to leave or being a quitter. Microsoft is still the backbone of what I use.

None of us have quit, Microsoft has laid us off.
As he explains, when they keep cutting services/devices, at some point you have no choice.

Exactly. That was the point of my initial post.

If Andromeda sees the light of day it will be able to make calls it just won't look like a phone or called a phone, it gonna hopefully shake up the industry to finally put MSFT on the map with another popular product.

seriously, I would be happy if MS put WoA on a 6" slate with pen and telephony support, made a few optimizations for small screens and released it. I would buy one in a heart beat.

Someone's moving up in the world. Congrats

Congratulations on the opportunity!

All publicity is good publicity. Good for you Daniel, national exposure is good.

Awesome. Too bad I missed it. All those Ask Dan YouTubes being put into action live!

Ugh on fake-news Fox "News" though?

You got confused, CNN is the fake news. I am just amazed Rubino went out of his safe space.

Sadly, I think it's "tabloid news" that have bias and an agenda. It's tabloids pretending to be journalists and again, sadly, people not educated to know the difference. I think intelligent people search out opposing points of view and try to sort through what they are actually trying to say and then decide what to believe. Entertainment is not news.
Just my thoughts.
Sorry, off topic.
Kevin Rush.

Completely agree with you.

"I am just amazed Rubino went out of his safe space."

the only show I won't do is your mom's.

oh snap.. - that was savage!

No, that is communist news network.

Fox Business... desperate I see.

Your link didn't show the clip (has another on MS Q4 numbers but doesn't include the Rubino). Too bad, was looking forward to seeing, as I'm very glad for this exposure for our community. Keep at it, Dan!
Windows Central Newsletter
Thank you for signing up to Windows Central. You will receive a verification email shortly.
There was a problem. Please refresh the page and try again.