CBS launches 'All Access' streaming subscription without the need for cable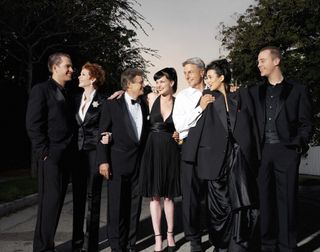 CBS has unveiled a new subscription service for consumers who simply wish to stream their favorite shows via the Internet, without the need to have an active cable subscription. The broadcaster's announcement follows HBO revealing similar plans. The CBS All Access service will set viewers back $5.99 a month.
A total of 14 US markets will be supported at launch, including New York, Los Angeles, Chicago, Philadelphia, Dallas and San Francisco. For those who reside outside the initial 14 markets will be restricted to viewing prime time shows a day after being shown, as well as access to more than 5,000 episodes of popular series, including Star Trek, MacGyver and others.
Unfortunately, it seems NFL games will not be shown on the new service. CBS officials note they're working to partner with NFL to provide said coverage online, and that consumers can already take advantage of other live sports already available for streaming.
A similar service for CBS-owned cable network Showtime is also in the works. Would you take up CBS (and soon HBO) with the new web-only offering? If so, check out the CBS All Access website (opens in new tab) for more details and to sign-up.
Source: New York Times
Windows Central Newsletter
Get the best of Windows Central in your inbox, every day!
Rich Edmonds was formerly a Senior Editor of PC hardware at Windows Central, covering everything related to PC components and NAS. He's been involved in technology for more than a decade and knows a thing or two about the magic inside a PC chassis. You can follow him on Twitter at @RichEdmonds.
When did CBS buy the rights to MacGyver? It was an ABC show

CBS was the distributer and Paramount was the production company so CBS gets distribution rights.

Would like these offers in the UK too, please.

Hey, I was going to that...again.

What shows does CBS have?

How I Met Your Mother, NCIS, Mom, CSI, and many other awesome shows...

Haven't missed an episode of NCIS in over a decade.

$5.99 seems a lil much. Especially if they will have commercials too. I think $2.99 sounds better.

We'll have to wait for more streaming competition to drive down prices, and/or drive up quality. At least the battle is now on.

How about free, like NBC, ABC, and Fox (and more)?

The CBS app and website have free episodes to watch. My wife watches "The Good Wife" every week. I would much rather have seen CBS sign a deal with HuluPlus and put the shows on there. Eventually all these companies are going to flood the market and it will all coming crashing down... or maybe that was the plan all along

Put a regular antenna on your roof and watch CBS for free on your TV or watch all CBS shows on upto 3 tablets/computers using a SiliconDust TV Tuner (about $50-~$60 on sale often).

I offer $0 if ads are there as well.


Hello there Mr. Unrelated.

Not really. The Xbox is great for chord cutters.

True if you have 1 TV. Multi-television households, it would become pretty expensive versus a streaming box like Roku for example.

True, but the multimedia model that the Xbox One originally ran on and differentiated itself from the PS4 seems to be panning out.

It is a little expensive, but this is awesome. Lets get some more networks to start to do this, and maybe we'll see the over priced cable, and satelite companies drop to reasonable rates.

You may see cable television decrease but i am betting we will see either a CAP on internet badwidth or a major price increase.

LOL haha no thank you, that's why I hate Hulu...packed with ads but yet I'm still paying. The last time I checked CBS is a free to air channel and it's programs are on rerun all over cable and Netflix!

There's no reason to pay for Hulu Plus if you have Bing Rewards. Every day, I spend 2 minutes performing 20 Bing searches on my Windows Phone and 30 searches using my Web browser, and I easily earn enough rewards to get Hulu Plus for free every month. All you do is perform one search and click on the related searches until you rack up enough.

No thanks. Still too much for network tv.

Ummm... Other channels have this for free. I guess they'll start charging too if this pans out. Which it won't. Because it's on free TV already!

Episodes are still available for free, but you'll just have to wait longer to see them now... Just like some shows on Hulu.

For some of us this model will just drive us away from television. My watching habits are diverse and infrequent. I occasionally watch something on many different cable channels, but none of them enough to justify paying a monthly subscription price. I'm even on the verge of dropping Netflix because I just don't watch enough to justify the cost. The same thing has happened to me with regard to many paywall protected websites--I like to graze all over the web, not just in one spot, so when a paywall goes up I am gone.

Ok, enjoy cable then. Personality, I look at all the channels I pay for that are filled with home shopping and reality tv bullshit and wish I could pay per channel. Which, BTW, there aren't many channels worth a damn anyways. Even Discovery and History has decayed into reality TV dung.

Check out Smithsonian Channel, they show actual historical stuff, along with the interesting shows.

If it wasn't for sports and cartoons for my kids, I would've dropped cable years ago. Lol

There are even more options for kids on Netflix and Hulu. My kids don't miss DirecTV at all. As for sports, I really don't know, but I guess you can watch most games over-the-air.

Ok well if I can watch my sports over the air, then I'm getting rid of my cable ASAP! Lol. Thanks!

Ummmm... not quite. You get plenty of football unless you live outside the market of yoru favorite team. But basketball is mostly on TNT and TBS. You may also miss having ESPN. But don't forget the NBA and MLB have plans for watching all the games online, which are very good, albeit a little expensive.

To those thinking it's too much: You gotta understand that this is just a beginning. More competition will force them to lower the price.

They already HAVE competition in the form of rival networks that provide this for free. Your theory doesn't hold up....

Which networks exactly rival CBS that are available for free?

The others don't provide live streaming, but NBC, ABC, Fox, and a few more provide almost all of their shows for free online viewing after they air.

Interestingly, the Fox Xbox One app doesn't work for me, because I don't have cable, but they provide their shows on Hulu.

I'm not aware of any network in the U.S. that allows streaming for free WITHOUT some form of cable subscription as well, please tell me which ones allow free streaming without a cable or internet subscription, I would really like to know

Many do with a browser. My son even watched the Walking Dead (AMC) in a browser the other night. The CW and even USA allow free streaming of shows through the Xbox One without a calbe subscription. I could be wrong, but I tried it out by watching an episode of Suits on the USA app and it never asked me to activate through a cable subscription.

I understand what your saying but you do have an internet subscription and the app picks up your internet subscription, all network and cable broadcasters that offer free streaming do so thru your cable or internet provider, the new streaming plan from CBS or HBO would allow streaming for those who do not have a cable or internet provider such as me, the down side is it will eat up enormous amounts of data so you better have a hefty data plan or be able to piggy back on someone's Wi-Fi

The CW offers free streaming without registration of any kind.

Bwahaha. Sure. Or they will pay to litigate and legislate legal competition like Aereo out of business ($7.99/mo for your local market broadcast channels) so they can charge this much for each channel. But not even everything you would get OTA. My solution this summer and fall has been simple. No network TV! Netflix/Amazon, PBS, our own collection...and no time anyway. ABC, NBC, FOX, CBS, they can *%$@# and €+%*!#@ or even $&!@.

For people saying OTA is free...a lot of people live life on the go and could use something like this. It makes it convenient to watch on tablet or phone. But, yeah, I'll wait for competition and football, of course.

Not only is OTA free, but ABC, NBC, Fox and more already provide their shows for free on their own websites, on Hulu and for $8 on Hulu Plus.

Yeah, true. I wonder if the all access would omit commercials. That would be nice.

I assume they can't do that for the live streaming, but one would hope that the on-demand viewing could be ad-free. Then again, Hulu Plus isn't ad free even though you need a subscription, so I doubt it.

Hulu+ = $8/month and CBS thinks their lone network is worth $6/month. Okay.

Yes, but you still have to have a cable subscription or internet provider, this sounds like if your a cord cutter and don't have home internet you would still be able to stream there shows if your willing to eat up your cell phone data

The price would be right if it included Showtime. Posted via Windows Phone Central App

About time they got with the times. I would rather pay them than stream a low quality version.

Needs live sports... The NFL needs appropriate licensing deals. Also, everything needs to be 100% commercial free for me to even consider paying

I don't know if it is possible to not have commercials if the whole purpose is to stream live. Basically watching the shows on the actually date it comes on.

Might be a tough sale. CBS is free local broadcast... Get a set of rabbit ears yo.

$6/month for an ad supported, free over the air network? Hahaha. These are going to end up costing more than cable. I see the strategy.

***waits for internet service to go up to $150 a month.

So basically what is going to happen is that broadcast network are going to move away from OTA content and towards streaming and premium services only because content distribution is cheaper and provides them with more financial opportunity (shoving commercials back at you because DVR's are all over the place and people dont watch them on traditional delivery methods anymore)... This potentially means that the spectrum reserved for broadcast would be reallocated but I keep thinking there is some kind of mandate in place for networks to provide OTA content and emergency notifications which if correct means that is a brick wall that needs to be overcome. The Internet at large has been asking for al la carte options for years and this is the start of that trend but it seems like everyone is shooting it down based on pricing which means it will never catch on. Devils Advocate:
Say your current cable bill is $70/mo and you get 150 channels. That is .46/channel/month. If we got channels down to $2/channel/month you would only have 35 channels for the same amount of money and getting these services down to $2/mo seems almost impossible at this point. Then we need to consider what this is going to do to your internet connection which most likely has a cap at this point. This means that you may end up paying more for your internet than you currently shell out and considering were taking that $70/mo away from in most cases the same company that delivers your internet they are going to have to replace the income that they made on television services so I would suggest that the cost of internet per/mb will go up in addition to your increased utilization because your Television service will be completely delivered on it. I keep hearing that al la carte will fix things but I see more problems than solutions.

Why is this on WPCentral?

Can Microsoft integrate that with their Xbox TV guide ?

technically CBS is free without the need for cable, and those shows are on netflix. Will CBS even do live streaming that coincides with the network itself or are these just netflix like streaming?

Get the NFL and I'll sign up yesterday.

$5.99 for one channel's stuff? A broadcast, over the air, channel at that? Nope.

Take my money now!!!! I get my other CBS stuff via an HD antenna at full 1080p anyways.

I don't get it. CBS isn't a cable channel where I live...

If they had all 10 seasons of JAG, I'd subscribe in an instant. But they have none.

They are out of their minds. They must have been watching thier own commercials where every single show is "America's most watched new comedy" or "America's #1 drama." Yeah, right! CBS thinks their shows are like Game of Thrones, and that's why it has been difficult to get shows like The Mentalist or Hawaii Five-0 through the Internet. There's no way their one network is worth $6/month, especially when you can get it for free over the air. Buy yourself an antenna and a DVR+ and you will get your money's worth in a few months.

Is every channel gonna think its worth damn near Netflix prices? Hell even if the medium to large volume networks all thought they were $1.99 that would still be to much. Its not going to end up being a good deal if this is the direction that cable moves in the U.S.. CBS, ABC, FOX, NBC, CW, USA, TNT, Spike, ESPN, Comedy Central, HBO, Showtime, FX, a sports package and access to local channels, imagine they all think they are worth $5.99...you're right back up to cable prices!

It's about time!! The last two movies where a hit and there hasn't been a Star Trek TV show in more than a decade so the wait is over!