How CES 2019 put a spotlight on Microsoft and edge computing
By Jason Ward last updated
At its 2017 developer conference, Microsoft began emphasizing its plans for the 'intelligent edge.' At CES 2019, Microsoft and its partners made those plans more of a reality.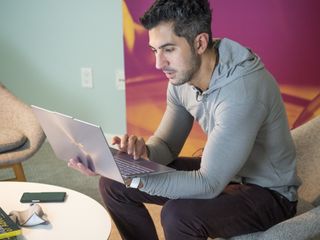 (Image credit: Windows Central)
Throwing around catchy buzzwords and pontificating on ambitious plans is easy for a company like Microsoft. For the more cynical among us, such posturing is often ignored until the company brings something more tangible than words to the table.
So when Microsoft CEO Satya Nadella talked about and showed a video of A.I.-powered cameras to demonstrate the potential power of "edge computing" at the Build 2017 developer conference, many consumers likely looked the other way. After all, cameras that recognize people, activities, and objects and can respond autonomously to what they perceive probably seemed like an over-the-top portrayal of this "new-ish" and unfamiliar concept called edge computing. In other words, it probably seemed more like a future concept than something relevant to consumers.
Over the years, however, with partnerships that support A.I.-driven drones, bring the power of the cloud to devices on factory floors and improves communication and remote maintenance among first-line workers, and more, Microsoft and partners have been bringing edge computing closer to users. And at CES 2019, through PCs, the internet of things (IoT), intelligent retail and security, Microsoft and its partners brought computing on the intelligent edge even closer users.
PCs are part of the intelligent edge
What the intelligent edge is, what devices comprise it, and what it all means to consumers can be challenging to understand. Particularly when a primarily enterprise-focused company like Microsoft touts the power of the edge and debuts innovative edge-computing solutions in the business sector, far-removed from consumers.
Simply put the word "edge" in "intelligent edge" refers to the edge of the intelligent cloud in cloud computing. The cloud is a collection of massive data centers that contain thousands of servers that host and process tremendous amounts of data and are often miles away from users. The edge of the cloud means those billions of connected devices of various, shapes and sizes – from factory equipment, PCs, wearables, smartphones, connected cars, and smart speakers – that are closest to the user.
Microsoft's partnerships with Qualcomm, Intel, and PC manufacturers to support 5G, powerful new processors and always-connected PCs are part of an end-to-end strategy to support the infrastructure that comprises the intelligent edge. At CES 2019, companies like HP and Lenovo showcased PCs for the consumer and enterprise space that support this "always-connected-to-the-edge" strategy.
HP and Lenovo's newest laptops boast the power needed for a user's work-life needs, as well as the constant connectivity that is becoming less of a perk and more of a modern computing expectation. As cellular connectivity driven by companies like Qualcomm pushes LTE and 5G innovation, PC makers are pushing parallel innovations with thinner, battery efficient consumer-focused devices that power the intelligent edge.
Gaming on the edge
Microsoft has integrated game streaming and broadcasting into Windows 10, the largest gaming platform in the world. Thus, connected gaming rigs and powerful gaming laptops are part of the intelligent edge.
Companies like ASUS (opens in new tab), Acer and Dell used CES 2019 to showcase PC hardware that pushes this edge computing experience forward. ASUS's ROG Mothership, HP's OMEN 15 laptop, Dell's Alienware gaming notebook, and the MSI GS75 are a few examples of what Microsoft's partners brought to the gaming-on-the-edge table.
Gaming, whether through Massive Multiplayer Online (MMO) experiences, broadcasting or watching broadcast games, has evolved into a cloud-based shared experience. As this evolution from solo on-device gaming continues, PC and chip makers will continue to be challenged with creating powerful hardware that can handle the data, power and computing challenges of edge gaming.
It's all about the Internet of things
IoT, the vast and increasingly varied array of connected things, is as an area of investment for Microsoft. The company has built out IoT infrastructure and security measures, like IoT Sphere, to help partners connect, manage, and secure IoT devices.
Fitness trackers, smart homes and new connected retail experiences are IoT solutions that bring cloud computing close to consumers through a range of edge-connected devices. Microsoft and Kroger's physical-digital hybrid shopping experience is an example of a modern edge shopping experience.
At CES 2019, Azure-powered Genetec's Retail Sense Video Analytics and Mobiliya's Asset Tracking were in the limelight as modern edge computing retail tools.
Riding on the edge
CES wouldn't be complete without a showing of one of the modern consumer's most loved innovations: car tech. A car is not only one of a consumer's biggest purchases but is also a vital part of their personal and professional lives. Our car is where we spend a lot of our time and, like our phones, reflects us personally. LG Electronics, BMW Group, and other Microsoft auto partners used CES to announce connected car solutions using Azure and Microsoft AI.
Microsoft is building a connected car platform that is designed to take advantage of the robust and secure nature of 5G and that will allow cars to act autonomously, communicate with one another, and more. If Microsoft is successful, we will be computing on the edge from the seats of our connected and eventually self-driving cars.
Edge computing may have sounded like a mere buzzword a few years ago, but with productive collaborations over the years and with what Microsoft's partners showcased at CES 2019, edge computing is becoming much more of a reality.
Related: What is edge computing, and why does it matter to you?
Jason L Ward is a columnist at Windows Central. He provides unique big picture analysis of the complex world of Microsoft. Jason takes the small clues and gives you an insightful big picture perspective through storytelling that you won't find *anywhere* else. Seriously, this dude thinks outside the box. Follow him on Twitter at @JLTechWord. He's doing the "write" thing!
ppl tired of fantasies I guess

They don't understand, that's why...

Shop much for a Windows OS in cars though, guess that dream is gone

Cloud computing is great if you have access to the cloud and that such access is very, very, cheap, like free. If either of these requirements is not meet then the whole thing falls down and that describes a fair chunk of the world so why get excited by it?

More 5G is "mainstream" fantasy. None of this will become reality for at least 5 years. Meanwhile, "the masses" already have an "always connected PC" in pockets and purses. No one is waiting for Windows to catch up.

iOS doesn't do OEM and custom phone, there's no driver update and plug and play. Android does OEM but no custom phone, there's no driver update either. And since Android is an API-all-OEM-can-tamper-OS, it's a disaster for tech advancement cause every maker is on their own. The more phones a maker makes/tampers a year, the harder for the maker to roll updates to users, and there's nothing Google can do about it. Both OSes are not IOT friendly cause,
1) What if your HW component supplier bankrupted?
2) What if new batch of HW came in with different readings?
3) With iOS, You need to ask Apple to support the component FOR YOU and build you a special ROM. But it's not possible anyway cause OEMs don't get to use iOS in their device.
ps: HW could catch fire, if not handled properly.
Well, even Linux, is not capable of IOT usage, phone OSes? ps: MS's IOT is already been used in fridge, robotics, drone, surveillance, gov projects (water, electricity delivery system, smart city projects), military, agriculture, store retailers, a long list of car manufacturers, medical, arcade cabinet, cashier and many other things and fields.

Nevermind, found a good explanation elsewhere, in a video game analogy where online games these days have a lot of user side software tricks to try and eliminate the perception of lag making the game look seamless, ie, if the user side software knows you missed your shot it doesn't have to go back to the server to ask, it just keeps acting as if you missed and then gets confirmed as the game goes on. I guess its similar to how cellphones are getting more and more on-board 'AI' process instead of using cloud AI processing to make things quicker.
Makes sense to me!
But if its already happening on phones, does this mean Microsoft is behind by a few years or they're just finding new applications that haven't been implemented yet?
Windows Central Newsletter
Get the best of Windows Central in in your inbox, every day!
Thank you for signing up to Windows Central. You will receive a verification email shortly.
There was a problem. Please refresh the page and try again.