Ceton Companion App to control your Media Center now available for Windows Phone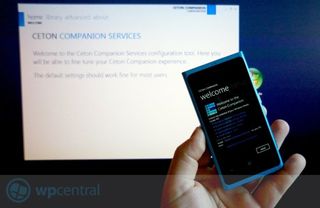 Ceton Corp, who make some cool Media Center products such as the InfiniTV cable cards and the soon to be released ceton echo Media Centre Extenders have finally brought their Companion app out of Beta and into the Windows Phone Marketplace. The app is designed to allow management of your home theatre PC from the comfort of your own Windows Phone.
Where Microsoft does not provide, others step in to take up the slack. The combined PC software and Windows Phone app will allow for scheduling, searching and of course remote control duties. Media Center is a fantastic product and its great to see good solutions coming for Windows Phone users to connect up the two devices.
Key features of the app include:
TV and Movie Gallery - Forget hopping around from the TV section to the movie section to your recorded shows. Ceton Companion lets you see an integrated view of all your shows and movies in one place.
Manage and Schedule DVR Recordings - At work and forgot to record that show tonight? See a season premier promo that you want to record but you're away from home on a trip? Don't worry, we've got you covered.
Universal Search - It's TV search the way it should be. You probably don't care whether your favorite show or movie is on one channel or another, in your personal library or airing later this week. We'll help you easily find what you're looking wherever it's playing.
Play To any TV Set - Browse your TV and movie libraries, select the show you want to watch, and choose the device on which you want to watch. You don't even have to be in the same room.
Your Mobile is the Remote - Ceton Companion includes full remote control capabilities for both your media center PC and any Ceton Echo extenders you have. Play, pause, fast forward, rewind, channel, volume … it's all there in one pretty slick touchscreen view.
Look out for a full review of this app in the coming days but for now, you can get the app from the marketplace. Cost will be US $4.99 or UK £3.99.
We would like to hear from you if you're using Media Center currently with companion apps. What solutions do you find work best? Let us know your deepest thoughts in the comments bellow. Thanks, Oldmajor, for the tip
Marketplace link HERE
I have a Centon tuner in my HTPC, can you stream video/live TV with this ? Now that would be epic. There was apps in the past to schedule shows (remote potato, Webguide, etc) but, this would step over with streaming video...

BTW. I'm certified in Windows Media Center and I was a MVP for 2010 and 2011... I know Windows Media center..... :)

No streaming, I presume you mean to the phone? MVP in Media Center, that's handy. Are you using any WP remote apps currently?
RB

Not currenly using anything (in a pinch, I RDC to my sever then RDC to my HTPC). I was looking for something that offers streaming on the road to my phone as well as scheduling.

I know the Ceton can do the tuner sharing, just have not played with it yet.

The price sets me off on this a little but, maybe in a week or 2 I'll think about picking it up...

Who cares? Microsoft dropped media center development. Not trying to be rude. And disappointed with the lack of hardware acceleration for Silverlight /Netflix.

Because a lot of people like myself uses it as a primary DVR in my home with xbox 306s all ove rmy home for extenders..

I'm a huge fan of Media Center. Regardless of MS dropping development or not its a capable, extensible and easy HTPC solution.

Microsoft may have dropped media center development, but Ceton has definately picked things up. Their devices the Ceton Q and Echo look to be winners and it also looks like they're going to be adding some new plugins (me hopes better streaming choices *fingers crossed*. The ability to have 6 tuners, no cable box fees, and the ability to stream cable to other rooms via Xbox or their Ceton Q is huge...oh yeah and 2TB of recorder storage isnt shabby either!

No streaming, they describe it as 'on the roadmap'. Seems hard.
It's really a well-executed app, though- almost all of the recording options are available, there is integration between recorded tv and local media files, and guide surfing is excellent. So far I'm loving it on both my windows phone and nexus 7.

Is there really no authentication between this app and the MCE? I haven't tried it yet, but that could be a serious issue. Love the fact they're filling the gap and was waiting on this. If anyone tried it let us know. 10x

I love windows 7 and windows media centre and will continue to use it. I have standard TV signals coming into the PC in the home office and wired to a linksys dma2200 media centre extender connected to my TV. It works brilliantly.
Regarding Ceton, I came across them only recently and am interested in their echo (extender) device. What I would like to know is will the linksys still work with Windows 8?
If not is the eco device a functionally equivalent extender solution to the linksys device?

Windows Media Center can be installed on Windows 8. Where does it say officially that it's unsupported? Also if you want to stream to your phone you can setup a DLNA server.

I've been using it since XP version, its the only thing I use with 4 extenders. The lack of responses in this thread is why they are dropping it. On the other hand it was almost there, so anyone could use it. On the other hand, Ceton will finish the job.
Windows Central Newsletter
Thank you for signing up to Windows Central. You will receive a verification email shortly.
There was a problem. Please refresh the page and try again.