Change your Microsoft Band theme with just your voice with Fanband update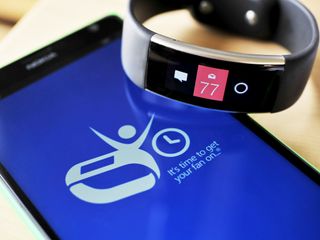 A new update to the Fanband Windows 10 app now allows owners of the Microsoft Band fitness wearable devices to change their themes with just their voice via Cortana commands.
Fanband already allows Microsoft Band owners to pick and change their theme from over 2,000 choices. Now the new update to the app lets users simply say something like, "Fanband, change my theme to Windows Central", and it will do exactly that. The voice support will work with the Fanband app running on a Windows 10 PC or Windows 10 Mobile phone, or it can be used on the actual Microsoft Band device.
Thanks to Fanband's Scott J. Peterson of developer Liquid Daffodil for the tip!
Download Fanband from the Windows Store (opens in new tab) $1.99
Windows Central Newsletter
Get the best of Windows Central in your inbox, every day!
Thanks Hans, we only create apps so our fans will love them!

I've been wanting to try this app since it was first released but I've never had a band until a few days ago, brilliant app for a brilliant device!

Is it also possible to have it pick a random theme via Cortana? That's what i do most from within the app.

No, but I'm going to add that today! Great idea!

Might try this. Just got back from the MS Store with my 4th replacement B2 in a year due to rubber tearing. Was hoping I got one from a batch with the updated rubber material but no luck. Ah well, still love it.

Just so you know you're not alone, I'm on my 3rd replacement, yet I STILL LOVE IT! :)

My second replacement should be here Tuesday. With no stock, even though rumors say otherwise, I'm hoping to see a band 3 announced soon.

Strange that. Sent mine off last week to replace a weak battery and it came back completly replaced. New starps, face....no more scratches. But still has the same seriel number.

I just had to send my band back for replacement due to the strap problem. This will be my fourth band as well. I hate the poor quality of the straps, and I'm honestly a little frustrated with the whole situation, but I love the function band itself. I worry that my next one won't last long either. Hopefully all of the lessons learned with B2 will make B3 awesome. As for Fanband, I've had it since I first got my band and I think it's fantastic. Made my own Star Wars theme in that first week, and it stays on my band most of the time.

I agree and have high hopes for B3 strap...and love fanband like crazy too! :) ...of course I did create it :)

Was just at the MS store today. They are sending my gf her second replacement. Not a strap issue but the heart rate monitor failed and second time it won't take a charge.

I love the idea.
Cortana retrieved the theme and says she is updating my band, but nothing happens. It's not working.. Sadly.

Try with the latest update from lsdt night...

I have the latest. I've tried several times. It just opened Cortana and said it was getting, then changing the theme, but gets stuck there.
There is a link under that "changing the theme" message that says "go to fanband" Believe me, I've tried just about everything to make it work. Reboots, different themes, tried from phone and band, etc

That's pretty awesome, I'll have to give this app a try.

I've only had my band 2 for a few months and so far no strap issues. However, it can hardly ever communicate with my phone or get updates from it. It will randomly get a text and I'll randomly be able to actually respond from it as it sits at "Connecting". It worked fine for about a week when I got it, not sure if it is band or W10M issue. My wife's works perfectly with her WP8.1 830. I'll give the app a try, hopefully the communication issues won't keep me from updating my band.