Check out this custom underwater housing for the Lumia 1020 and Fabien Cousteau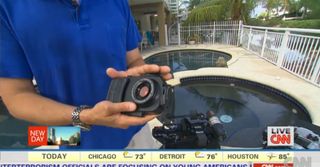 Last month we learned about Fabien Cousteau's Mission 31 (mission-31.com). As you probably can surmise from his last name, Fabien is the grandson of legendary oceanographic explorer Jacques-Yves Cousteau. Fabien will attempt to spend 31 days underwater to live and work. Nokia is helping to sponsor the event, which is why you'll find devices like the Lumia 1020 living with him underwater to help document to achievement. CNN has an interview with him where we get a glimpse at a crazy underwater housing for the Lumia 1020. Check it after the break.
If this isn't working on your device, you can download the MP4 video here.
Check the video embedded above (or click the source link below if you're on mobile or just can't see it) and you'll catch a glimpse of the custom housing made for the Fabien to take his Lumia 1020 underwater. We're mad jealous and would gladly spend 31 days underwater if that meant we could play with it.
Anyone brave enough to take their Lumia 1020 20,000 leagues under the sea?
Source: CNN
Thanks for the tips everyone!
Get the Windows Central Newsletter
All the latest news, reviews, and guides for Windows and Xbox diehards.