ChecOut M with Windows 10 IoT takes on Square mobile payment systems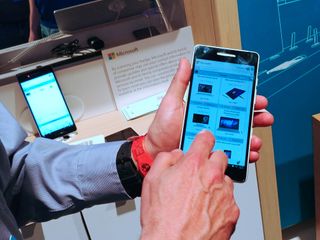 Point-of-sale (PoS) devices are becoming increasingly popular these days as static registers become a thing of the past. While Square and iPads are synonymous, it's not the only solution around, and ChecOut M could be the first major challenger to that service that also delivers unique features.
On first blush, the ChecOut M by Innowi, Inc. looks like a 6.3-inch Windows Phone, but it's running an Intel Atom "Cherry Trail" processor with Windows 10 IoT for Enterprise. In fact, the UI looks exactly like full Windows 10.
The ChecOut M features NFC, swipe, and a chip-card reader and works with Google Wallet or Apple Pay. A fingerprint reader on the back ensures only authorized employees can access the device, while a 2.7-inch payment screen on the back lets users sign directly.
The base model connects to Wi-Fi, but a more advanced model has full 4G LTE on board and is certified for AT&T, T-Mobile, and Verizon networks (Sprint is being worked on).
In case you don't want that full Windows 10 Start screen experience Windows 10 IoT for Enterprise can be locked to a single app experience e.g. the payment and checkout system for a business to ensure ease of use and stability.
What makes the ChecOut M unique is the continued blurring of what is Windows 10 and related hardware. The ChecOut M borrows from the phone model, but it becomes a standalone and very robust system when leveraging Azure, Power BI, and the Microsoft Graph.
The ChecOut M is currently in certification for secure payments and is expected to launch later this summer. There is already one major airline who is looking to deploy the ChecOut M on flights for PoS services as soon as it's approved.
Daniel Rubino is the Editor-in-chief of Windows Central, head reviewer, podcast co-host, and analyst. He has been here covering Microsoft since 2007 when this site was called WMExperts (and later Windows Phone Central). His interests include Windows, Microsoft Surface, laptops, next-gen computing, and for some reason, watches. Before all this tech stuff, he worked on a Ph.D. in linguistics and ran the projectors at movie theaters, which has done absolutely nothing for his career.
Kinda looks like a modded Lumia 930.

Excellent! I am the director of a department in a non-profit org, and had to buy an iPad so I could take square. Is love to have an alternate available. At this point I'm on TH iPad for the foreseeable future, but it's good to know an alternative is or there.

just look at the icons / menu the numbers/letters are way too small. Not good for everyday use

I found that pretty strange too. Why wasn't it in tablet mode so everything was touch friendly?

It says *Windows 10 Pro* in PC Info in the video.

I saw that too, no clue why they are calling it IoT. IoT doesn't even have the desktop/shell. This is basically a Intel Atom tablet in a phone form factor. While cool, battery life must blow.

Windows 10 embedded is now known as Windows 10 IOT Enterprise. Its basically full windows 10 but still has the IOT moniker.

It gives the whole "Take My Money Now, MS!!" new meaning...

Now if had just worked with wallet. Another good idea that Microsoft frittered away.

Yeah, what the hell happened with that? Can Nutella stick with a god damn idea for longer than five minutes?

You need to get rid of this ******** you have for nadella. It's sad as ****

That is actually an amazing mini tablet. So much integrated... barcode scanner, NFC, card scanners etc. You could implement all sorts of retail applications on there.

Take away all the extra scanners and back display, put an improved Lumia camera and Snapdragon 835 and give me that W10 phablet

Who makes the HW? is it MS or ChecOut M? didn't get that from the article

Innowi, Inc makes the hardware, but they're working very closely with Microsoft on the software.

So they got a windows mobile device with LTE certified at Verizon, along with the other carriers. Thumbs up Microsoft. Looks like Verizon likes this instead of W10M, maybe they will like other devices as well in the future

This was exactly my first thought when I read this article, it's surprising that they got it certified for Verizon's CDMA & LTE networks. All of these articles and postings on if/how/when Windows 10 Mobile will make a comeback, or at least stop falling rapidly in market share, and the only things people mention are the mythical "Surface Phone" and the app store issues. Everyone has forgotten that in the US, Verizon and Sprint combined control roughly 50% of the market. WIth effectively zero availability of any Windows 10 Mobile devices on Verizon, in the US that is a huge hole in the potential market. I know VZ had the Lumia 735 available for awhile, but that has been discontinued now and is living off a dwindling inventory. Too bad Microsoft and Verizon can't get over their differences.

I imagined Windows IoT as more of a strict tile interface! Like a single row like the MSBand or full page tiled. Didn't expect to see a task bar!

It's nice to see such a mobile device, even if it is more retail and business focused. This kind of gives hope that we MAY see something similar for consumer, minus the magnetic strip and chip reader. I can imagine a striped down version that allows for third party magnetic and chip readers. That would give more room for a larger battery and slimmer profile.

Everything is great but the PRICE!
Not suitable for the kind of deployment they are looking for.

this is not for consumer.. this is meant for business POS

It'll be great for medium companies and up. Small and micro companies will probably still prefer a solution that uses a phone as it's cheaper but this is obviously aimed at retail stores and things like that rather than small consultancy companies in IT, doctors etc.

You mean $800+ iPhone plus an adaptor that only does cc? Apple doesn't have NFC either. The price is reasonable.

LUL because only Apple exists? Come on bro... be serious

I had a friend who did Windows Mobile 6 POS development back in the day. The device his company used cost that much. The price won't be an issue.

Coming soon to your Schwann's driver! (though, they usually carry a ruggedized device)

This thing is neat, it should take square to the edge

Do square do similar to iZettle? Where its a small device that connects to your phone? If so they won't have to worry about very small Businesses as they would stick with a cheaper solution that connects via their iPhone or iPad but this looks great for medium to enterprise size companies

Now that's pretty interesting. As well as them getting an intel chip inside that little thing. Very cool

What's the benefit over a normal idroid??

Great, but does it print receipts?

This is also becoming a thing of the past most company's now ask you do you want a printer receipt or it emails to you. But its windows so ide expect it to connect to a printer.

Or even texted to you, easier than typing your email address, the vegan restaurant I frequent has that as an option

Looks like it would be very useful in a restaurant setting where your server could input your order at the table, then when it's time to pay they can swipe or insert your card right at the table without having to take it out of your sight.

That would be a sexy looking phone color

He just bought himself a $1400 Surface book on that.

I will instantly sign up for square or any other competitive option that supports windows 10 mobile and/or windows 10. I will never buy a droid or ios device simply to take payments

I use PayPal Here as they support Windows 10 Mobile. Uses a headphone jack card reader. Quick and easy to use. Jumped on board with it for my business as soon as it became available.

How does PayPal Here support Windows Mobile... I thought they killed their native Mobile app (which made me quite sad)?

They killed the regular PayPal app for W10M. Their PayPal HERE app is still available. I use it on my Lumia 950 for my business currently.

Why doesn't the device work with Microsoft Wallet?

There are no Windows phone users in the world, it's a myth.

Why is a signature panel needed for a device that accepts EMV chipped cards? Customer should be required to enter a pin not draw a signature.

It's either/or. Don't draw too much from a demo. This payment tool, like all others, needs to be approved by the security industry for payment systems before being deployed. There is no "should" here, there are just criteria that needs to be meant to be deployed commercially.

Fair enough. Without the integrated strip scanner, the device could theortically be a bit cheaper and it would also help with design asthetics. I understand that there are still a few people still without chipped cards but it's time to complete the conversion in the US and catch up with the rest of the world.

this very cool, but im confused on microsofts mobile direction, they continue to provide software updates to windows 10 mobile yet no new hardware or consumer support in sight, what exactly is going on. i hope they address mobile, phones please address windows on phones
Windows Central Newsletter
Thank you for signing up to Windows Central. You will receive a verification email shortly.
There was a problem. Please refresh the page and try again.