The Cherry Mobile Alpha Prime 4 and 5 will be two of the first Windows 10 Mobile phones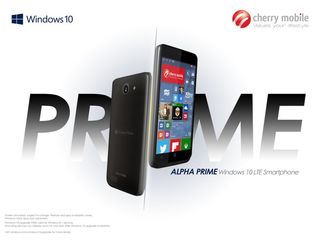 Philippines-based phone and tablet maker Cherry Mobile teased us last weekend that it would reveal some big Microsoft-related news at this week's Computex 2015 trade show in Taiwan. Today, the company came through, revealing plans to launch two smartphones, the Cherry Mobile Alpha Prime 4 and 5, that will be sold with Windows 10 Mobile pre-installed.
Gadgetpilipinas.net has the bare-bones hardware specs for both smartphones, but we suspect that the "Snapdragon 8909" mentioned on both phones is in fact a misprint and is supposed to be the Qualcomm Snapdragon 808 processor. Update: One of our commentators also mentions that 9809 might be a reference to the Snapdragon 210 processor. We will try to contact Cherry Mobile for clarification.
Alpha Prime 4 Specs:
Snapdragon 210 (MSM8909)
1.1Ghz Quad Core
4-inch Screen
WCDMA 900/2100
FDD-LTE B1/B3/B5/B7
5mp Main Camera
2mp Front Camera
4gb ROM
512mb RAM
Alpha Prime 5 Specs:
Snapdragon 210 (MSM8909)
1.1Ghz Quad Core
5-inch Screen
WCDMA 900/2100
FDD-LTE B1/B3/B5/B7
8mp Main Camera
2mp Front Camera
8gb ROM
1gb RAM
Cherry Mobile has not announced a launch date or prices for the Alpha Prime 4 and 5 and it's likely that neither phone will be ready until sometime this fall at the earliest. That's likely when Microsoft will officially launch Windows 10 Mobile itself.
Thanks to Kenneth for the tip!
Source: Gadgetpilipinas.net
Windows Central Newsletter
Get the best of Windows Central in in your inbox, every day!
Philippines -based company that makes phones and tablets... My bet is Canadian market idk.

All depends on what ms is willing to carry they after all are the exclusive dealers for yezz/blu on wp in NA

Romero must know quite a few live-in caregivers ;-]

Actually.... For the Philippines market. Incidentally, Cherry Mobile was the first to market a Windows cellphone in The Philippines.

No they didnt. its either the HTC or Nokia Lumia started it on the Philippines.

He probably means a local brand that first catered to WP users.

Nope, i dont think so, like what he said "windows cellphone" which i never heard off... if its about market.. we are talking of different brands... international and local brands on a same market but if philippines(locally) branded phone.. thats correct, cherry was the first local brand to launched the windows phone 8+ ...if pertaining to OS Windows mobile was started years ago.. i remember seeing it on a samsung and motorola before they upgraded the OS to metro style which i first saw in Lumia and htc series.. and i never thought theres incidental launch haha Posted via the Windows Central App for Android

And the Lumia phones use which​​​​ operating system?

7.8 8.0 and 8.1 so? Are we talking about OS or phones? If its about windows 10, maybe Cherry Mobile will be the 1st local brand to present a w10 mobile phone.. but we never knows.. once microsoft announce the launching of their flagship phone, who will be the first to arrive... and also if we're talking about OS there no first for having a windows 10 because all brand will have it as long as you have wp 8.1, youll be automatically updated to 10 so there's no thing for being 1st or pre-installed. Posted via the Windows Central App for Android

Romania Posted via the Windows Phone Central App for Android

The other good question would be why so low end. Again. Good grief.

Because that is where the money is with Windows phone! Look at Microsoft success. This company obviously wants a piece of that pie to.

Microsoft success? I'm I missing something here?

Yes you are missing the shear volume of low end phones that msft have sold into the global market place.

Apple sold more high end iPhones in a week than WP will in a year or more. They are shifting low end, sure. More than BlackBerry. But these pap devices are not going to get the consumers with money over, that's for sure. I hope MSFT show a glimpse of the high end soon, otherwise people will talk with their wallets and buy something else. Not everyone lives in the third world and not everyone wants cheap tat.

If you read the recent article about "low end hardware, is it killing Windows phone?", you would realise how important this low end"pap"is to the continued existence of our platform and Eco system. No low end, means low amount of msft system users, equals stagnant market growth and ultimately the winding of Windows phone to complete demise. Then you won't needs high end phone. Read the article. Then read part three of the article posted on WC today, and look how long it had taken to get here. Flagship strategy is in place, but must wait for its time to shine.

I've missed part three - have to day that's an excellent set of articles. Re the low end, I have no doubt they have a plan to generate numbers but its missing a massive demographic - people that don't want low end - and, by the time they've rolled out something people will have bought something else. With devices coming out all the time eyes are drawn to other platforms - what is getting eyes on here? I'm glad I've got a 1520. And I'm glad it's lasted since Nov 2013. I'll keep waiting for the next big thing and can afford to buy anything that takes my fancy. Sadly there's nothing taking my fancy here, that's the problem. And, frankly, all this cheapo pap ( that's double the pap) isn't doing anything to change the impression that WP is currently for the third world market. It's not for someone in the western world. Heck, it can be difficult to even find anything. Well, the entire range is so similar it's farcical. The range needs to be pared down and have a real gem. It's a shame the most exciting device recently released is the Moto g by any other name (same core specs, same cheapo mentality). Anyway, this is just my opinion. I've been using msft all my life and began using windows mobile in late '99 and have seen it go from feature rich multitasking beast to what we have now. I feel it is slowly crawling back to that place but want to the hw to go in that direction too. I understand the os isn't finished and they need to build hype up for that buyer then why not stop releasing devices for now? MSFT may want to be android but they're not and won't be. So be unique. Be for the masses - the lower order of consumer spenders AND the higher.

global market tells us that smartphones have yet to scratch the feature phone's share of the pie. the smartphone will try, but it wont overtake global market share for mobile phones. so go figure why being cheap is actually the way to go. its an option. if you dont want it, go buy something that could match your "first world" ego. this smartphone is not for you.

And I intend to. MSFT don't have anything at the moment. My worry is that by the time they do everyone in the"first world" with a "first world ego" will have bought something else. I'm sure you can see why that is a problem. And we're not talking feature phones. Yes, I'm aware the majority of the world has poor economics. MSFT isn't just pitching for them. Continuum won't even work on these cheapo devices, and I'd imagine other key line features won't either. Why invest so much in creating such great features? Suppose that explains why they're all coming to other platforms. Cloud and mobile services, after all. ..

I'm with you... I'm like hello, 940 onry!!!!

Again with the 512MB of RAM and 4GB of internal memory (not ROM) nonsense /:\

Well MS has the power over minimum requirements for Win10M - they clearly didnt change that

Cherry Mobile posted a photo showing the specs for the 4" phone. It has 1GB RAM and 8GB of internal memory.
https://fbcdn-sphotos-f-a.akamaihd.net/hphotos-ak-xft1/t31.0-8/11402517_...

This is actually the Snapdragon 210 since it's the MSM8909. Not the snapdragon 808

I am hoping that I could record 720p video on Alpha Prime 5.

You probably could do better getting another phone. Posted via the Windows Phone Central App for Android

How could you think 8909 meant a Snapdragon 808 when the clock speed is 1.1 GHz?

Or that a phone would have the sd808 and have a 5mp rear camera lololol

When I looked up the processor, it comes up as the SD210 on the Qualcomm site.

Sigh....a new 512MB RAM device. I was hoping that manufactures would go for 1GB as the new minimum for their own devices. Too bad Microsoft didn't push the minimum for NEW devices to 1GB while keeping 512MB compatibility with Windows Phone 8 devices. On the other side of this, it shows that Microsoft is cofident in Windows 10's performance with only 512MB RAM even with a few usability compromises. We should see a smooth OS, even with Resuming and Loading screens due to apps being pushed out of RAM.

can't blame them since it will just cost $50-$70.

4 Gb ROM?! Come on! Memory is practically full. I feel ashamed.

My HTC 8X is still better than this one.

Yup, and it's very doubtful that it will get Windows 10 update which is shame..

Now you just made me cry!

Well, at least there will be one 4" phone for Windows 10. If we are lucky, we might even get three or four different 4" phones, all from no-name brands with identical specs and sub-par quality.

One guy here on Wcentral wrote a v.v.v. Good sort of quote, and it was as follows
Windows phone, stay beta, stay buggish and that was so true....

Almost all apps are in beta stage

The Alpha Prime series definitely sounds like a flagship phone line. I am disappoint :-\

Haha in philippines they doest care about the name... mostly local brand here uses hyper names such as alpha, prime, omega, supreme, diamond, etc just to lure their customer that it has a good quality and highspecs Posted via the Windows Central App for Android

Wow, a phone with the name "Alpha Prime" should has the specs of the Large Hadron Collider

Cherry mobile's target market are consumers who cant afford high end smartphones. and windows phone does not sell very well yet compared to android and iphone here in the philippines.

So why is there Windows Phone branding on the back of the device?

The ​Window Phone logo on the back has ben there since the first release of Cherry Mobile's Windows Phone 8.1 handsets last year. Still owning one of their Alpha Luxe in addition to my many Lumias, and hoping that MS should do something like it as well.

The processor went down from the Snapdragon 808 to the 210.

People continue to complain about low end hardware Microsoft would be stupid to ignore that the 520 out sold every other WP . Also people keep forgetting that carriers are involved in the decision too T-Mobile doesn't seem to want anything high end from Microsoft Sprint wants mid rage so that leaves us with Verizon and At&t. What I want to see is a flag ship sold by Microsoft. Another thing we as consumers haven't showed the carriers that we'd leave to get a high end phone which is what people did when the iPhone was only on at&t. You stay on T-Mobile and sprint because of course they have cheaper plans I don't blame you but why all the complaints to Microsoft how about complain to your carriers.

What are U thinking about MS? Talking about walking backward in to the future. Low end, low spec phones. I guess U have a plan thought...

what are u thinking too? do MS own cherry mobile? NO. do MS have the power to direct Cherry Mobile? NO. only microsoft have is to give a minimum requirements for their OS. and also this Company(Cherry Mobile) is a local brand here in the Philippines which targets Low-end/Affordable phones with cheap prices for those people who cant afford buying high end products.


Lol! Snapdragon 808, 4" WVGA Display, 512MB RAM... XD

The crappy hardware specifications though.

what the! a very supportive Cherry Mobile. I hope their After Service too, which is bad.

Complain on cherry support team.. not here.. Posted via the Windows Central App for Android

Those specs are just ewww, I don't care what country It's for!

Good to see CM continued embraces Windows 10 in its early stages. It seems that their Alpha series became a success (correct me if I am wrong). CM are competing with other local phone manufacturers making low-end androids. With this kind of specs, I hope they put the price right. Not everyone in here is a rich kid, haha...

people keep whining how the specs are so bad but don't know which market or sector it is catered on. it is a low end device at super cheap cost. the two are priced less than $100. Cherry Mobile caters to Filipinos who doesn't have enough to buy your HIGH END device.

https://www.youtube.com/watch?v=_GRgul3Tjw4&feature=youtu.be
Windows Central Newsletter
Thank you for signing up to Windows Central. You will receive a verification email shortly.
There was a problem. Please refresh the page and try again.