Hands on with Children's book for Windows Phone, an interactive app for kids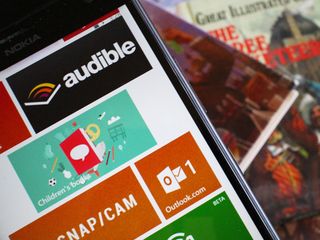 I don't have any kids (yet), but if I did I'd be all over Children's books for Windows Phone. It's a free app in the Windows Phone Store for youngsters and parents of said youngsters. WIth it you get interactive books for kids, a coloring book and a memory game. Scroll down for a hands-on video of the app.
Children's books for Windows Phone is a free app and definitely one worth downloading if you have small kids. Right now you only get one book, which is a bit of a bummer. I'd love to see this app updated with more books, which are teased right next to the book you do have access too. Of course it's not hard to imagine future books being purchased through in-app purchases.
One feature I know a lot of kids will love is the ability for parents to record their own narrations. The books can be read by a default narrator, but why not let a familiar and loved voice read to you? It's a great feature and hopefully one we'll see in future books.
Highlighy recommended app for kids and parents with kids. It can only get better once more books are added. Download Children's books for Windows Phone and let us know what you (and your kids) think!
Windows Central Newsletter
Get the best of Windows Central in your inbox, every day!
Shouldn't this be a Hidden Gem?

The contest is over...for now...

Dry Posted via Windows Phone Central App

M,rc Posted via Windows Phone Central App

It would be awesome if I get one ;)

I just read-I don't have kids(yet)!

I always say (that I know of)

Windows Phone Central Turkish language plase!

Oh god, the UI is awesome ! good app and review :)
good for parents with kids..

Just downloaded, great UI and awesome interactivity, just needs more books asap.

I guess if it isn't interactive it isn't much of an app now is it?

Downloading now. Thanks Sam. My 4yr old really loves apps like this!

This is a great idea and I love the personalized narration. Dev, please make this a universal app!

Hope i have kid next year

A new born baby won't be ready for this app, maybe my two and a half year old I'd old enough to appreciate it. Maybe.... Hope so, rocking app.

This should be real helpful coz the kids always get bored especially driving around for summer vacation

This is fantastic, should be a universal app for tablets and phones.

You spelt colouring wrong again!

No, he didn't. That is the American spelling. However, he did misspell highly ;)

This would be great on tablets pc

Great App for children indeed!!
App can be customized for every baby by recording of their parents narrations!! Great right?? If your a parent, go for it! One love

I try and keep my just if kids apps up to date in app social. These are based around my two and a half year old. Check out this app list on App Social: http://appsocial.nokia.com/s/lgfjboulqe by @Deeean

This is a perfect app for my favourite little niece! :D. My other nephews and nieces have chosen their favourite uncles and aunts so they no longer want me to babysit them lol.

Cool, now I only need a son, or a daughter

This is cool and all but I wonder if reading rainbow will make an app for WP since they got a hell of a kickstart.

Excuse me, but how is this better than an actual real book? My kid has tons of books and doesn't need to be on my phone all the time because of one app with one book. Also, maybe when talking about books, get your spelling right!

Yeah, real books for the win. I'm with you!

Nice app, but having trouble recording my narration. Come on, I want to listen to myself while I try to sleep.

My 2 year old loves this! She will sit there with my phone on the couch for an hour!

This app has a smooth, minimalistic layout. Other than the fact that it can use more books, it's a mighty fine reading app for the kids. Very impressive.

I like the idea of these things and the idea of narration is good. My only worry for this app, and others like it, is the spelling. Obviously I want my children to learn the English spelling, as opposed to the American version.

Why? It's outdated and illogical. It's funny you Brits have such a poor grasp on the language you think you own. Where's your pride when you spell so many words the French way?

What? Don't be so defensive, I wasn't attacking America or their language. What on Earth are you talking about? English has been made up of a multitude of languages, I couldn't be more proud of it for that reason. In terms of ownership, er not sure about that, not sure I was staking a claim of ownership. But if anyone could, I imagine and Englishman would have a decent claim. As illogical as you may think it is, and I am not saying you are wrong, my children are graded against English standards, so I don't want them to start spelling things to an American/French/Scandinavian/other standard.

It's still illogical to spell things the French way and pronounce it in English. Every language has a set of rules, Brits just have a long lasting relationship with refusal of change imho. That's all I was saying. Must be confusing for kids....

The only time logic and language come together is in the L section of a dictionary. If it wasn't for the fact that they share the same first letter, they would never have met. The English language is littered with inconsistency and illogical rules, and conspiracy theorists may assume it was a deliberate attempt at wrong footing the British youth. But..... I wouldn't have it any other way. Viva la difference!

Something you might want to consider in the future: avoid writing the phrases "Hands on with Children" and "I'd be all over Children" lol.

Unless you are a squirt gun or ketchup....

awesome app, UI is looking very nice

snapcam? i gotta see whats that about