Chillr allows HDFC Bank customers in India to instantly transfer money to your contacts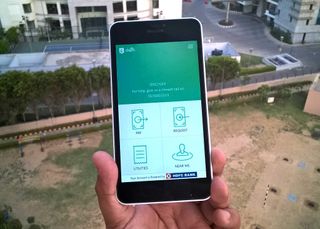 In March this year, India's leading private sector bank, HDFC Bank partnered with a Kochi-based technology company MobMe Wireless Solutions Ltd. to launch Chillr. It's a mobile app that allows users to instantly transfer money to any contact in their phonebook 24 hours a day, seven days a week.
Chillr, a colloquial term for loose change, has now arrived on Windows Phone as well. While customers of any bank can receive money, Chillr has tied up with HDFC Bank to allow sending as well as receiving money over the platform.
With Chillr, customers no longer have to ask for account information and follow the process to add beneficiaries if they wish to transfer money. All you need to do is choose the recipient from your list of Chillr contacts, enter the amount to be transferred and a message for the recipient, and enter your secret M-PIN before pressing the pay button. The recipient will instantly receive money in his/her bank account.
Note that the service has a transaction limit. The maximum amount per transaction is ₹5,000, and the maximum amount that can be sent per day is also ₹5,000, although you can do a maximum of 10 transactions per day.
Chillr is a neat IMPS (Immediate Payment Service) implementation that works pretty well without any OTP requirements or such. Soon, you'll be able to recharge your mobile, DTH, and data cards, pay utility bills, as well as pay at online or offline stores. You can also send money without sharing mobile numbers with Chillr users in your vicinity, using the 'Near Me' option. Essentially, it's like using your bank account's debit card without the need for handing out the plastic to the other person.
If you are an HDFC Bank customer, give Chillr a whirl. It's a pretty good app, and eliminates the need for third-party virtual wallets since the app is linked directly to the customer's bank account. The user experience is great, and the customer support if impressive. Let us know how you like it.
Download Chillr from Windows Phone Store (Free)
Windows Central Newsletter
Get the best of Windows Central in in your inbox, every day!
@Gonzalo Vazquez:
You, Sir, almost broke the internet...

Ok! Time has come to open an account in HDFC brach too.
But using this app, what would be the transaction cost hdfc gonna charge per transaction.?

I guess the charge will be same as IMPS transaction charge, not aware of other costs

Seriously, you should open an HDFC account right away! The services that they offer are unmatched. I've never had to visit a branch in the 5 years that I've had an account (except for changing my email ID and Phone number) Their WP app is great and offers a ton of functionality. The only thing I'm missing in the app is that I cant open an FD or an RD and I cant add a beneficiary (I need to login to their website) but that is just nitpicking.

Submitted Account opening form!
a busy day it was but...CHEERS.
:-)

Haha "Chillr" is an awesome name

Competitor bank SBI will launch "CHHUTTA"

SBI govt. bank hai. Sab CHHUTTA le legi. :P

It's like more than a month or two, this app is available over WP store. :D

Yes! Not bad really! I got an email 2 months back on the introduction of the service and it mentioned that the WP app is in the works and is coming soon. I was totally not expecting it to hit the stores so quickly.

Really lame, I tip this news to WC team around 30-40 days ago.
Now they are covering this app, very slow by WC team.
Please cover new app asap, not after 1 month.

Why am I not surprised to see this comment? You, sir, are a pro.

I am saying, please report new app asap, I don't want my name or anything but feel bad when any new good & official app is not covered by WC team.
As I love this app/website very much.
Thanks for remembering my nature

Buddy, I understand your feelings but i believe Abhishek has a lot of other work to do and is not just restricted to WC. News that is reported late doesn't mean that people have no use for it. I didn't know that Chillr was released until I read this article.

That's why I feel bad, as official app was released but no one know this app until today's article as I believe 50-60% windows phone users read WC daily.

Great to see another startup from Kochi. thakarthuvada makkale :)

Evde poyaalum orru kootam undakum hahaha

Ivde enuim oru paadu kaanum..

Liked the name and features of this app. Don't have an HDFC account though. Waiting for Pockets from ICICI.

It's such a chillr app! D:

Amazing app.. And free of cost... Desperately waiting for all the features to launch..
Windows Central Newsletter
Thank you for signing up to Windows Central. You will receive a verification email shortly.
There was a problem. Please refresh the page and try again.