Chime in: Does Microsoft CEO Nadella deserve more credit than he gets?
While fans blame him for the death of Windows Phone, Groove Music, and more, does Satya Nadella deserve more a little more credit?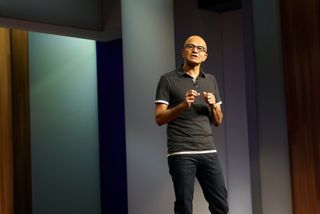 Microsoft CEO Satya Nadella has been blamed by many for the cancellation of a lot of consumer-related products and services, including Groove Music, Windows Phone, and many more. But, regardless of all the things Microsoft has killed off in the last few years, the company is arguably doing the best it has ever done.
Since Nadella took over the CEO position, he's turned stock prices around, and now they've skyrocketed above $100. Microsoft stock prices are near the highest they've ever been, and that's at least in part thanks to Nadella.
Simply put, Microsoft is a successful company doing very well right now. Nadella got rid of the stuff that wasn't working and focused on what was. That's an impressive feat. There's a related conversation going on in our forums.
Now that Satya Nadella has killed off all the things that weren't working and focused on the things that are, the company can slowly start to experiment with new ideas again. Things like Andromeda,, which is Microsoft's rumored dual-screen mobile device, is something that would've been greenlit under Satya Nadella.
He also promoted Xbox gaming to the leadership table, something that hasn't ever happened at Microsoft before. Xbox is also doing very well right now, and with the power of Azure, Microsoft is planning to bring Xbox games to a whole new audience via game streaming.
So, does Satya Nadella deserve more credit than he sometimes gets from fans bitter about Windows phone? We think so. He's done an excellent job, and we can't wait to see where he takes the company next.
What are your thoughts? Let us know in our forums!
Windows Central Newsletter
Get the best of Windows Central in in your inbox, every day!
Windows Central Newsletter
Thank you for signing up to Windows Central. You will receive a verification email shortly.
There was a problem. Please refresh the page and try again.