How to balance price and performance in a new CPU
Sure, you could just plop down a bunch of cash for the best CPU money can buy, but spending several hundred dollars isn't the only way to get a good CPU. Here are some bang-for-your-buck options.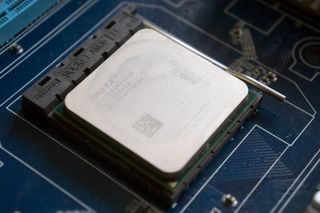 (Image credit: Rich Edmonds / Windows Central)
Grab a brand new motherboard, and you'll be able to spend as much as $300 on a more-than-capable processor for the PC build. You'll have bags of fun, be it in games or intensive applications. But if you'd like to save a penny or two, all while taking advantage of capable CPUs, it's possible to grab a stellar deal when it comes to performance.
On a budget
AMD Ryzen 3 1300X
This quad-core workhorse isn't the most powerful processor on the market, but it costs $129.99. AMD includes overclocking, a stock cooler (massive bonus at this price point) and superb performance for the price.
You're paying an additional $60 for two cores (without any hyper-threading) and the ability to overclock them. Just stay clear of really intensive applications.
Price: $130.
Good for: Budget gaming, can be overclocked. Includes a good fan.
Not so good: Slightly higher TDP than Intel counterpart.
Intel Pentium Processor G4500
If you're not after the multi-threaded overclocked madness, Intel has a solid offering in the G4500. It's locked and dual-core with zero hyperthreading, but you get a CPU that can easily tackle light-to-medium computer use, including some gaming.
The AMD option above will better perform in applications that support multi-core (especially when overclocked), but the G4500 has a few tricks up its sleeve, including an integrated GPU. There's also not much to differentiate the two price wise. The G4500 is only $71.
Price: $71.
Good for: Superb single-core performance for the price.
Not so good: Integrated GPU is poor, no overclocking.
Mid-range
AMD Ryzen 5 1500X
You get four cores and eight threads for just $179. That's what the Ryzen 5 1500X brings to the table. It's an insane amount of power for the price, adding around $100 on top of the two budget chips above. And unlike older AMD processors, these are also designed for single core performance.
That said, applications that can take full advantage of multiple cores will enjoy partnering up with the 1500X. What provides the Ryzen 5 family a little extra, particularly this processor, is the ability to be overclocked. This brings it right up to comparable Intel chips in the Core i5 range.
Price: $179.
Good for: Gaming and high productivity with eight cores.
Not so good: Not quite as good as Intel offerings.
Intel Core i5-7600K
Our choice from the Intel camp for the middle ground is the Core i5-7600K, which again is a solid chip. It's a superb middle-ground chip that's affordable and unclocked for even more power to be tapped into with adequate cooling.
If you do not wish to do some intense computing (like video editing), the Core i5-7600K will be more than enough. For the price, it's possible to hop onto the Kaby Lake platform and have room to throw in a Core i7 at a later date to bring more power to the table.
Proce: $210.
Good for: Gaming and efficient PC builds.
Not so good: Not a massive upgrade over Skylake.
High performance
AMD Ryzen 7 1800X
AMD announced its new lineup of Ryzen processors and made three launch CPUs available in the Ryzen 7 performance range. 1700, 1700X and 1800X make up the company's latest offering in the segment, to compete against Intel's high-end counterparts. 1800X targets the Intel Core i7-7700K with 8 cores, 16 threads, and a tiny 95W TDP.
And you can even get a stock LED-touting cooler!
Price: $419.
Good for: Gaming and intensive workloads.
Not so good: Those who don't wish to spend a lot or build a new system.
Intel Core i7-7700K
The Core i7 series from Intel, built on the Kaby Lake architecture, offers great levels of performance for high-end gaming. Throw in a capable GPU to match, and you have quite the capable rig. The same applies to productivity, and as an added bonus the CPU can be overclocked, meaning it can handle more advanced software and multiple tasks with ease.
This is among the best of the best, but you should only really consider an i7 if you truly require the performance.
Price: $295.
Good for: Gaming and intensive workloads.
Not so good: The price for those on a budget.
Better processing
Are there other processors you would like to see in our roundup? Sound off in the comments.
Updated October 2, 2017: We updated this list to ensure we're offering the best in terms of price to performance..
Get the Windows Central Newsletter
All the latest news, reviews, and guides for Windows and Xbox diehards.
Rich Edmonds was formerly a Senior Editor of PC hardware at Windows Central, covering everything related to PC components and NAS. He's been involved in technology for more than a decade and knows a thing or two about the magic inside a PC chassis. You can follow him on Twitter at @RichEdmonds.