How to balance price and performance in a new CPU
By Rich Edmonds last updated
Sure, you could just plop down a bunch of cash for the best CPU money can buy, but spending several hundred dollars isn't the only way to get a good CPU. Here are some bang-for-your-buck options.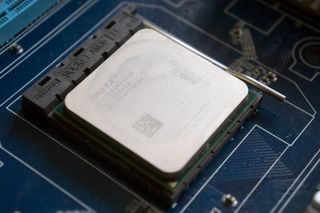 (Image credit: Rich Edmonds / Windows Central)
Grab a brand new motherboard, and you'll be able to spend as much as $300 on a more-than-capable processor for the PC build. You'll have bags of fun, be it in games or intensive applications. But if you'd like to save a penny or two, all while taking advantage of capable CPUs, it's possible to grab a stellar deal when it comes to performance.
On a budget
AMD Ryzen 3 1300X
This quad-core workhorse isn't the most powerful processor on the market, but it costs $129.99. AMD includes overclocking, a stock cooler (massive bonus at this price point) and superb performance for the price.
You're paying an additional $60 for two cores (without any hyper-threading) and the ability to overclock them. Just stay clear of really intensive applications.
Price: $130.
Good for: Budget gaming, can be overclocked. Includes a good fan.
Not so good: Slightly higher TDP than Intel counterpart.
See at Amazon (opens in new tab)
Intel Pentium Processor G4500
If you're not after the multi-threaded overclocked madness, Intel has a solid offering in the G4500. It's locked and dual-core with zero hyperthreading, but you get a CPU that can easily tackle light-to-medium computer use, including some gaming.
The AMD option above will better perform in applications that support multi-core (especially when overclocked), but the G4500 has a few tricks up its sleeve, including an integrated GPU. There's also not much to differentiate the two price wise. The G4500 is only $71.
Price: $71.
Good for: Superb single-core performance for the price.
Not so good: Integrated GPU is poor, no overclocking.
See at Amazon (opens in new tab)
Mid-range
AMD Ryzen 5 1500X
You get four cores and eight threads for just $179. That's what the Ryzen 5 1500X brings to the table. It's an insane amount of power for the price, adding around $100 on top of the two budget chips above. And unlike older AMD processors, these are also designed for single core performance.
That said, applications that can take full advantage of multiple cores will enjoy partnering up with the 1500X. What provides the Ryzen 5 family a little extra, particularly this processor, is the ability to be overclocked. This brings it right up to comparable Intel chips in the Core i5 range.
Price: $179.
Good for: Gaming and high productivity with eight cores.
Not so good: Not quite as good as Intel offerings.
See at Amazon (opens in new tab)
Intel Core i5-7600K
Our choice from the Intel camp for the middle ground is the Core i5-7600K, which again is a solid chip. It's a superb middle-ground chip that's affordable and unclocked for even more power to be tapped into with adequate cooling.
If you do not wish to do some intense computing (like video editing), the Core i5-7600K will be more than enough. For the price, it's possible to hop onto the Kaby Lake platform and have room to throw in a Core i7 at a later date to bring more power to the table.
Proce: $210.
Good for: Gaming and efficient PC builds.
Not so good: Not a massive upgrade over Skylake.
See at Amazon (opens in new tab)
High performance
AMD Ryzen 7 1800X
AMD announced its new lineup of Ryzen processors and made three launch CPUs available in the Ryzen 7 performance range. 1700, 1700X and 1800X make up the company's latest offering in the segment, to compete against Intel's high-end counterparts. 1800X targets the Intel Core i7-7700K with 8 cores, 16 threads, and a tiny 95W TDP.
And you can even get a stock LED-touting cooler!
Price: $419.
Good for: Gaming and intensive workloads.
Not so good: Those who don't wish to spend a lot or build a new system.
See at Amazon (opens in new tab)
Intel Core i7-7700K
The Core i7 series from Intel, built on the Kaby Lake architecture, offers great levels of performance for high-end gaming. Throw in a capable GPU to match, and you have quite the capable rig. The same applies to productivity, and as an added bonus the CPU can be overclocked, meaning it can handle more advanced software and multiple tasks with ease.
This is among the best of the best, but you should only really consider an i7 if you truly require the performance.
Price: $295.
Good for: Gaming and intensive workloads.
Not so good: The price for those on a budget.
See at Amazon (opens in new tab)
Better processing
Are there other processors you would like to see in our roundup? Sound off in the comments.
Updated October 2, 2017: We updated this list to ensure we're offering the best in terms of price to performance..
Rich Edmonds is Senior Editor of PC hardware at Windows Central, covering everything related to PC components and NAS. He's been involved in technology for more than a decade and knows a thing or two about the magic inside a PC chassis. You can follow him over on Twitter at @RichEdmonds.
No, Just no! A complete new platform will release next month, with AM4 around the corner nobody should by CPUs today, even a new series by Intel will be available for desktops on January, makes no sense buy hardware that will be obsolete in less than 30 days! The FX8300 don't even support DDR4, just wait for Ryzen.

At the same time, these 6th-gen processors from Intel should lower their price when the new ones come out, which is also good. But yeah, right now it's not the time and this is something that should be included in the article.

Good CPUs now don't just suddenly become obsolete when Ryzen and quad-core Kaby Lakes become available. We'll just update the post as and when new stuff is available.

Very very true. I have a AMD a10-7700 that I bought 3 years ago, it works perfectly fine paired with a RX-470, and runs all my games including DOOM and GTA5 etc...I paid for a new mobo, cpu, and accompanying ram with less than $300. That's an easy easy upgrade to me.

LOL "obsolete" dude, new Intel cpus are cca. 5 to 15% more efficient (its all about marketing) or more powerful as the previouse generations. No need to feel bad for buying a 3/4/5/6th. generation Intel CPU. First Sandy Bridge i7 is still good for gaming.

This! Both my desktops at home are still using 4th gen i7's. And the media pc is still on an AMD A-10. All of them built several years ago. There wasn't a need to upgrade when it's handling the job just fine. Replacing the hard drives with SSD's made a world of difference.

I have always said this. CPU upgrades are not nearly as critical as they were 10-20 years ago. I remember using a 286, and then moving to a 386. It was an exponential increase in speed....Now, my dell is running a pentium, and another one of my devices has a core i5, Neither is faster or slower than the other. Just does not matter as much.

Budget is all you need to know. Some people literally can't spend more than 300 and you want them to spend it on a chip and nothing else. My pc is 8yrs old now, runs the blender demo just shy of 3-4times slower. While that is alot its a 8yr old chip on 4gb of ddr2 ram. Even the laptop a12 chip is as fast as my workhorse. Which is used to do3d modelling etc. I am waiting for the am4 myself but on a budget those chips are perfectly fine.

Obsolete means what? The fact that intel continue to call their chips i-series should suggest to you that even they don't see a difference between last year and next year. Your argument would hold water when 386 superseded 286 and pentium replaced 486. As long as the name is the same, its the same thing.

I think the point right now for most people looking to buy a processor is to establish the "VR enabling" threshold. I have a 3rd gen i5 and it's really capable but apparently it wouldn't be enough for VR. Now, I personally don't care about OC and I know I'd get an i5. I kinda guessed a good new processor for me would be the i5 6600, probably this 6500 too. Another point is that for reasons that are hard to anticipate, the market price of different models varies a lot. So this whole thing could require a fair bit of research, unless money it's not an issue.

VR is not about CPU, first of all its about the GPU so a 3rd. generation Intel CPU would be OK if the GPU is VR capable

That's what I thought, as a long time PC builder and user I found the CPU requirement a bit baffling. As it was for using an Intel RealSense camera (which does work perfectly for me). But well, info on VR and benchmark software seems to be heavily intent on making people buy a new CPU for VR. This is part of why I'm going to pass on this first batch of VR.

I got the i7-6800k, with watercooling (H115i) for the intention of overclocking it... 5 months later it's still on stock settings lol (blazingly fast though)

X4 860K: 84.84
G4400: 57.12
FX-8300: 66.29
i3-6100: 45.22
i5-6500: 34.68
These are the performance per buck ratios of these CPUs.
Personally i built my budget PC using the popular over clockable G3258 which has a radio of 54.76

How do you calculate those rates?

From www.cpubenchmark.net

Intel Core i3-7350K is better than i5 6400 and i5 4670K as budget CPU.
Its a sequel to the overclocking-oriented Intel Pentium G3258.

It's 2016. That FX line was built off a platform from 2013 or 2014. We can't keep telling people to buy CPUs that are power hungry and run hot that released as inferior and are now a few years outdated. Heck, even saying they're 8-core CPUs is a half-truth, since they're not full cores on their own (each has its own integer core, but each pair shares a FP core, which isn't a true core). I went AMD when I started, and I'll go AMD with Ryzen, if it ends up any good. Let's just leave the FX-8000 stuff to die in a pit, though. I mean, if you want to overclock it to hell and lower your heat bill, I guess go for it, but it's just not something that's worth buying when you can get something much cooler, quieter, and probably faster from Intel for about $20 more (the i5-6400).

My office/dining room gets a bit cold in the winter, seriously considering putting an FX 9590 in a PC case to keep me warm.

Play games to heat the house :)

My dad used to have two R9 290X cards he did coin mining with. He'd run them at, like, 85% load. Walking into his house, it sounded like a hair dryer was running all the time, and helped a bit with the heating (but probably at the expensive of electrical costs).

Can someone point me to a prebuilt PC that is perfect for running a Plex server 24/7 while having a good enough graphic card to record shows with PlayOn as well as to help with Plex transcoding?

Haha... Down vote. Love the clowns!!!

Just buy a NAS. QNap or Synology are the better choices. I have a QNap TS-453A and it does all the Plex stuff you require (not sure about PlayOn). You could also use an old desktop PC, and put in a GTX 1050 Ti (if you're on a budget) or go up to the 1060/1070/1080 if you've got extra money. You may want to research it more as I think transcoding is done by the CPU (except on-the-fly stuff? not sure really)

I always use old PC's but they end up dying quickly. I think it usually kills them running 24/7

Basically it "caches" most accessed files and folders for quicker response times. So it's more or less going to be constantly writing to the disk if you have a heavily active file server or left on 24/7. So it's drastically going to eat into your read/write cycles. If your using a ssd then it shouldn't even be running. As it's going to do more damage on ssds than mechanical drives. Plus it's redundant on ssds anyway.

I use a old Lenovo Think Center M57e for a Plexserver/PC. I added a new $25 case, $25 PSU, better $20 CPU cooler, $70 2TB HDD, and a ebayed $12 ATI Radeon HD2600. When my smart TVs are pulling stuff from it, it's still able to run Kodi at the same time. Check Microcenter's refub deals, PC's like it start at $99 and up. It's been running 2 years for 24/7 with no problem

$600-$700 if I could. If I have to spend more to get a device that can handle the streaming with Plex an ability to record with PlayOn, I guess I have to.

Well plex transcoding is done on the cpu side, per their website. They state that for 1080p single encoding - meaning one viewer, viewing it remotely at a time, needs a passmark of 2k or higher. Now transcoding is only done remotely if your on your local network...it shouldnt happen. Playon even needs less, minimum 500 score 1k recommended. So anything with a 3k score and you should be fine. While prebuilt is fine, you can get a more fine tuned experience with buying the parts.. However, this one would do just fine and scores a 5k+ on passmark, more than double required for plex and 5times more than playon required... https://www.windowscentral.com/e?link=https%3A%2F%2Fclick.linksynergy.co...

wow that link didnt work...here it is again from newegg. If the link dont work, go to newegg, go to desktop, choose a10 pc ASUS Desktop PC M32BF-DH02 A10-Series APU A10-7800 (3.50 GHz) 8 GB DDR3 1 TB HDD AMD Radeon R7 Windows 10 Home 64-Bit https://www.newegg.com/Product/Product.aspx?Item=N82E16883221341

Does Plex even have a UWP client? Also, didn't Hulu and Netflix ban plex?

Yes, but they destroyed it. The old app was great. This new UWP version has a million holes and glitches even after 20+ updates. Not sure what your point is about Netflix and Hulu (not being snooty, not sure what that means in reference to this conversation).

Windows central, a article for motherboards?

I'm planning on being able to upgrade at tax time, so late Feb-mid March, somewhere in there. Sounds like some interesting things will be happening in the meantime that might change my mind on things. But we're I buying today, or should the new stuff not persuade me for the price, then my target chip is the Skylake Core i5 6600K. Not as expensive as an i7, but capable enough to do just about anything I'd want to do in 1080p gaming. Target GPU is 1060. The following year, I may decide to upgrade to 1180, 1190, or whatever is the equivalent upgrade replacement will be for the current 1080, and give 4K gaming a go. Will the 6600 be up to the task of 4K, though?

Resolution doesn't matter that much with CPU, its far far more GPU based. But I would not go with a 4 core/4 thread at this point for AAA titles. Already games like BF1 will be bottlenecked by an i5.

Yeah. You're right. In the time since writing this, I've made my purchases, and bought a Kaby Lake i5, and a GTX1070 as my CPU and GPU. In further research that I've done since my last post, I've found that there was only like a 1% difference in gaming performance between the i5 and the i7, and have heard anecdotally from several sources that you really need at least a 5% difference before you really can start to notice it real-world. So I'm happy with my CPU choice. :-) I had pretty high expectations of the 1070 going into it, as the "ultimate 1440p card", but I muss confess, my expectations have actually been pleasantly exceeded! I'm not a **** about 60fps. I know this puts me out of step with most PC gamers, and perhaps in time, I'll become more dogmatic, but I can [within reasonable limits] live with not entirely optimal frames if it will enable me to crank the eye candy all the way to the max and still get reasonably smooth, non-chunky, fluid gameplay experiences. And so, with that said, I've found a number of games now that I can run in max everything, and still get between 45-60 fps and be perfectly happy....doing it not in the as-advertised 1440p....but rather, in full-on 4K!!! Now, I know I'm not playing the most demanding games yet. I'm not doing Crysis 3, or Rise of the Tomb Raider, or what have you....but I am doing Doom (55-60fps), and Gears 4 (45-60fps) and Fallout 4 (45+fps), and Recore (60fps) and Forza Apex (55-60fps), and they're all doing just fine in 4K with absolutely every setting completely maxed out! This is the kind of thing I'd expect from a 1080, perhaps. But I'm using a 1070. And what's more, I haven't started messing with OC yet. Everything is still running at stock clock. So yes, I'm very happy with what I've been able to get this rig to do! Next tax time I'll either replace the 1070 with a 1080ti, or else get a second 1070 for SLI. But otherwise, this rig should last me satisfyingly for years! And it's all based on a humble little i5! :-D Cheers!

Starting in about 3 months, 120 dollars. It will get you a Ryzen 3, with 4 cores and 4 threads. The CPU will be faster than an i5 7400-7500 Kaby Lake

1) At the moment, the 860K and G4400 are irrelevant when the Pentium based Kaby lake that has hyperthreading sells for 60 dollars, the G4560.
2) Sure, the FX 8300 was the best value AMD CPU for the last 2-3 years, but it's irelevant today, with Ryzen at the door. DO NOT BUY THIS. Or anything else on this list except for Ryzen
3) i3 6100 is pointless when the G4560 exists. Basically same performance, twice as expensive.
4) How can you recommend both the R7 1700 and the i7 7700K? The i7 is more expensive and has 50% less cores/threads, while single core performance is about on par. TL;DR: DON'T BUY ANYTHING for the next week to 3 months. Wait for Ryzen to launch and for reviews!

Sorry but that sounds a little ignorant. All of those are good choices, especially the i3 6100 which is a good overclocker. sythetic benchmark numbers don't mean jack with the difference of a couple hundred points or 5-10% whatever....

You can't overclock the i3 6100. Not for quite a while now.

Totally agree, the omition of the G4560 or G4620 makes no sense when they offer i3 6100 performance for a much lower price. As said above there is no need to buy a core i3 6100 when you can go with the pentiums that now have hyper threading, and since the FX 8300 competes with the i3 in games there is no need to buy it either, as far as the multi threaded performance of the FX 8300 its just a little bit higher than the core i3. another reason is the platform is dead, very outdated and no upgrade path. TLDR: If you were going for a core i3 6100/7100 save some money and buy the G4560 or G4620 pentiums.

We have the FX-8350 and it does generate some low altitude turbulence when coupled with the R9 390X. Sounds like it's about to take flight.

Just get a nice fat cooler with a 120mm fan. It wont fix the heat but the noise will go down dramatically. I am running an 8320@4.5.

I had an artic cooling cooler on my last pc build and it was pretty well silent.

I have DC G4400 processor with NVIDIA graphics card in my Desktop PC. 🙂

if I were building something now, I'd go for an AMD Ryzen 7 1700, 65W TDP and 8 cores/16threads and about $320 is pretty bad ass. You can get better single core performace at the same price point but at a mich higher TDP (probably at leat 95W).

Totally agree, 1700 is the best price point and you get 8c/16t. It may not be the top notch in some games due to being clocked lower, but it wont be a bottle neck for many years to come. You can always up the multiplier if needed.

For midrange the better option would be AMD Ryzen 5 1600, it costs about the same as Intel i5-7600K, but unlike the 4C/8T 1500X, it's a 6C/12T processor

Budget King CPU is Intel Pentium G4560, it's very popular and you have not mentioned it. Please don't write about CPUs.

I3 sandy or I5 sandy and up is more than enough. Ram it up, use an ssd, grab a 1050ti or better and you are golden. You boys and girls here are Huuularious!!

i3/i5 sandy bridge + 1050ti? You can't play the latest AAA titles with that (even 1080p max settings).

My Desktop PC is now ~10 years old. I only added an SSD two years ago and a GTX1050 Ti because my GTX260 died.
Yesterday I overclocked the CPU (Q9550) to 3.6 GHz and still can play some nice games like Rise of the Tomb Raider - not with ultra details, but it works pretty good (but gaming is really not important to me). Booting times are much faster and the system runs extremely fluid. I dont think that I will upgrade this year or even next year.

I'm still rocking a AMD Phenom II x4 925 @ 2.8ghz I see no reason to replace my whole pc for a new rebrand cpu. When I can get at least a AMD Phenom x6 3.2ghz model for like 60 dollars and it will still run most games. :)

You guys should've included the extreme high end for enthusiasts like Threadripper and Core i9
Windows Central Newsletter
Get the best of Windows Central in in your inbox, every day!
Thank you for signing up to Windows Central. You will receive a verification email shortly.
There was a problem. Please refresh the page and try again.