What's the best laptop for a Windows blogger covering Microsoft Build?
Which laptop is the best for a blogger covering Microsoft's Build 2017 conference in Seattle this week? It wasn't easy, but we picked one.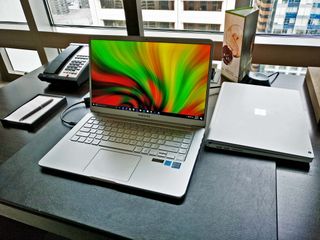 Big events require big decisions. In my case, that means I had to pick a laptop to bring with me on a six-day trip. As a professional laptop reviewer, I have many options. So which one did I choose, and why?
This year for Build 2017 I had to decide which modern laptop would get the job done best. There was no easy choice. In fact, I'm not even 100 percent sure I made the right decision. But that's part of the fun.
These are my top laptop picks for spring 2017, as well as why I chose the laptop I did to take to Build.
The top choices
Narrowing down the top three laptops was easy. In no particular order, here are my top choices:
Surface Book with Performance Base – The tried and true Microsoft "ultimate laptop," Surface Book is everything great about Windows 10, including the tablet form factor, a modest GPU, and a 3:2 aspect ratio.
HP EliteBook x360 G2 – HP's crown jewel business laptop, the EliteBook has everything I love: great keyboard, amazing battery life, fantastic build quality and a Wacom pen. And it's just fun to use.
Samsung Notebook 9 15 Ext – Samsung doesn't get much attention when it comes to laptops, but I rated this PC as my favorite 15-inch notebook on the market. It has a gorgeous LED display with HDR, a fingerprint reader, and an excellent keyboard. Toss in a modest NVIDIA 940MX GPU, fast solid state drive (SSD), and battery life that pushes 10 hours while weighing 2.7 pounds, and it's awesome creation.
Other contenders included the bulky but powerful Dell XPS 15 (9560), Razer Blade, and a few other HP Spectre x360s (13 or 15). Surface Pro 4, while fun, is too tablet-focused for my needs. The Razer Blade is also great but not the right laptop for what I need at this event. The XPS 15 is an excellent machine and would certainly get the job done, but at 4.5 pounds it is not only heavier but technically overkill for what I need (a good problem to have, of course).
The Surface Book, EliteBook, and Notebook 9 are all my top choices for a few overlapping reasons:
Battery life of at least eight hours.
Best typing experience.
Precision touchpads.
Portability.
The Dell XPS 13 (9360) could easily be added to that list, but of the four the XPS 13's keyboard is my least favorite.
On May 10 and 11, we'll be doing a live blog of the Microsoft Build keynotes. Typing furiously for three hours is exhausting, and it's even harder if you're on a laptop with a poor typing experience.
Battery life is also very important. I prefer to use my Brenthaven Collins Vertical Messenger Bag, which works with the Samsung, Surface, and HP laptops mentioned, but I prefer to leave the charger at the hotel during Build. Having all-day battery life, which in this case means at least eight hours, is critical.
While all three options are portable, the Samsung and HP are nearly a pound lighter than the Surface Book but offer more modern seventh-generation Intel hardware.
The winner (for this week): Samsung Notebook 9 15" Ext
My top choice for covering Microsoft's Build is the 2017 Samsung Notebook 9 15".
That may surprise the diehard Microsoft fans out there who think the Surface Book is easily the best, but I decided to go with the Samsung Notebook 9 for a few reasons:
Slightly larger display.
Exceptionally light.
The GPU provides a modest boost in performance.
The Notebook 9 15 features a slightly better and larger display than the HP EliteBook. The screen on the Surface Book trounces the Samsung device, but I'm quite OK with a high-quality Full HD display.
Typing on the Samsung device is also exceptional, and the large Precision touchpad is great. I find typing on the Samsung Notebook 9 to be slightly softer (some might say "mushy") compared to the Surface Book. The EliteBook has the stiffest keystroke, requiring slightly more effort. All of them are great, but each has its own distinctive typing experience.
Review: Samsung Notebook 9 15"
My decision was not black and white. In fact, I snuck the Surface Book into my bag, so technically it's here with me in Seattle, too. While the Surface Book has the great inking ability and can work as a tablet, neither of those is something I'll be using this week.
In the end, the Samsung Notebook 9 15" is the fastest performer of the three, with the largest display, and yet of all three laptops, it is the lightest to carry. That's an incredible achievement.
All of that said, I already miss my HP EliteBook x360 (which I used last week in New York to cover Microsoft's Surface Laptop announcement). In many ways, I consider that laptop to be the best all-around option.
Bottom line: In 2017, there are a lot of amazing Windows 10 laptops. Whether you want or need inking, a 2-in-1 experience, or just a traditional laptop that is super light, you have options.
I know that I'm privileged to have to make this decision, but I think it highlights an interesting observation about the state of the modern PC. Choosing which is the best is almost an existential crisis – at least for me. And that's a beautiful thing to say about the health of the Windows 10 ecosystem.
See at Amazon (opens in new tab)
Daniel Rubino is the Editor-in-chief of Windows Central, head reviewer, podcast co-host, and analyst. He has been here covering Microsoft since 2007 when this site was called WMExperts (and later Windows Phone Central). His interests include Windows, Microsoft Surface, laptops, next-gen computing, and for some reason, watches. Before all this tech stuff, he worked on a Ph.D. in linguistics and ran the projectors at movie theaters, which has done absolutely nothing for his career.
A new Macbook Pro 13"? (ducks for cover) Then again, many from the press likely will be using devices with Apple logos at the event.

I have one of those. Did not choose it. ;) Not sure if you got the news but MBPs aren't popular any longer.

yeah Apple MacBook laptops go to hell!

Just take your Surface Book. Stand out from the crowd.

Well, strong sales of the MBP did lead Apple to record Mac sales for the most recent quarter.

Not to the extent of previous MBP launches.

It is wonderful to have so many choices of quality hardware. Just about any form factor is available to fit the particular needs of a customer. It is a major difference from even a few years ago when the very touch-unfriendly Windows 7 was the dominant OS and most laptops were traditional clamshell designs. I'll have to applaud Microsoft for making this possible. Despite the missteps taken in the introduction of Windows 8 and trying to basically force touch on everyone, Microsoft has come through with a stable, feature rich OS that can suit needs from a simple 7" tablet all the way to the Surface Studio. One hypothetical question Daniel. If the Surface Laptop were available now would it have replaced the Surface Book on your list? It's 2.7 pound weight is almost identical to the Samsung but you would be giving up a couple inches of screen size.

Legit question about Surface Laptop. I think for my needs it would totally get the job done. I don't need a ton of ports, but I do need a great screen, keyboard, trackpad, Windows Hello, and battery life and those are all checked there (in theory) with the Laptop. The build quality and overall "delightfulness" in using it seems also on board, so yeah, if I had it today I'd probably be using it. Compared to Samsung the Laptop is slightly smaller but that 3:2 aspect ratio helps even out things (I like 3:2).

Daniel, when you got a chance to test out the Surface Laptop at the Education Event last week. I was wondering if the trackpad has the very audible clicking sound. I don't know if it's just me being sensative but on my Surface Book there always seems to be an audible click sound when I depress on the trackpad particulary right clicking on the lower left corner of the trackpad. Actually come to think of it the trackpad on my old Surface 3 keyboard was the same. I don't seems to hear the click on MacBook trackpads but I know they have different engineering due to that force feedback. My local Microsott Store in Frisco, TX has them on display so I'll have to make time to visit the store. As I'm debating selling my Surface Book i5 8gb 128hd for the Cobalt Blue i5 8gb 256hd Surface Laptop. I don't really use the clipboard except when it comes to using the Texture Magazine App. So I think I can live without the Surface Laptop being a 2 in 1 device.But I will miss not having an SD cardslot; as I would have to buy an adaptor because right now I have an sd card on my Surface Book which I use to store my video files and pdse files from Adobe Premiere Elements and Photoshop Elements.

Wow, lets share with us how the cobalt blue suits you. I prefer that colour as well.
For MBP, some people told me they use haptic now, so no real clicking. It can be checked by clicking when the MBP is shut down.I may be wrong but would like to share anyway.

When I had the Surface 3; I had the dark blue keyboard and dark blue Surface Pen so I really liked that color since it was in my opinion as close as you can get to green. Green is my favorite color but there wasn't a green keyboard but supposedly Bill Gates had a special edition green Surface keyboard. However I was able to visit the Microsoft Store after work today and check out the all four colors of the new Surface Laptop. The Cobalt Blue isn't as light in color as it looks in the marketing shots. Probably due to the lighting. But I must admit after seeing the Graphite Gold in person; I'm starting to lean towards that color. I don't want Platinum because it's like the Surface Book I have now. The Burgandy looks cool in fact one of the Microsoft Store employee has the Burgandy Pre Ordered. As cool as it looks I'm not sure how I will feel about a Burgandy laptop in 2 to 3 years.

Too bad you didn't quickly grabbed a surface laptop under the unwatchful eyes to take home, seems these kind of events are the perfect test case for it.

hah, we're trying! Review units are expected in the coming weeks, but agree, it would have been GREAT to test now at this event (or China).

Did u ditch Huawei matebook?

A 15" screen and no number pad? It cannot be the best one!

Who needs a number pad to write articles?

I guess the same people who think you need a $1500 laptop/2-in-1 to write articles.

It must be nice to have so many devices sitting around, to choose from! :) I like the sound of the Samsung. Seeing that it has the fingerprint reader would really help. Anything to avoid using a password in a crowd.

The best ones for Surface events are MacBooks. You have a higher chance of being chosen to hold the latest Surface!

Arrrh, that's true. Well, in this event, I saw more and more people using Surface though.

I enjoyed that, Daniel. I wish I had your dilemma.

I would suggest the x1 carbon 5th gen!

When I was traveling more for work I would have loved a 15" 3:2 display.

Nice article with thought process being detailed. I would love to read another article reviewing your decision after the build.

Zero issues with someone's personal choice in technology but I am curious of the inclusion of the GPU as part of the criteria for using a laptop to cover Build? How would the GPU on the Surface Book not be up for that challenge?
Windows Central Newsletter
Thank you for signing up to Windows Central. You will receive a verification email shortly.
There was a problem. Please refresh the page and try again.