Chordle for Windows 10 is a great songbook app for guitarists
As a lapsed musician with a OneNote journal crammed full of hideously scribbled guitar tabs, Chordle came around at just the right time!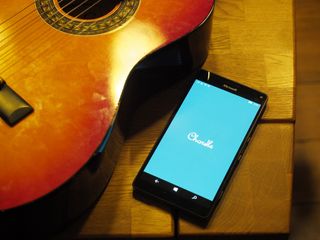 Chordle is a songbook app for Windows 10 and Mobile, allowing you to store, write, and catalog music. While the app has some UI issues, the functionality is great, and the developer is consistently issuing updates. Here's a quick look!
When you open up Chordle initially, it can be a little confusing, but the app has help tooltips to help you get started. The hamburger column on the left lets you view your songs, as well as create new ones by hitting the + symbol. There's an additional context menu for sharing, exporting, and deleting songs, with a panel below for managing set lists. This is ideal if you're planning on performing live, or practicing through a set of songs.
Beneath the set list panel, there are controls for viewing a current song, searching the internet for new chord sheets, settings, and setting up OneDrive sync settings. OneDrive integration allows you to sync your Chordle library between devices, which is really handy if you're rocking a Windows 10 Mobile in addition to a PC.
Adding chord sheets to Chordle is an incredibly simple process. You can search both UltimateGuitar.com and Chordie.com for new music, and then import them directly into Chordle for storage and syncing.
Image 1 of 2
Once you have found the music you want to store, a quick tap at the bottom of the app allows you to import it directly into your song book for cataloging. You can add it to set lists, tweak the chords directly, and name the songs as you see fit. But that's not the most useful feature, especially for learners.
Chordle allows you to view the relevant chords contained in a row beneath the music. You can even view chord variants, change keys, and add capos, with support for different types of guitar tuning and even ukuleles. It converts the chord sheet dynamically, which saves an incredible amount of time if you're looking to transcribe guitar music into different formats.
In song view, you can either set the chord sheet to fill the screen, or have it scroll automatically. Changing the functionality for this requires you to dive into the settings menu, however, which is a little less intuitive than it could be. Therein lies the biggest problems with Chordle: the UX simple isn't as clean or organized as some other UWP apps out there. Elements frequently overlap, and section padding, borders, and other visual cues are a little messy. Some things could be solved with right click or long press context menus on PC and Mobile, instead of hiding important controls in additional menus. Still, these are all things that will improve over time, as Chordle's developer updates the app.
Chordle has a free demo that supports the storage of ten songs, but for a reasonable in-app purchase you can unlock infinite songs, set lists, and song exporting. If you're a musician, it might just be worth it!
Do you use any musician's apps on Windows 10? Which are your favorite? Let us know in the comments!
Download Chordle from the Windows Store (opens in new tab)
Windows Central Newsletter
Get the best of Windows Central in your inbox, every day!
Jez Corden a Managing Editor at Windows Central, focusing primarily on all things Xbox and gaming. Jez is known for breaking exclusive news and analysis as relates to the Microsoft ecosystem while being powered by caffeine. Follow on Twitter @JezCorden and listen to his Xbox Two podcast, all about, you guessed it, Xbox!
Wow, looks pretty good. I'll have to check it out. Thanks!

Daughter uses Guitar Tuna to tune her guitar at home and at school, will let her know about this app, thanks

Best tuner on Windows Store by far.

Imo , the best and the most accurate tuner on windows store is Airyware tuner(paid version). I highly recommend it.

I use Guitar tuna for tuning. Airyware does not even show when you search fot guitar tuner in the store. Discoverability is still an issue in windows store. Anyways thanks for the info, will check it out.

+1 for Guitar Tuna -- my son uses it too!

Very useful! As a developer, I'm actually working on a UWP update for my own that give users more tools as musicians like a tuner and a metronome, etc..

I'd take that. If there is a way to make the musical notes versus the tabs, I would pay for that, too

The more the merrier...store needs more music apps

Just tried the app. Nice start, but really needs to add more online sources. Also, the search feature only shows the results from the first page of the website (UltimateGuitar.com). All in all, the app looks a little too expensive for its performance at the moment.

I play music on my guitar and usually forget some songs. This is something I have to try.

You're right, that is pretty cool app for guitarists. And, to some extent, most musicians who use chord charts more than traditional tableture. I'm use chord charts because my sight-reading chops are virtually non-existent. I write up all our charts using Word since it supports an excellent Reading Mode that is great for tablets, allowing you to see two pages on the screen (in landscape) and you can quickly zoom in or out to make the chart more readable or require less page-turning. But if Chordle can import Word documents, then this would be ideal for a lot of musicians.

I use MobileSheets, it's a great UWP app that works also on Win 10 Mobile, has a lot of advanced featured (annotations, MIDI support, PDF/JPG/chordpro/text files support, metronome, audio playback support and a lot more. Also the developer keeps adding new features and bugs are fixed really fast.

I just downloaded, I am a self taught, ear player...I am going to check out the app to see what its all about. I always have my computer with me in my music room, all my amps are digital now, Fender Mustang III, Marshall Code 50, VOX valvetronix.....and a few others. I like that I can have ALL the amp sounds from each manufacturer in just a few amps. My friend has 4 tube amps and a mustang III, we blind compared them and You really cannot tell the difference once you set the bias and sag on the mustang correctly. GREAT AMP FOR NEXT TO NO MONEY! Just change the speaker to something like the WGS ET-90.

Neutral Milk Hotel? That was a great song choice :)

Agreed. Always good to see people with good taste.

Thanks for sharing this Jez , I've been looking for Tab Player alternative , since it is not working anymore. Btw , if u are looking for a complete instrument tuner(guitar , bass , harp etc) , try Airyware tuner apps , will cost you 5 bucks but totally worth it. Very accurate and sensitive compared to other tuner apps.

After 3 months don't report it exiting the store

This looks fantastic. If only I had a good way to write tablature (banjo) using my Surface and pen I'd be set. This is a great way to get some chords to the pc/phone though. Great job Chordle!

I'm an amateur guitarist and I also use my own app for my training sessions: Chronotron Speed Changer. Hope others find it useful as well :-)

Can't find it in the store. L

You can either search for "Chronotron" in the Stoe or use the direct link

Headlines
R.I.P. Chronotron Mobile
Chronotron Mobile for Windows Phone 8.1 has been removed from the Store.

Yes, only the version for desktop/tablets is alive and kicking. For the many reasons discussed regularly in these forums, development and maintenance of the mobile version was no longer justified.

Got it! It seems that I am the only one here who uses a phone not a pc/tablet 😁

I want an app that listens to music and breaks it into the notes.

Check out mine's in the comment just above. It won't do magic, but the polyphonic note detection feature does help a lot figuring out the notes/chords.

I'm chekcing this out as soon as i get home! Looks like it might be more freindly than "printing" all the stuff i like to onenote.

Just had a spin on the chordle app. AWESOME. Just search the song and done!