Chuwi details new flagship Hi13 2-in-1 tablet with Windows 10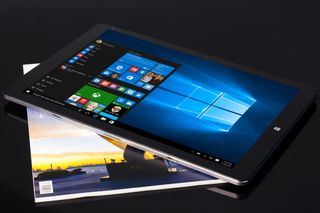 Budget tablet maker Chuwi has taken the wraps off of details for its latest flagship tablet, called the Hi13. Packing Windows 10, the tablet offers up some impressive good looks paired with specs that should ensure a relatively affordable price.
Image 1 of 4
Here's a detailed look at the tablet's specs that Chuwi has revealed so far:
Screen size: 13.5-inches
Resolution: 3000x2000
Pixel density: 267 PPI
Aspect ratio: 3:2
Contrast ratio: 1700:1
Brightness: 400 nits
Processor: Intel Celeron N3450
Graphics: Intel HD Graphics 500
RAM: 4GB
Storage: 64GB
Other: USB Type-C port, Detachable keyboard, Stylus pen support
While the Hi13 may not be blowing any high-end 2-in-1s out of the water with its specs, it is a pretty good bump up from its predecessor, the Hi12. Besides a screen size bump, the Hi13's processor is an improvement over the Hi12's Cherry Trail Atom x5-Z8300 chip.
Chuwi hasn't yet said when the Hi13 will go on sale or for how much. That said, the Hi12 comes in at right around $300, so it's likely you can expect the Hi13 to come in near that price point.
Does the Chuwi Hi13 pique your interest as a budget option? Let us know your thoughts in the comments!
Windows Central Newsletter
Get the best of Windows Central in your inbox, every day!
Dan Thorp-Lancaster is the former Editor-in-Chief of Windows Central. He began working with Windows Central, Android Central, and iMore as a news writer in 2014 and is obsessed with tech of all sorts. You can follow Dan on Twitter @DthorpL and Instagram @heyitsdtl.
It does have pen support, but it isn't clear if it comes with one or not.

Pen on a Celeron processor? The apps will lag on this one.

The Surface 3 had an Atom with pen support, so celeron is good enough

Nice budget PC for light computing, good for the kids, browsing and movies. At $300, I think it'll be a good buy but 64GB is relatively small for storage. What about the battery?

Although it's Celeron processor,I think 4GB RAM can't be well fit with this processor.And it's not large enough for saving more movies and App. I am inclined to choose a tablet with 8GB RAM and Intel X7 processor.If you want to buy a tablet for your kids,I will suggest dural system.

I almost bought a Chuwi Hi10, but went with a Lenovo Miix 310 instead, because of bad reviews. So don't know how good this'll be :D

Chuwi H10 pretty good so far

Does anyone know of some more detailed and comprehensive pictures? I'd like to see the keyboard, etc. My wife and I each have a NextBook 10.1 as back up tablets (I use one to test Windows 10 on it, since it came with 8.1) and I'd like to replace those with newer but inexpensive hardware. The NextBooks were less than $130. The downside was that the keyboards will stop working and the charging port is proprietary (again, things you expect in a very inexpensive device).

Here are a couple with the keyboard. https://techtablets.com/chuwi-hi13/

My impression is that the keyboard is pretty ugly. Might be better off with a separate bluetooth keyboard from a quality vendor like Logitech or Microsoft.

My problem with specs like these is that I don't know what to make of Celeron processors. I have no clue how capable they are.

fine with day to day media consumption, suck at anything demanding like PS and games. e.g my old PII x4 PC feel like 5x faster than my laptop with 3205U for photo editing.

Chuwi makes terrible, underperforming, no support products. I say that with a bricked Chuwi HiPro sitting across the room. It bricked because of no reason. Just one day stopped charging... Even when it did work, the USB-C was only working at USB 2.0 speeds even though it was advertised as full USB 3 speeds. The WiFi was trash and disconnected all the time. The "support" did not exist in any way. Don't believe me, check out their website and forums. It's a joke. They are Fly By Night. Companies like this should be exposed at all turns for their deception.

I love my Chuwi Hi10 pro. The z8350 isn't the strongest, but if you're using it just for couch browsing like I do then it's perfectly fine. If you're looking for a productivity machine look elsewhere

Would be a great deal/steal if it comes in at a similar price. Good for basic stuff and good to schlep around without worrying to lose a big investment if you lose it or gets destroyed somehow. Just wish they had gone for 8 GB of DRAM, smartphones have more than 4 GB these days ... Might also be a good ebook / PDF reader device. If the price is right, I'll get rid of my bloody Lenovo ThinkPad 8
which had been a pain-in-the-you-know-what ever since. - -

I have a Chuwu Hi8Pro and a 'dead end' Surface 2.
I love my Chuwi tablet and im sure I will love this new 13.5 incher as well.
While id expect the price to be closer to $400 than $300 - I will certainly buy this device as soon as it's released.

The atom processors havent seemed to progress well. Even that chipset was super sluggish.

Interesting mix of a large hi resolution screen with entry level internals; not sure what to make of it.

And resolution isn't every thing, could have horrible viewing angles and color.

I love Chuwi Provide cost-effective products!

Chuwi IMHO is crap. Very poor support, bad drivers, lousy keyboard. This is a perfect example of getting what you paid for. Many reinstalls, boot problems,etc. Check their forums. You may recover my purchase at the dump.

Chuwi Hi10 pro, battery broken after a few weeks and software untrained.

After reading about some horrible warranty claim experiences with these Chinese tablets I swore to myself to never consider buying one of those again. Local store with 2 year warranty and familiar brand ftw even if I do have to pay extra. At least they won't try to talk me out of trying to send the tablet back for repairs if something breaks...

That's because you had to go through the store you bought it from instead of Chuwi themselves. Those overseas stores are awful. Luckily for everyone involved (especially Chuwi) they are now selling directly through Amazon. So you have the safety of Amazon, plus the optional extended warranties (which can be used if getting nowhere with the manufacturer, and who live or die by their customer service), plus you have "ChuwiDirect" as the seller, and they are super responsive and "bend over backwards" unlike GearBest and other Chinese outlets.

They also sell directly through AliExpress. On Chuwi's official site there are links that redirect you to their AliExpress store.

On their Facebook page they are very active and respond to questions and comments almost every time one is left. Someone asked the price on this new model and they responded "Around 100USD". This was posted there only two hours ago. I bought a Chuwi HiBook 2-in-1 tablet with keyboard attachment last year. I got it from GearBest, an overseas store that I wouldn't recommend using. I was lucky and everything was alright. But Chuwi intends on selling via Amazon (something I asked them directly on their FB page). I'd buy again if through Amazon. My tablet is surprisingly good for its price, but there's a higher than acceptable percentage of problems/defects right out of the box, and overseas stores are horrible to deal with. Chuwi themselves bend over backwards for you. Unfortunately, you have to deal with their authorized resellers for returns/exchanges. That's why Amazon would be amazing. EDIT: They are already selling their products directly via Amazon under the seller "ChuwiDirect" which currently has a 100% positive rating with 279 reviews. Unfortunately, they are currently only selling a few of last year's models and some accessories. They told me they'd be selling their HiBox there soon, so I guess more products are coming.

as much as I love these "cheap and cheerful" chinese tablets, chuwi is not well know for decent customer support. I am still struggling to re-install a fresh windows 10 on my Hi8Pro for over a week now, I wasn't even able to get the files from their forums due to chuwi using dropbox as their file hosting solution.

Resolution is awesome, not sure about he Celeron processor!

Intel Celeron N3450 driving a 6 MP display? Hahaha next.

Will it run the Forza Demo? DX12? How much video RAM? Looks great to me! Win 10 rules!

Chuwi? Doing a flagship? Ok, I'm listning. http://forums.windowscentral.com/general-tablet-laptop-discussion/410613...