Chuwi kicks off crowdfunding campaign for SurBook, its budget Surface competitor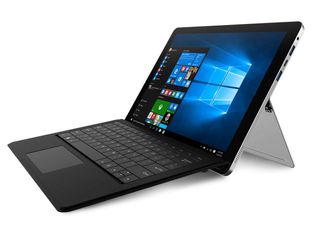 Chuwi has officially kicked off its crowdfunding campaign for SurBook, its challenger to Microsoft's Surface line. The campaign is now live on Indiegogo, with early bird options starting at just $299.
If you're looking for a budget Surface alternative, the SurBook looks pretty promising. The design owes a lot to Microsoft's tablet, featuring a rear kickstand and detachable keyboard cover. The 13.3-inch screen also features a similar 3:2 aspect ratio at a resolution of 2736x1824. A stylus with 1024 levels of pressure sensitivity is also thrown in for good measure.
The only big drawback from a performance perspective, when compared to the Surface Pro, is with the processor. The SurBook packs an Intel Celeron N3450 processor, which isn't necessary going to set the world on fire. Otherwise, there's 6GB of RAM on board, along with up to 128GB of storage, a 5MP rear camera, and a 2MP front-facing shooter.
The Indiegogo campaign has already far surpassed its initial $30,000 goal, raising more than $111,000 (at the time of writing) with a month to go. Early bird backer option are available starting at $299, and they're expected to start shipping in July.
Dan Thorp-Lancaster is the Editor in Chief for Windows Central. He began working with Windows Central as a news writer in 2014 and is obsessed with tech of all sorts. You can follow Dan on Twitter @DthorpL and Instagram @heyitsdtl. Got a hot tip? Send it to daniel.thorp-lancaster@futurenet.com.
Apollo Lake. It's actually pretty good but not a direct competition for the Surface Pro. And the Surface 3 is old now.

did you see the price tag of the Chuwi?? Have you any more questions?

One very important question. Does it actually exist? If the answer is No (which it is) then i dont care about this product... at all. I dont need some cheap knockoff that might not ever even get made, like most of these crowdfunded things.

If you asking about the product, then yes, it's not in production yet. But if you ask about the OEM, Chuwi already had numerous similar product based on Cherry Trail processors. My brother has one in fact. Up to now, most form factor which utilize the new Apollo Lake is 360 degree swivel screen. This is their first attempt to create tablet form factor of Apollo Lake. Refreshing their Cherry Trail line up.

considering the crowd funding has surpassed its goal by 802% and its still got a month to go the I presume it is very much going to be created

The price means nothing. This thing won't come close to even an m3 SP3 and is closest to a S3 (which are not in production anymore). The USB-C is a gimmick since it can't do anything a USB-A can on this architecture.

As the title said, it's a Surface competitor, not Surface Pro competitor... :3

It is better than m3 SP4. And it is fanless.

Weird, according to the Indigogo page, this has 6GB of RAM, and 128GB of ROM!? What the flip are they doing to need that much ROM? It'll take hours to flash the firmware! I'm not sure we can trust the spec as advertised. Might be quite good, but depends on the real spec as the stated stuff sounds a bit whacky to me.

I'm wondering if they actually mean flash memory for storage (instead of a drive). 128Gb makes a lot more sense in that context.

ROM is pretty much the onboard storage space on the device. Problem with the Intel Celeron N CPUs is that performance is sacrificed for battery life. It might be able to do some basic web browsing and 1080p video playback but then it will struggle with multi-tasking and with excel, outlook, etc.

Unless tech has passed me by (which is possible), ROM is "Read-Only Memory" and isn't used for generic storage of user files, games, etc.

Obviously they mean onboard storage. Look at the specs picture.

For whatever reason, I've noticed a lot of places, esp. when talking about mobile tech (e.g. phones) refer to the internal storage as 'ROM.' It might have something to do with the read-only protected part of the storage that's designated for the OS. But I do believe most phone manufacturers refer to it as 'ROM.' Type ROM + phone into a search engine and you'll get a million hits. I'm familiar more with the 'Read Only Memory' abbreviation (same with you). Recall however, that for a long time people have also referred to emulated games as ROMs...so apparently there's multiple meanings to the same abbreviation.

yea that's a rough thing in translations from chinese to english. 128GB SSD in the machine.

LOL did you ever see 128gb of ROM??????? hahahaha

Yeah and the Lumia 950 has 32GB ROM

That's so the Chinese EFI BIOS code has plenty of code space to comprehensively perform 'other' activities while you work.

Microsoft should really get Chuwi to change the name... 'SurBook' is border-line trenching on copyright issues with 'Surface Book' and they would have a case that it can give a misrepresentation of the brand since it's too similiar.

This looks totally trustworthy. And they won't get sued by Microsoft using the name SurBook. Though they had me at 128 GB of ROM.

This 100% will never make it to market with this name or price tag, this is definitely a scam

I had a 10" POS Chuwi that now resides at the local dump. Do your homework.

This is my concern. I saw a chuwi dual boot thing that was junk. Wifi was bad, battery wouldn't even charge if the unit was on. Maybe they're better now. Hope so anyway!

These guys are a pump n dump company. Check their forums out. No support and flaky to say the least.

So a cheap Chinese knockoff company that already sells budget devices needs crowd funding to launch another cheap device? Rather pay more for a quality device I can get proper support for.

This actually looks really good. Too bad its a crowdfunding campaign.
Windows Central Newsletter
Get the best of Windows Central in in your inbox, every day!
Thank you for signing up to Windows Central. You will receive a verification email shortly.
There was a problem. Please refresh the page and try again.